HOOQ Merges Content With The All New Google Chromecast
New Chromecast users can avail a free six month HOOQ subscription.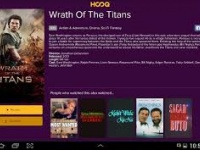 HOOQ, Asia's biggest premium video-on-demand service, announced its collaboration with Google to launch content for the all new Chromecast, further expanding the viewing experience for HOOQ users in the country.
Chromecast users will now be able to access HOOQ, the largest movies and TV show library that can be viewed on a bigger TV screen. Viewers can use the Google cast App to watch HOOQ content from any connected device on the largest available screen in their home. With unlimited streaming of over 10,000 Hollywood, Bollywood and regional movies along with drama titles available on HOOQ, Chromecast users will be able to watch the best of international and domestic content at their convenience. The users can also watch HOOQ exclusives and original TV shows like Mad Dogs, Spartacus and Ash vs. Evil Dead using the new Chromecast.
Commenting on the collaboration, Mr. Salil Kapoor, Managing Director India at HOOQ said, "This collaboration further solidifies our position as the country's biggest premium video-on-demand service. We are excited to work with Google to bring the best-in-class entertainment in 14 languages from HOOQ to new Chromecast users. With the popularity of online streaming on the rise in the country, we are confident that our offering will take the entertainment experience to the next level."
New Chromecast users will be entitled to a free HOOQ subscription for six months. Viewers can simply use an Android phone, tablet, iPhone, iPad, Mac or Windows laptop, or Chromebook to cast the HOOQ app or Google cast App and its programming onto a television.
HOOQ offers a monthly subscription at INR 249, that allows users to access unlimited video content , which can be viewed on up to 5 connected devices. Users can share the HOOQ experience with their friends, as they can stream simultaneously on two devices on a single subscription. HOOQ also offers a unique offline download feature of up to five titles at a time ensuring that there is always video content to be enjoyed even when users are offline or facing connectivity challenges.
TAGS: VOD, Online Streaming, Google Chromecast