NASSCOM Concludes Its First Ever Gaming Roadshow In India | TechTree.com
NASSCOM Concludes Its First Ever Gaming Roadshow In India
The event was held across 4 cities to highlight the evolving concept of "serious gaming".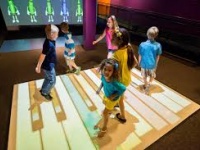 National Association of Software and Services Companies (NASSCOM) in collaboration with the government of Netherlands today concluded its first ever applied gaming roadshow from Mumbai. The roadshows which were held across Delhi, Mumbai, Pune and Bangalore from April 18, 2016 to April 22, 2016 focused on showcasing the potential of serious gaming for various sectors. The initiative showcased the demos of solutions that have been developed and deployed by reputed Dutch serious games companies and will act as a platform for the exchange of ideas between developers of the two countries. Further, the NASSCOM Gaming Forum also launched its Special Interest Group (SIG) on Applied Gaming, with Ms. Manisha Mohan, Executive Vice President, Tata Interactive Systems as the Chairperson. The group will also include members from companies like Robosoft, Indusgeeks, Skilldom and Madrat Games.
Expressing his thoughts on the collaboration between the two countries, Mr. Rajesh Rao, Chairman, NASSCOM Gaming Forum stated that, "India has just begun taking gaming seriously as a career and as an avenue to larger growth of the sector. The roadshow will act as an accelerator and encourage young talent to build innovative ideas for large scale applications. The cities have been strategically selected basis their growth rate and talent pool and we are thankful to the Dutch delegation for their support in this initiative."
On the sidelines of the roadshows, the government of Netherlands also launched Ludowise, a joint venture between Ijsfontein, a leader in gamification and applied learning solutions and Dhruva Interactive, a gaming industry pioneer in India. The new venture will provide mobile and PC based apps and solutions for skill development, enterprise customers, education, healthcare and cyber security. The launch comes in the backdrop of the Government of India laying a lot of emphasis on campaigns such as Digital India and Make in India.
According to Mr. Alphonsus Stoeling, The Ambassador of Netherlands, "The Dutch are known for their pioneering work and market leadership in the gamification and serious gaming. We believe that, we have a lot to offer to India in this space. I am extremely happy to see this relationship between two leading companies from our countries bear fruit with this joint venture, to bring Dutch expertise to India".
Adding to this, Ms. Krista Hendriks, Manager, Dutch Games Association stated that, "Netherlands and India are both on the part of rapid development across fields which will be enabled by technology. This partnership will mutually benefit both the countries and lead to further exchange of ideas and talent."
With a rapidly digitizing work place enabled by smartphones and high speed Internet, emerging nations are showing great interest in using serious games, immersive simulation and use of gaming technologies to tackle issues like upskilling and high user engagement for training across sectors ranging from corporate skills development, industrial skills, academia, medical, military and government, children s' education, health-care, cyber security and risk compliance. Serious gaming promises to give much greater return on investment as compared to traditional training models, by making learning much more engaging, effective, on-the-go. The use of interactive game design techniques in learning, is bringing in large-scale innovation and disruption to traditional learning models.
TAGS: Gaming, Interactive Games, NASSCOM