Logitech Launches Durable, Spill-Resistant Keyboard and Mouse Combo | TechTree.com
Logitech Launches Durable, Spill-Resistant Keyboard and Mouse Combo
The product is expected to be released in India by the first week of May at INR 1995 approximately.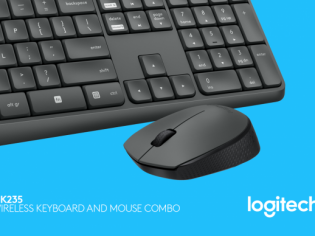 Logitech has unveiled the Logitech MK235 Wireless Keyboard and The Logitech M171 Wireless Mouse Combo, a spill-resistant keyboard and mouse combination with wireless connectivity and a durable design.
"The MK235 Wireless Keyboard and M171 Mouse Combo provides a simple and reliable solution – with no learning curve – for desktop users," said Ashok Jangra', Cluster Category Manager India & South West Asia. "Choose reliable connectivity now with the simple plug-and-play setup of this combo."
The keyboard features a familiar layout with full-size arrow keys, a number pad and all the usual keys you need, as well as easy access to 15 function keys. With its durable, spill-proof design and anti-fading treatment, you never have to worry about losing the letter from your keys. It also has two adjustable typing angles and sturdy tilt legs.
Additionally, the Logitech M171 Wireless Mouse offers reliable wireless connectivity and long-lasting battery life at an affordable price. It features universal compatibility, has a portable and comfortable ambidextrous shape, and the left and right button functions can be reversed. With a simple set up, the Logitech M170 Wireless Mouse works right out of the box and makes it easy to experience the convenience of a cordless mouse.
The new MK235 Wireless Keyboard and M171 Mouse Combo is built to last and provides a long-lasting solution that allows you to be more productive for much longer.
The product is slated to arrive in India by the 2nd of May at an estimated retail price of INR 1,955 approximately.