Gazillion, Ubitus Team Up to Bring 'Marvel Heroes 2016' to Asia | TechTree.com
Gazillion, Ubitus Team Up to Bring 'Marvel Heroes 2016' to Asia
The popular MMO Action-RPG will be available in Korea and Japan this summer, and China.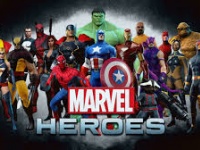 Gazillion, Inc., and Ubitus Inc., the worldwide leader for interactive cloud technologies and streaming game services, have announced a super-powered team-up that will bring Marvel Heroes 2016 to Asia this summer. Leveraging Ubitus' market and service reach, the two companies will roll out localized versions of the critically acclaimed massively multiplayer action-RPG across Asia, starting with Korea. This will include releases not only for PC and Mac, but also for tablets, smart TVs and IPTV set-top boxes, via Ubitus' GameCloud technology. Marvel Heroes 2016 will launch in Japan shortly after Korea this summer, adding China and other Asian territories in the months to follow.
"Marvel itself has done an excellent job of further popularizing its iconic characters in Asian territories, and now is the perfect time to bring the ultimate game set in the Marvel Universe to those regions," said Dave Dohrmann, CEO of Gazillion. "Marvel Heroes 2016 has gotten a great reception from our fans, and by broadening the reach of this game to a global scale, we are thrilled to have our game to be enjoyed by millions of new players."
"Ubitus is excited to bring Marvel Heroes 2016 to Japan, Korea, Greater China and many other Asian territories - we are expecting a Hulk-sized reception to this great MMO," said Wesley Kuo, CEO of Ubitus. "The unique market position and game experience Ubitus has in Asia and the great games from Gazillion makes for a perfect partnership."
Ubitus Inc. has the world's leading game virtualization technology and cloud-streaming platform. It strives to provide a more pervasive gaming user experience using top-notch technology, allowing users to play the best games at any time with internet connection.
TAGS: Ubitus, Online Gaming, Gazillion, Marvel Studios