iUNIR, India's First Ever Community Pooling App
iUNIR to help commuters to tackle the problems of Odd-Even rule in Delhi.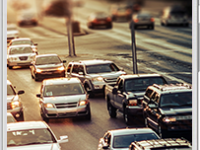 iUNIR, India's first community pooling app introduces cost effective and eco-friendly ride in Delhi. It aims at building a community for safe, economical and adaptable ride. With the Odd-Even rule in place in Delhi along with burning fuel prices, expensive taxis, lack of adequate public transportation, auto haggling and a host of other day-to-day challenges, iUNIR is a safe quick fix for commuters.
iUNIR offers an affordable car, taxi, 2 wheeler and auto ride sharing. It is India's first ever pooling app to provide sharing to bike owners and auto commuters. It has come up with the best intercity and intracity commuting service. The app easily works with the user's LinkedIn and Facebook profile which helps them to choose a familiar and acquainted rider. It is one of the safest vehicle sharing app. According to the official website, a unique Pin based validation, identity proof upload for both ride giver and taker, rating to ride giver and ride taker helps the user to decide whom to ride with. In case of emergency, with a press of a button (ICE Button) SMS intimation of ride location will be sent to the user's friends and family. The unique feature about iUNIR in terms of safety is that it offers only women rides.
The name iUNIR is derived from a French word 'UNIR' which means 'to come together to share'. iUNIR could be effective in curbing vehicular pollution crisis in the Capital.Speaking on the launch of the app, Mr. Sandeep, iUNIR Co-Founder said, "We are launching this app with an aim to solve the major issues of today's generation by introducing cost effective and eco-friendly ride sharing app. Our prime concern is to forge a collective path towards environment friendly urban future and to extricate commuting stress. Our future holds great deal of partnership with payment gateway companies and even grocery stores that will help riders to shop groceries while they are travelling to their workplace, hence saving lot of their precious time. Soon the company would also be providing free Wi-Fi services while travelling in your automobile. Besides, the unique attribute of this app is pre fixed and pre-determined cost that will add comfort to the user. One can download this through www.iunir.com and can enjoy the services."
TAGS: Mobile App, Car Pooling, iUNIR, Pollution Abatement