Blackberry To Launch Affordable Android Smartphones | TechTree.com
Blackberry To Launch Affordable Android Smartphones
Company to unveil two new android smartphones by December 2016.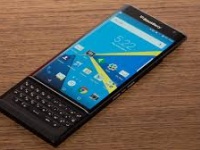 In an attempt to revive the chances of survival in the smartphone market, Blackberry CEO John Chen announced the launch of two new android smartphones by the end of this
year. The company had released its first ever android smartphone, Blackberry Priv last

year which failed to garner expected sales.
In an interview with The National, Mr Chen admitted that the

Priv

"was too high-end a

product", with its target market of enterprise customers put off by the handset's $700 price tag.
"The fact that we came out with a high end phone (as our first Android device) was probably not as wise as it should have been," Mr Chen said during a visit to Abu Dhabi.
"A lot of enterprise customers have said to us, 'I want to buy your phone but $700 is a little too steep for me. I'm more interested in a $400 device'."
Mr Chen said that

BlackBerry's

handset division had shown some signs of improvement during the last quarter, with losses halving compared with the previous quarter, but said
that the company would exit the segment if it could not achieve profitability.
After the debacle of Blackberry

Priv

, which was obscenely overpriced, miserably failed to create ripples in the market as people opted for less expensive android phones.
Blackberry plans to release its new series of phones at a much cheaper rate than

Priv

with

the iconic

QWERTY

keypad.
This time around Blackberry seems to be keen on not limiting their product to just business

corporates

alone although the company still prides in its commitment to security.
Coutresy: The National
TAGS: BlackBerry Priv, Android, BlackBerry