Zebronics Forays Into Air Coolers Segment With 'SNOW SERIES' | TechTree.com
Zebronics Forays Into Air Coolers Segment With 'SNOW SERIES'
Unveils two new energy efficient models.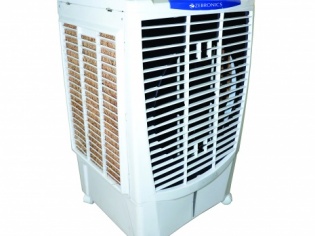 Zebronics, India's leading supplier of IT peripherals, audio-video and Surveillance products now expands its product portfolio by entering the consumer Durables Market with 'Desert Coolers'.
Zebronics launched its exclusive two models - Desert Coolers, 45L – ZEB 45DS and 70L – ZEB 70DS. The coolers are equipped with several advanced features such as maximizing cooling efficiency, utilising a honeycomb design cooling medium and wood wool pads. Both the coolers are highly advanced, specially designed to give very high performance at an economical price.
Designed with highly effective wooden wool pads and honeycomb pads, it offers better evaporation of water, making coolers highly effective and less prone to clogging, thus assuring longer life. The air cooler available in 45L and 70L has a powerful air delivery of 3200m³ and 3500m³ per hour at peak speed and 33ft and 35ft of air throw.
Commenting on the launch Snow Series, Mr. Pradeep Doshi, Director says, "We are thrilled to expand our consumer durable space with the launch of the new air cooler that will cater to consumer needs and convenience this summer. Powered by the best of Zebronics' technology the latest SNOW SERIES offers premium cooling performance at an appealing price"
Suitably priced, the ZEB-45DS is priced at INR 10,990 and ZEB-70DS at INR 11,490. The Air Cooler range is available with all leading retail stores across India.
TAGS: Zebronics, electronics, air coolers, high performance