Halo 4 Will Release On 6th November | TechTree.com
Halo 4 Will Release On 6th November
Looks like the fight hasn't finished just yet.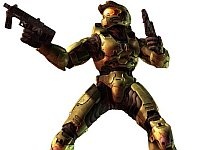 The Halo franchise was single-handedly responsible in giving the original Xbox a foothold in the market. Ever since, all the iterations of the console FPS have been major money spinners for Microsoft. Even though the third instalment egged gamers to "Finish the fight", everyone knew that no one in their right mind will slaughter a reliable cash cow. Microsoft's major money spinner will be coming back for yet another outing on the 6th of November, in the form of Halo 4.
It looks like Master Chief is in for the long run, because the press release proudly proclaims, "We are beginning a new saga with Halo 4 and embarking on a journey that will encompass the next decade of Halo games and experiences". The game will be developed by Microsoft subsidiary 343 Industries, which is also responsible for Halo: Reach and the recent remake of the original. Any guesses on how many more Halo games the current Xbox console will see before passing the reins to a much-needed successor?