Adobe Readying Creativity Apps For Tablets | TechTree.com
Adobe Readying Creativity Apps For Tablets
Six new apps, including Photoshop Touch, will soon be available for Android and iOS.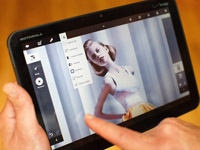 Adobe has announced its cloud-based initiative, with content creation and sharing services for tablets. As part of this initiative, Adobe will be releasing six new apps to allow users to design and edit their content.

The apps will be released for both Android tablets and iPads, with apps for the former platform set to launch as early as next month. Unfortunately for iPad users, Adobe does not appear to have a confirmed release date as of yet. This could very well be a result of the spat between these two companies. According to Adobe, an announcement on availability will be made in "early 2012".

The six apps will be offered at an "introductory price" of $9.99 (approx Rs 500) each, which includes:
Adobe Photoshop Touch: Tablet-friendly, touch-centric version of the popular image editing app.
Adobe Collage: Photo importing and drawing tools for creating image collages.
Adobe Debut: Presentation software for Creative Suite files.
Adobe Ideas: Vector-based drawing tools (Released for iPad last year and currently priced at $5.99).
Adobe Kuler: Colour theme generation and exploration.
Adobe Proto: Prototyping tools for websites and mobile apps.