Chennai Citizens Turn To Twitter For Real-time Updates On Chennai Floods | TechTree.com
Chennai Citizens Turn To Twitter For Real-time Updates On Chennai Floods
Popular hashtags that are being used are #ChennaiRains, #ChennaiFloods and #ChennaiRainsHelp.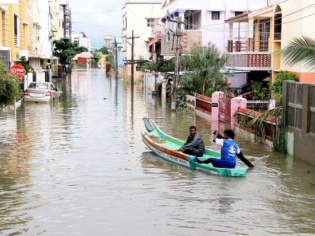 It has nearly been two weeks since heavy rains have disrupted the regular life in Chennai.
Following this, we are witnessing Chennai citizen turning towards the micro-blogging platform Twitter to share their situation of crisis, helpline numbers, crisis relief efforts and safety tips.
The official Twitter India account too has tweeted recently showing its concern towards Chennai citizens by suggesting users to tweet using the #ChennaiRains and #ChennaiRainsHelp hashtags so that they can be curated and re-tweeted accordingly.
In sync with this, we are able to see how photos and videos along with regular updates on train schedules, taxi services are being shared real-time on Twitter.
Additionally, a few actors like Siddharth have also turned up via Twitter sharing the best available information and helping out in arranging food packets in the flood hit areas of the city.
Here are a few Twitter accounts you can follow to know the real-time updates on the present situation in Chennai.
@ChennaiConnect (https://twitter.com/ChennaiConnect)
Chennai Weather (@ChennaiWeather)
Voice in Crisis Relief (@incrisisrelief)
Indian Army (@adgpi)
Sandy (@sandygrains)
Volunteers Org (@VolunteersOrg)
Malini Parthasarathy (@MaliniP)
TAGS: Chennai Rains, Chennai Floods, Twitter