Review: TAG-3608 2.1 Multimedia Speaker
Feature wise, performance foolish.
Rating

2.5
/5
12th Aug 2013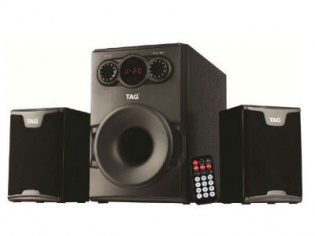 Pros:
Decent high and midrange frequency performance; USB/SD card playback; FM reception; Includes remote control.
Cons:
Excruciatingly bad subwoofer; Expensive for the performance offered; Poor sound quality; Looks tacky.
There are two main types of people who buy cheap 2.1 desktop speakers: (a) those that are too poor to shell out the eight-odd thousand rupees for a decent pair of active desktop stereo speakers, and (b) the kind of consumer that just doesn't give a damn about sound quality. If you belong to the former category, I would recommend spending the three grand on a pair of good headphones instead, for a simple reason that you get a much higher audio fidelity per rupee in that case. However, if you are one of those who don't mind any set of speakers as long as they fit your budget, you might want to read on further.

Cheap and Cheerful
While a street price of Rs 2500 (MRP Rs 2800) may put the TAG-3608 2.1 Multimedia Speaker in direct competition with competent alternatives from established brands such as Logitech, Sony, and Creative, it has a few additional tricks up its sleeve in the form of FM functionality and the ability to play music right off portable flash storage media.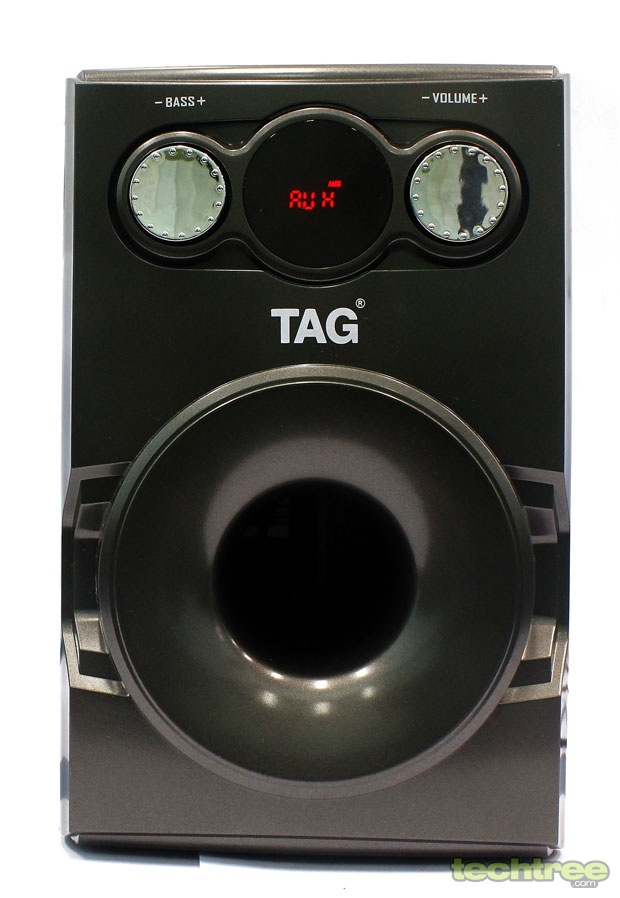 The 2.1 system, as the term suggests, includes a pair of satellites featuring a 3" full-range drivers, with the cone fashioned out of what appears to be paper. While there's nothing remarkable about the satellite speakers, the subwoofer disappoints with its band-pass cabinet design. In layman's terms, it doesn't feature a visible woofer like regular bass-reflex design, but it's hidden away inside the cabinet instead. This approach is used in inexpensive speaker systems, because it's the best way to achieve plentiful bass from a smaller driver and modest amplification. Needless to say, the infrasonic performance suffers as a consequence.

The TAG-3608 surprisingly doesn't look tacky like most of its cheap speaker counterparts from lesser known manufacturers. That doesn't mean they don't have their share of garish design cues. The gaudy silver dials for volume and bass adjustment on the subwoofer not only look tacky, but they also underscore a lack of design prudence. The absence of calibrated markings along the dials makes it impossible to gauge the volume level. That is, until you play an episode of Spartacus and realise that the volume knob was left dialed all the way to eleven. And then you also realise that the nice HR lady who sits outside your cabin isn't so nice anymore.

Feature Wise...
The subwoofer houses electronics that endow the TAG-3608 with the ability to play music right off USB drives and SD cards. The unit also incorporates requisite buttons to play/pause, skip, and change modes between auxiliary input, USB, SD card, and FM radio along the top edge. You read it right—the speaker system includes an FM antenna, which when combined with its ability to play music without an external audio source means that it can be used as a boombox of sorts. Just don't expect a polished UI and ease of navigation, and you'll be alright. There's an eight-segment LED display that does the job of indicating the source, volume level, FM stations and such. The display, sadly, is more unsightly than it is useful.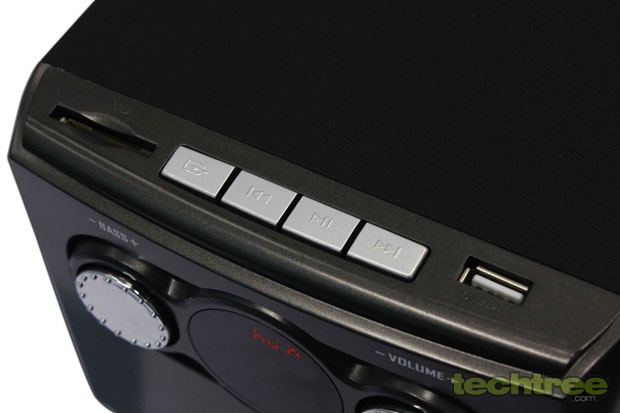 I could have bitched about the absence of an inline remote, but that would have been unfair given the system's price. This makes the presence of a credit card style IR remote all the more remarkable. The remote features all the controls found on the unit, in addition to extra buttons for mute and dedicated ones for browsing music through the storage media. Well, all controls except the one to adjust treble, which is proudly advertised on the packaging, but I failed to find it anywhere on the speakers or the remote.

Caveat emptor: if you plan to put the subwoofer under the desk and use the remote to adjust volume, know that you'll have to keep the master volume on the sub at the max to get the full range of sound. However, powering off the device tends to reset the remote volume adjustment, which means that the speakers tend to blare at the max volume the next time you turn them on.

...Performance Foolish
Make no mistake, deciding between most desktop speaker system alternatives currently available in this price range is pretty much like choosing between Justin Bieber and Anu Malik. In the simplest of terms, you are better off spending that money on good headphones or just buying a cheaper speaker set that sounds as bad, but costs less.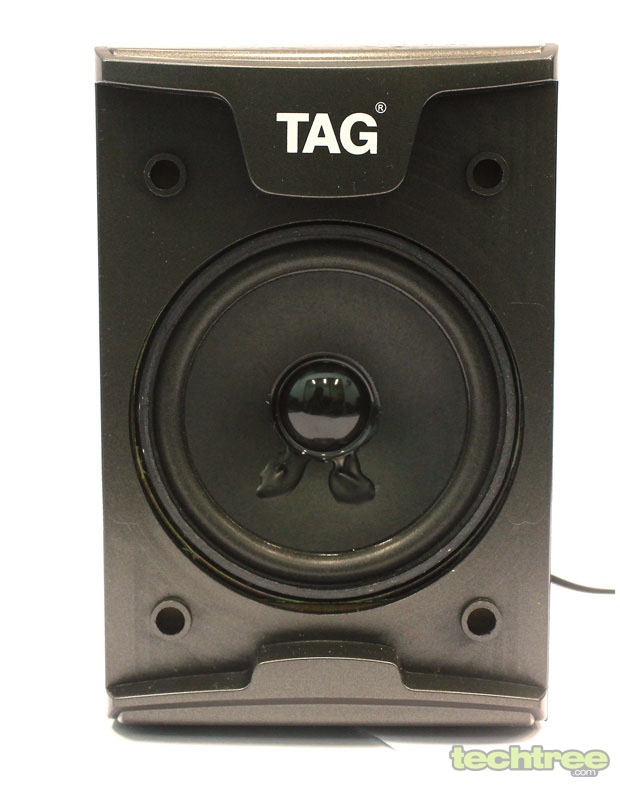 This was evident when I put the TAG-3608 through the paces with Ramin Djawadi's sublime Pacific Rim theme. I particularly like the way the composer has used fog horns to capture the aural essence of the hulking mechas, or Jaegers as they are known within canon. A good sound system can convey the reverberating roar of the foghorns, which calls for woofers with a tight yet authoritative infrasonic performance. Tragically, this trademark aural motif loses all impact with the TAG speakers, thanks to a severely underpowered subwoofer.

The band-pass design might make the sub more efficient, but the tradeoff is muddled, loose, and pitifully slow bass response. Because the full-range drivers on the satellites aren't capable of handling the low-end spectrum, this system tends to make everything sound thin and devoid of any body. So unless you plan to listen to old Bollywood songs, any other form of well-recorded music will invariably sound underwhelming.

This is tragic because the terrible subwoofer takes the sheen off the above average high and midrange frequency performance of the 3" drivers on the satellites. Mind you; I don't mean the drivers are remarkable, but they are pretty decent for what's usually found in this price range. Although that means you get better vocals and enhanced detail (relatively speaking, of course), this is offset unfavourably by the abject lack of bass extension and authority. Movies and games, which depend heavily on low-frequency effects, suffer the most as expected.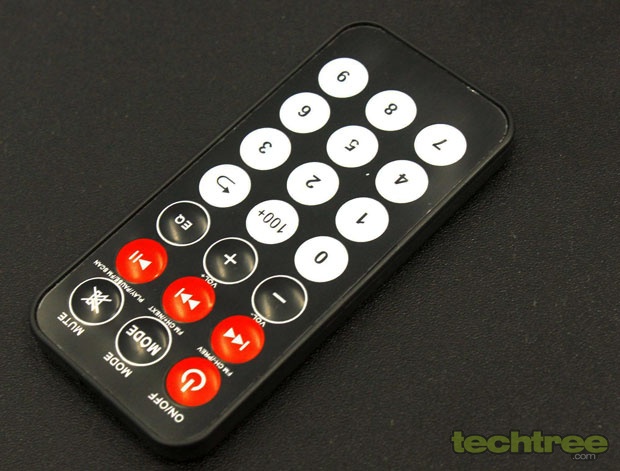 Bottomline
To put it in a nutshell the TAG-3608 2.1 speaker system is let down by its subwoofer whether you intend to use it for music, movies, or videogames. Its pricing puts it at odds with alternatives from established brands such as Sony, Logitech, and Creative. The Sony SRS-D4, in particular, falls in this same price range and sports much better aural performance. The only advantage the TAG speakers have over Sony's alternative is that the former is louder and includes FM as well as USB/SD card playback capability.

Unless you want a desktop speaker system and a boombox in the same package, you can choose from better sounding alternatives from established brands for nearly the same price. The TAG-3608 then doesn't make a compelling case for itself. A better subwoofer though, would have made it a completely different kettle of fish.
TAGS: Speakers, Home Entertainment, Music