Review: Creative T3150 Wireless Speaker
Decent-sounding speakers with wired and wireless connectivity options.
Rating

3.5
/5
19th Jun 2013
Pros:
Wireless and wired connectivity; Good sound; Wired remote; Compact.
Cons:
Maximum audio volume is inadequate.
Creative T3150 Wireless
MRP: Rs 4000
Creative is arguably the best known brand in speakers and sound cards since the past several years. We have the T3150 Wireless from the company, which is a 2.1 speaker set that features wired as well as wireless Bluetooth A2DP connectivity options. The rather compact speaker set looks good, so let's find out if it performs just as good.
Design And Features
As with most speakers, the T3150 comes in an all-black housing for the sub-woofer as well as the satellites. Sub-woofer is a cubical wooden box with a bass reflex port at the front and a down-firing driver at the bottom. It has a matte finish, which means that it is not affected much by fingerprints and dust. There are four rubber-tipped legs to keep it grounded when the sub-woofer shakes due to the low frequency sound it produces. The legs allow for a 1 cm clearance between the floor and the driver so that audio production is not hindered.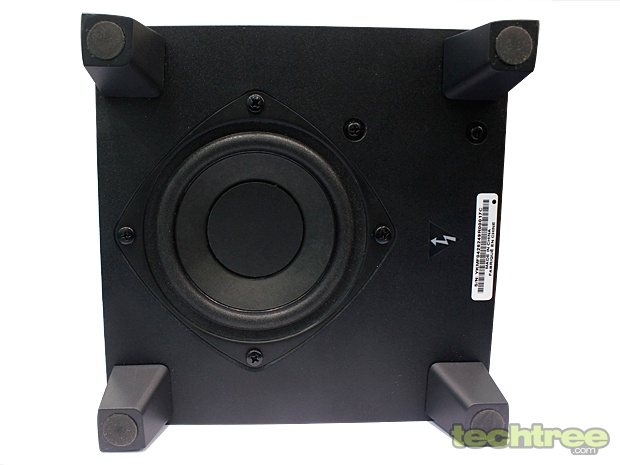 The two satellites are also black with polymer bodies. A thin cloth mesh at the front protects the drivers within. These stand atop fixed legs with rubber padding beneath. The satellites are connected to each other by a wire, which has a stereo plug to connect them together to the sub-woofer at the 3.5 mm socket present behind it.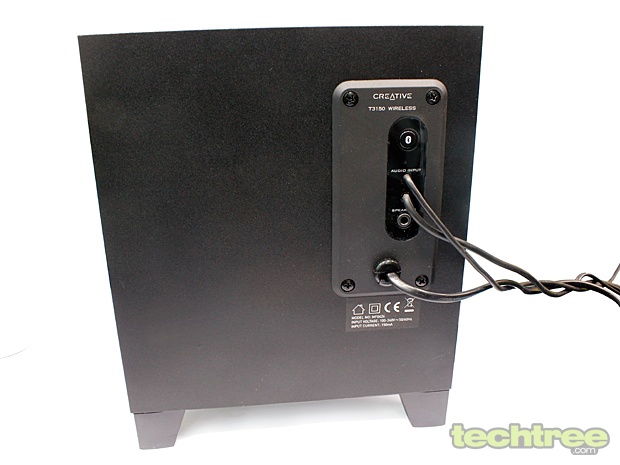 The unit comes with a wired remote control attached to the sub-woofer that features volume control/power switch and a power LED. A cable with a 3.5 mm stereo jack at the end emerges from the sub-woofer to connect a sound source. A Bluetooth button is present on the rear of the sub-woofer to pair Bluetooth A2DP wireless sound sources. The power cable also goes into the sub-woofer, which contains the amplifier and it supplies power to the satellites too.
Overall, the setup is not too big and can easily be accommodated on or under most desks.
Performance
As mentioned earlier, the speakers work in wired as well as wireless modes. The wired mode makes it available to common audio sources with a 3.5 mm connectivity option, whereas the wireless mode is useful to stream music from Bluetooth devices such as mobile phones and tablets.
To pair a source, the button has to be pressed for around 5 seconds after which, the LED on the remote starts blinking signalling that the unit is ready to pair. It can then be paired without a passcode.
The overall performance is good. The speakers handle bass, treble, and mids rather well. However, there is a general lack of clarity, which exists regardless of the volume level. This may result in incomprehensible dialogues while watching movies. However, music playback is not affected by this defect. The speakers produce distortion-free audio till about 70% volume. The maximum volume level is not loud enough for a living room, but should do well for a smaller room such as a bedroom.
The audio quality and volume levels were found to be the same for wired as well as Bluetooth. While Creative mentions the Bluetooth range as 10 m, we found that it works even at 15 m with two wall obstructions.
Our Verdict
The Creative T3150 Wireless speakers can serve as both wired and wireless Bluetooth speakers. With an overall decent performance, this 2.1 speaker set is good for music, although it may sometimes lack clarity while playing movie dialogues. The size and light weight makes it easy to place them anywhere near a desktop computer even when there is little real estate available. At Rs 4000, this seems to be a good buy.
Build And Features: 4.5/5
Performance: 3/5
Value For Money: 3.5/5
Mojo: 3.5/5
Overall Rating: 3.5/5
TAGS: Speakers, Home Entertainment, Creative