Need for Speed: Most Wanted (2012)
Has Electronic Arts delivered too much of a good thing by focusing their 19th NFS almost entirely on racing? Or is this a welcome return to arcade style racing?
Rating

3.5
/5
23rd Jan 2013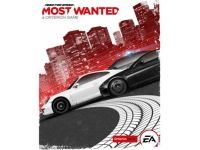 Pros:
Gameplay very similar to Burnout Paradise. Immediate access to the best cars on the roster, no frills racing.
Cons:
Can get a little too arcade for somebody's liking.
Need for Speed: Most Wanted
Developer: Criterion Games
Publisher: Electronic Arts
Genre: Racing
Platforms: PC, PS3, X360, PS Vita
MRP: Rs 3,000 (PS3 and X360); Rs 1500 (PC)
Over the years, we have seen the Need for Speed franchise evolve from a simple arcade racer to one with cops, drifts, street races, horrible out of car experience (seriously EA, what were you thinking?), and even human elements such as betrayal.
With all of 18 titles before this one, the later releases felt like EA was adding fluff but forgetting about what the franchise is all about: racing. Luckily, with the 19th installment - which shares its moniker with the 9th one - EA seems to have gone back to the basics.
What's In A Name?
A lot. The original Most Wanted was easily one of the best Need For Speed titles to hit the shelves, and by rebooting that very game you can tell how ambitious EA were. Add to that the roping in of Criterion Games - one of the most respected game developers in the world right now (with the Burnout series to its name), and you know EA means business this time. So what is the link between the two games? Quite a lot. And very little.
Let's be clear. Like many others around the world, I loved the original Most Wanted. The game brought back the cop chase angle after having missed it in Underground and Underground 2. These were the games that kickstarted the street racing sub genre for Need for Speed and logically provided the best setup for a cop chase angle. Most Wanted married the two concepts. It added the salt to an otherwise bland curry.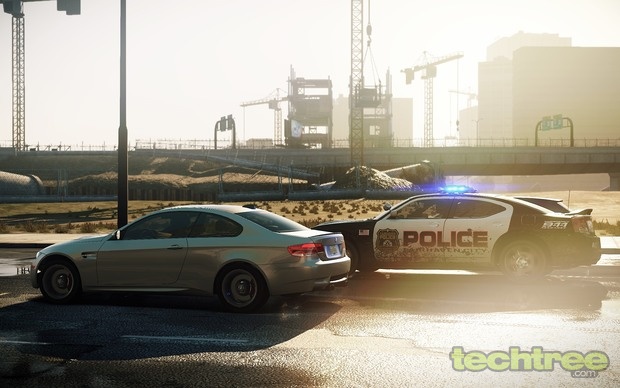 Somebody call 911, BMW M3 burnin rubber on da dance flo.
So It's The Same Game, Right?
When you start playing the game however, you realise how little of the original has been retained in this game. The basic premise is the same - you're in a new city and you have a list of 10 people to defeat. Win the first few races and you'll accumulate enough points to challenge your next rival. It's as simple as that. Really.
There's no cutscenes. No needlessly 'street racer' characters given to your rivals. No earning cash to buy cars and then spending more cash to upgrade them. No cute racer chick who becomes your only friend in a new city. The one that keeps contacting you about new races. In a voice that can only be described as Kim Kardashian with fake attitude and knowledge about cars. None of that. Most Wanted, this time around, is all about the racing.
In fact, the game is so much about racing, pretty much every other aspect takes a back seat. You don't spend time in a car lot wondering which car to spend your hard earned money on. The first car you drive is a Porsche 911 Carerra S, and within minutes you will find an Aston Martin V12 Vantage just waiting for you to drive it. That's how you get new cars - you find them. Hidden all across this fictional city of Fairhaven, are 50 of the best exotics, super cars, and muscle cars. Some are easy to find, while some are hidden in construction sites or in railway sheds. As the promotions for the game said: "If you can find them, you can drive them!"
And once you do find the car of your dreams, upgrading it is no mean task either. Once again, you're not spending any currency or time on the upgrades. Winning races unlocks certain upgrades to your car, which you can apply to your car while driving.
Cops
They're there, they will try and butt in, into some of your races much like Officer Dhoble (with some slick equipment). That's pretty much all there is to say about that.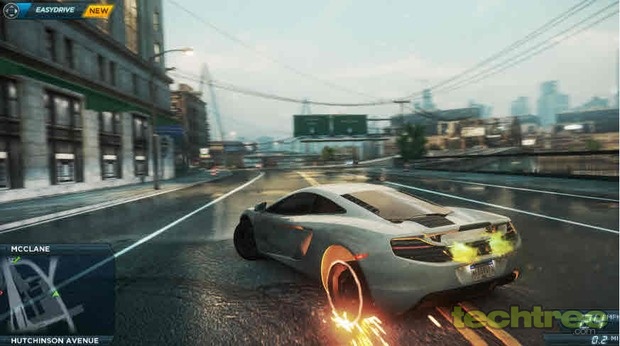 Haha, it's funny because my tires are burning out and Criterion made the game Burnout so haha. Hmm.
But There Is A 'But', Isn't There?
As I mentioned earlier, Most Wanted concentrates so much on the racing, everything else is stripped down. There is no story, there are no friends, there isn't even a starting grid! You simply reach the event marker and spin your wheels (much like Burnout. I see what you did there, Criterion.) to begin the race. The entire barebones racing thingamajig is all great. It's fun no doubt. But personally I felt something was missing. I can only imagine how much better (or worse, for some people) this game would have been if some elements other than the racing dynamic were retained.
To Sum It Up
Need For Speed Most Wanted has definitely done what many of its arcade predecessors failed to do, and that is to take the NFS franchise into a somewhat different direction. The game is pure arcade racing, and if you are fans of the Burnout series - which is a great party game by the way - you are bound to love this game. There's in impressive roster of cars, they all look good, and there's tons of billboards for you to smash through. However, for me? A game like Forza Horizon takes the lead over Most Wanted...albeit slightly.

Gameplay And Design: 3.5/5
Graphics: 4/5
Sound: 4/5
Mojo: 3.5/5
Overall Rating: 3.5/5

Played On: Intel Core i5 3.0 GHz, NVIDIA GeForce 560 Ti 1GB , 8 GB RAM, ASUS Xonar Essence STX sound card.
System Requirements: Intel Core2Duo 2.4 GHz \ AMD Athlon X2 2.7 GHz, 2 GB RAM, AMD HD3870 \ NVIDIA GeForce 8800 GT, Windows Vista.
Recommended System: Quad-core CPU, 4 GB RAM, AMD HD6870 \ NVIDIA GeForce GTX560, DirectX compatible sound card.
TAGS: Gaming, PC Games, Transportation, Sports, Amogh