Forza Horizon (X360)
On the horizon emerges a new champion.
Rating

4
/5
24th Jan 2013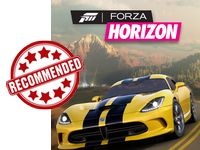 Pros:
Gorgeous visuals, Interesting events like racing hot air balloons, Cars are a pleasure to drive
Cons:
Music gets old very soon
Forza Horizon (X360)
Developer: Playground Games, Turn 10 Studios
Publisher: Microsoft Studios
Genre: Racing
Platforms: X360
MRP: Rs 3000
Street Price (As On 27-Nov-2012): Approx. Rs 3000
Rising petrol prices be damned. If you gave me a Lamborghini Aventador and beautiful open roads... well, first I'd tell you Mumbai potholes are the Aventador's Kryptonite, but then — forgive the cliché — it would be pedal to the metal. Of course, the Aventador we're talking about is a digital representation and the open roads are of a recreated Colorado — home to the fictitious Horizon Festival.
What's The Entry Fee?
The plot is simple. Horizon 2012 — one of the biggest music and automobile festivals — is getting underway. You, as a mute protagonist, manage to make it just in time before the gates close, and from there on you build your way up to the very top and become champion of Horizon. Every event you win gets you money and points. Keep stacking up the points and you get a wrist band upgrade, which allows you to enter bigger events with better drivers.
But that's just the basics. When you're not racing, you have the sprawling Colorado landscape to discover. From long straight highways to small towns, and from windy roads in the Rockies to all-out off-road tracks, Horizon throws every type of terrain at you.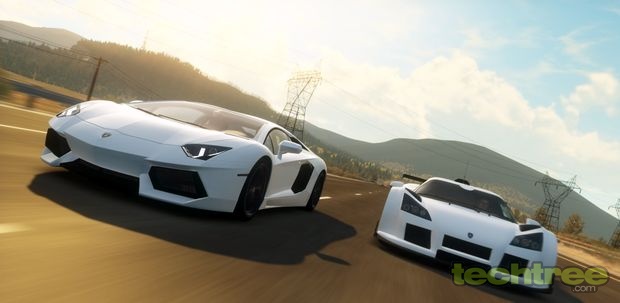 If you look closely enough, you'll realise this is Jessica Alba and Halle Berry. Maybe hotter.
Can Newbies Have Fun?
Yes.
Like its predecessors from the franchise, Forza Horizon is much more than just a simulation racer. There are a lot of people who refuse to play games like Forza or Gran Turismo just on the basis of how tough they seem to be. But Horizon is a game that can easily turn these rebels to the dark side. Spend about 10 minutes with the game and you won't look back. Unless it's in your rear-view mirror.
Of course, if you still have doubts, you can turn on some or all of the driving assists. But then again, that's like riding a bicycle with the side wheels when you're 20. It's frankly embarrassing.
How Does It Look?
In short, stunning. The world looks beautiful through day and night. And to add to it, it's very finely detailed. Go for a long drive on the highway and you will see the Horizon stages on the... horizon. The bursting of firecrackers in the night sky, the strobe lights from music concerts, and hoardings for the festival put up all around Colorado actually give you the feeling of being at a festival.
Switch to the cockpit camera as the sun sets and the fully functional dials on your dash light up. The cockpit camera is so detailed, you can catch glances on the colour of the Horizon wristband you are on, according to the game's progress.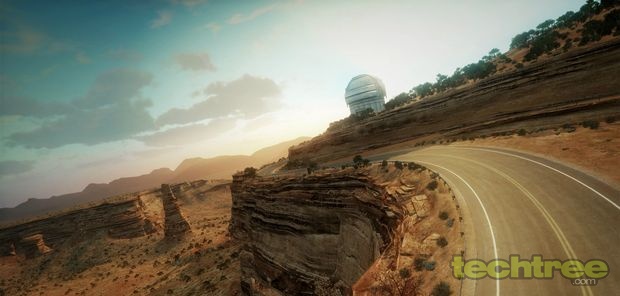 Contrary to popular belief, this is not Maharashtra.
What About The Cars?
There's lots of them. And the best part? You'll be driving some of the best ones in no time. Win a couple of races and you'll have the change to upgrade from a Volkswagen Corrado to at least a Mitsubishi Lancer Evo X. The cockpit of each car is uniquely detailed with accurate steering wheels, dials and interiors. Each car has its distinct engine sound, and handles differently too. For example, the Lancer Evo X is a great car for pretty much any race type. But take a Ferrari 458 off road and be prepared to be at the end of the line.
To add to that, whenever you get enough points for a wristband upgrade, you are challenged to a one on one race with some of the games best racers — the reward for which is a pink slip to their car. So within no time your garage will have a good collection of good cars, some which are already upgraded.
Horizon introduces "barn finds." From time to time, you will hear rumours of a classic car stocked away somewhere in the game world. An estimated position of the car is marked on your map; if you find the car, it's yours. Every time you come across a barn find, the in-game mechanic Dak gives you a little trivia about the car, and then takes it upon himself to restore the car to working condition for you. He does this free of cost of course, unlike the upgrades he installs for your other cars. And if you think he's too expensive, you can just drive around and smash through upgrade discount boards. Every board smashed gives you a 1% discount... and there's exactly 100 of them placed around the game world.


Yes, I raced a plane. Your move Jeremy Clarkson.
What Else Can I Do?
If you don't feel like competing in a race, you can always drive around the Colorado countryside taking in the gorgeous sights. The game has a photo feature through which you can take stunning shots of your car and upload them to the Horizon community. Car customisation is possible, and you can also upload your designs to the community for other players to purchase. With the credits you earn, you can buy treasure maps, which have the locations of every upgrade discount board and barn find already marked. And while you're driving, you can even challenge other racers to a quick one-on-one race for some extra cash.
To Conclude
If you are a car enthusiast, Forza Horizon is the game for you. The vehicle roster is huge, ranging from the best super cars to some beautiful classics. The detail is pleasing, and even though there's very little scope for quick travel, you don't mind it because driving around is good fun. The cars handle well, and even if this is the first Forza title you play, you'll get the hang of it pretty soon. If you're an EDM or alternative rock fan, the radio stations might have something you like. Forza Horizon definitely scores high enough to be one of the best racers to come out this year.
Gameplay And Design: 4/5
Graphics: 4/5
Sound: 4/5
Mojo: 4.5/5
Overall Rating: 4/5
TAGS: Gaming, Xbox, Transportation, Sports, Amogh