LG To Introduce World's First All-In-One Chromebase Desktop At CES 2014
Yet another browser-based machine for you to play with.
At the CES 2014, which is set to flag off on 7th January, we can expect LG to take the wraps off a Chromebase all-in-one PC (Model 22CV241). Along with the unique OS, it will have a 21.5" widescreen Full HD (1920 X 1080) IPS display and will pack in several Google applications.
The LG Chromebase will allow users to write emails and documents, read the latest news and eBooks, edit videos and photos, and play games. You can take use Google products such as Gmail, Drive, Search, Maps, YouTube, Play, and Google+ Hangouts. The LG Chromebase also offers built-in security to keep users information safe. It is powered by fourth generation Intel CPU, which can handle web apps, games, and graphics with ease. The computer also packs in a 1.3 megapixel webcam and a microphone for easy video calling. This AIO computer delivers clear and powerful sound and music through a pair of built-in 5W speakers.
Specifications:
Processor: Intel Celeron CPU.
Operating System: Chrome OS.
Display: 21.5-inch Full HD (1920 x 1080) IPS.
2 GB RAM.
Storage: 16 GB iSSD.
Ports: HDMI-in, USB 2.0 x3, USB 3.0 x1, LAN.
Accessories: Keyboard, Mouse, Cable Organizer.
Webcam: 1.3 MP.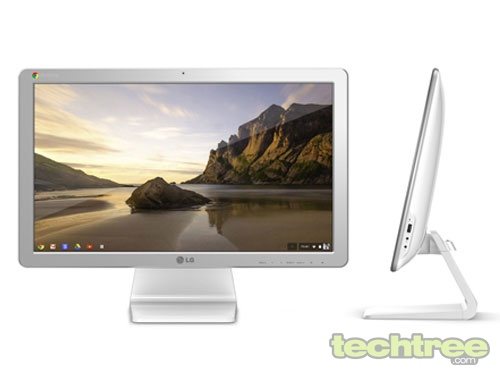 TAGS: LG, CES, PC Peripherals