Angry Birds Star Wars Set To Storm Game Consoles
To be available from 29th October in US and 1st November globally.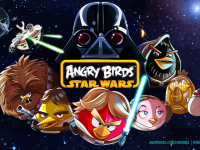 After invading every mobile and desktop platform last year, Angry Birds Star Wars is now set to arrive on every game console soon. A teaser video released by Rovio gives the shipping date as 29th October 2013 for US customers. The game will be available globally from 1st November 2013. The supported platforms include Xbox 360, PS3, PS Vita, Wii U, Wii, and 3DS. It is surprising that Xbox One and PS4 is not in the list. It may be Rovio is waiting for the consoles to be launched first because none of the two will be available by the game's launch date.
The reward here for console gamers is that they will be getting 20 exclusive levels and competitive multiplayer modes not available in versions for other platforms. The prequel to the game has already been announced and is slated for 19th September release for mobile platforms. Watch the announcement trailer below:
TAGS: Angry Birds, games