Corsair Vengeance K70 Gaming Keyboard Launched
"Fully Mechanical" keyboard with "Key-by-Key" backlighting, dedicated multimedia controls and a USB host port.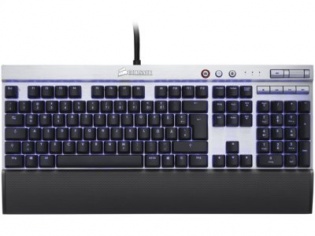 Corsair has announced the Vengeance K70 fully mechanical gaming keyboard. It is built on rugged, brushed, aluminum chassis and features highly responsive Cherry MX Red mechanical switches under every key. The high performance switches combined with the keyboard's 100% anti-ghosted matrix, 20-key rollover and 1000Hz reporting rate provide fast, accurate input for gaming.

The Corsair Vengeance K70 gaming keyboards are available in two color schemes: silver aluminum with blue backlighting, and anodized black with deep red backlighting. Overall backlighting can be adjusted to four levels of intensity and each key is individually backlit, enabling the lighting for each key to be independently enabled or disabled. The key-by-key lighting customization allows users to highlight just the keys they need to emphasize and then save the setting directly to the K70's onboard memory. In addition, the Vengeance K70 comes with alternate colored, contoured keycaps for the WASD and 1-6 keycaps to allow additional customization.

The Vengeance K70 also features dedicated multimedia controls to allow users to play, stop, pause, skip tracks and adjust volume. An extra USB connector is provided for attaching to USB devices such as a Vengeance gaming mouse or headset. A removable soft-touch wrist rest provides comfort for long gaming or typing sessions.

This product is not available in India until April, so Corsair's media representatives weren't able to offer price and warranty information.