Seagate Wireless Plus 1 TB Launched In India For Rs 16,000
Device can wirelessly stream multimedia content to up to three devices simultaneously, over DLNA.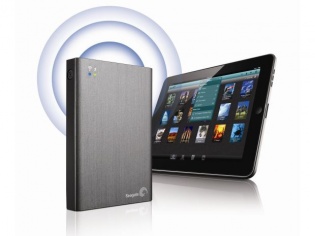 Seagate, the company known for its hard drives, has launched the Wireless Plus, a portable hard drive that doubles up as a media server. Before you start thinking that this is a NAS solution of sorts, let me tell you that it is not. This is rather like the GoFlex Satellite Drive, which the company launched a couple of years ago.

The Wireless Plus 1 TB hard drive resembles a portable hard drive, and can not only store multimedia content, but also stream it wirelessly to up to three compatible devices at a time. There are free Seagate Media apps for iPad, iPhone, Kindle Fire, and Android devices to let you access the content stored on the drive. It can also stream multimedia files to tablets, smartphones, Macs, and Windows PCs. Thus, it can effectively serve as a centralised networked home storage solution that is similar to NAS, but is also portable.

The Seagate Wireless Plus also comes with a USB 3.0 adapter to connect to a computer and transfer movies, music, photos, or documents. The battery is said to provide a backup time of 10 hours. The 1TB drive can be yours for Rs 16,000. Come to think of it, a netbook that costs around as much or less can serve the same purpose, and it is a complete computing device in its own right.