HP Pavilion 14 Chromebook Launched
A rare chromebook with a 14-inch screen. It offers battery backup of ~4h 15min thus being a device for simple home use and internet access.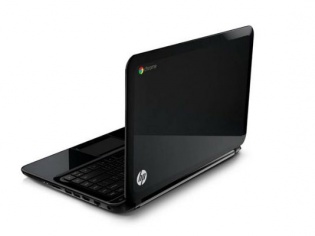 HP has brought out its first device running the Google Chrome operating system, the Pavilion 14 Chromebook. This low-priced laptop has a 14" display (1366x768 pixels), larger than Chromebooks from Acer and Samsung who generally offer an 11.6" screen. Battery backup of this HP Chromebook is claimed to be 4hrs 15mins, lower than the 6 hours the Samsung Chromebook XE303C12 claims, perhaps because of the screen size difference.

The price tag of the HP Pavilion 14 Chromebook is $330 (Rs 17,800 approximately), comparable to the Samsung Chromebook XE303C12 which is priced at approximately Rs 17,200. The price tag of the HP Pavilion 14 is comparable to Netbooks which have a similar price tag and come with hard drives (~320 GB) that provide more internal storage for the user.

The Pavilion 14 Chromebook has a 14" display with 1366x768 pixels, a 16GB solid state drive (SSD), 2GB RAM, runs on a 1.1 GHz Intel Celeron CPU and has a removable battery. It has a memory card reader, HDMI, USB 2.0 and Ethernet ports, with support for Bluetooth 3.0. Like all Chromebooks there is no hard drive, but it does offer the user 100GB of Google Drive cloud storage space valid for two years.

The Pavilion 14 Chromebook is a useful OS variation, as against HP's customary Windows OS for its desktops and laptops.