Xiaomi's Poco Issues A Statement Over Screen Bleeding Issue
Tells its customers that "it does not affect the performance or usability".
The Poco F1 is one of most agressive smartphone available in India. It offers Snapdragon 845 chipset for Rs 24,000, which makes it idea for gaming. However, the company has cut corners to achieve this price point. For instance, its SIM tray is made of slimsy plastic. Other phones in its price range feature metal trays.
In addition to that, many users have also been complaining about the backlight bleeding issue. In fact, I have experienced this phenomenon on two units of Poco F1. Now finally, the company has opened up on the matter and has issued a statement.
According to Poco, screen bleeding mentioned by few Poco users in not at all screen bleeding. It is caused by "bright gradient on the bottom of the display". It goes on to add that less than 0.3 percent of users have experienced edge "light dispersion, which is a phenomenon that does not affect the performance or usability of the phone in any manner whatsoever". In other words, those unlucky souls with screen bleeding issue will have to put up with it.
In case there are any irregularities, Poco recommends users to visit its 1000+ service centres to get the phone examined.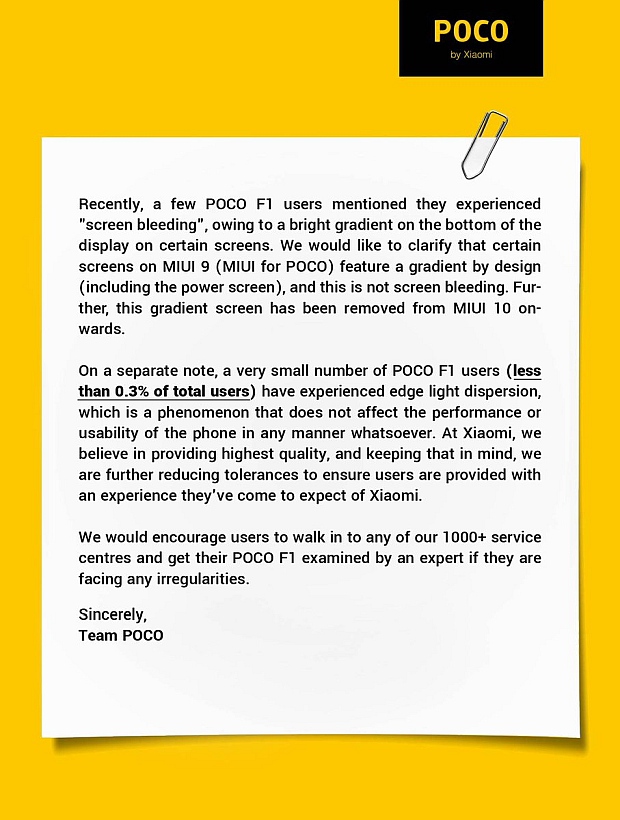 TAGS: Xiaomi