China's HOMTOM Launches 3 Smartphones in India
The devices H1, H3 and H5 are priced at Rs 7,499, Rs 9,990 and Rs 10,990, respectively.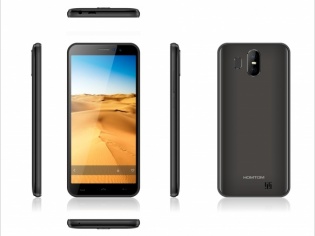 Chinese mobile brand HOMTOM recently entered the Indian market with three smartphones in the sub-Rs 10,000 price segment. The devices H1, H3 and H5 are priced at Rs 7,499, Rs 9,990 and Rs 10,990, respectively. H1 comes with 5.5-inch HD display and is equipped with 2 GB RAM and 16 GB internal storage. It houses a 3000 mAh battery.
The H3 with 5.5-inch HD+ In-cell display comes with MTK 1.3GHz 64 bit processor coupled with 3 GB RAM and 32 GB internal storage. It houses a 3500 mAh battery. Both the models sport 13 MP + 2 MP primary camera and 8MP secondary camera and support "Face Unlock" feature.
"The Indian smartphone market has a reputation of providing an up thrust to budding phone companies, with the aim of meeting the public demands and generating best in class products, HOMTOM is sure to mark its place in the market. Bringing to you mobile phones with latest specs that are priced right for me you and every other individual, we at HOMTOM aim to strive for excellence" quoted Dilpreet Singh Sikka, Director Finance & Operations.
The company also aims to manufacture its products in the country. To understand local needs and usage pattern, it is reaching out to the masses, to recruit, train, certify and support a wider base of partners in India.
"As our tagline reads, 'Smarterphone for Smarter India', we are delighted to introduce the all new range of smarter phones HOMTOM H1, HOMTOM H3 and HOMTOM H5 designed for the youth. We aim to enhance our customers experience with more advanced features at an affordable price." Says Aditya Bobal, Director, Brand Strategy.
This brand of smart phones is a part of SHENZHEN ZHOUJI HOMTOM TECHNOLOGY CO. LTD. from Shenzhen, China and already has a global presence, across varied geographies like South Asia, Middle East, Russia, Africa, Europe, Latin America and North America. HOMTOM recently expanded its geographical boundary by inaugurating its office in Noida, India and appointed leading heads for different verticals from smooth motion of its business in and across the country.
TAGS: HOMTOM, Smartphones