Apple's Upcoming A11 Mobile Chip To Feature Six Cores
While two cores are expected to be high powered ones, other four are said to be low-powered Mistral cores.
Apple is all set to unveil a number of products at its upcoming event being held today in its new Cupertino campus, and one among them is the company's next mobile chip, which is expected to power the new Apple iPhone that will debut during the event.
The new mobile chip, the A11, features a six-core processor, which, according to a recent post published on GSMArena will be comprising of two high-power Monsoon cores and four low-power Mistral cores, each one of them independently controllable, and also, run at the same tine.
In-fact, this piece of information is said to have been leaked by developer Steve T-S from iOS 11 Golden Master which has also revealed thus far about Face ID, new wallpapers and animated emojis.
Here's a screenshot of his tweet where he mentions about the upcoming mobile chip by Apple: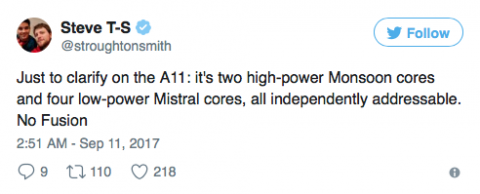 Just in case, if you wondered, the current chip found on iPhone 7 and 7 Plus, i.e., A10, comes with two high-powered Hurricane cores and 2 low-powered Zephyr cores. Also, to make it more clear, the current mobile chip is capable of only running either the powerful cores or the low-powered cores at a time.
With this in mind, it looks like, the A11 mobile chip is definitely going to be a beast in itself. However, we will get to know more during the event. Stay tuned for more updates.
TAGS: Apple, A11 Mobile Chip, Apple iPhone