Apple Launches Red Color Variant Of iPhone 7 And 7 Plus
The company has also announced a new app called Apple Clips that helps you combine different clips.
Along with the new refreshed models of iPad, the Cupertino-giant Apple has surprised the tech world by launching a new Special Edition of its iPhone 7 and iPhone 7 Plus devices.
The Apple website claims the new Special Edition variant as the (PRODUCT) RED variant, and will be available in 128 GB and 256 GB storage variants. It is also being said that the new iPhone variant will be sold, probably in April, for price tags starting at Rs 82,000.
In a press release, the company has announced that this new variant of iPhone 7 and 7 Plus would be an opportunity for customers to actually contribute to the Global Fund, and help in making this world, an AIDS-free place.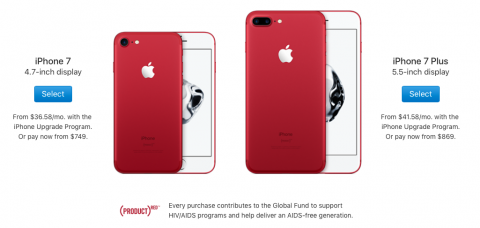 On the other hand, the Cupertino-giant has also announced a new variant of the smaller iPhone SE, which now comes with a doubled storage space for the same price tag of $399. Along with this, we already know that the company has refreshed iPad models.
Additionally, Apple has announced about its new app that allow users to combine different clips, called as Apple Clips. The app is for free and will be available for download starting this April. It would be allowing users to add animated captions and titles to their videos as well, with the help of 'Live Titles' feature inside the app.