Review: Creative Woof Wireless Speaker
Loud, but lacks the quality.
Rating

3
/5
25th Feb 2015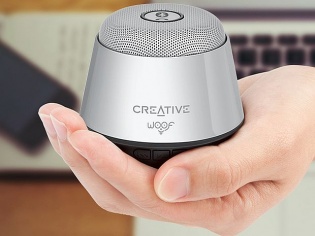 Pros:
Sturdy construction; Compact profile; Loud output.
Cons:
Hollow sound; Weak microphone.
Creative Woof
Street Price: Rs 2500

The Creative Woof is a portable wireless speaker that fits in your palm. Manufactured by the Singapore-based brand, this gadget brings quality build without breaking the bank. So is this sleek speaker worth your consideration?
Design And Build
At first glance, the Woof looks like a salt and pepper shaker. It features a sturdy metal body. The gadget comes in four colours to choose from. Out of the lot, the silver one is a safe choice.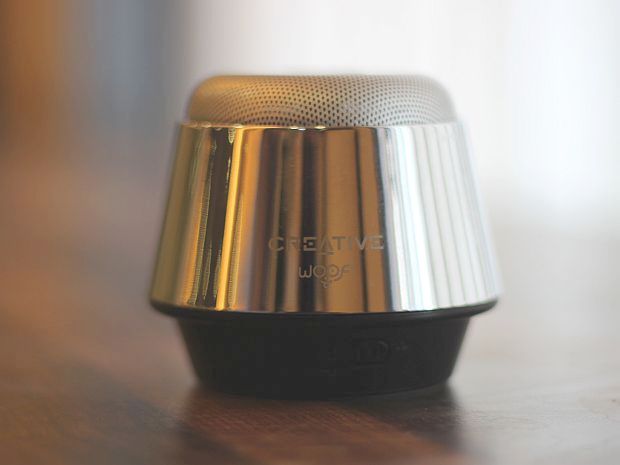 The Woof has an upward firing speaker. The design is mostly clean. The only distinctly visible button has been placed right in the centre of the speaker grille. It has a colour coded backlight - blue for 'On' and red represents 'Off'.
On the bottom, there's a old fashion power toggle. On the skirting, you get three buttons for playback control. The next and previous track buttons double up as volume buttons. There's also a mic, 3.5 mm audio jack, and micro-USB port.
Setting It Up
Establishing bluetooth connection between the speaker and your smartphone/laptop is straightforward. Press and hold the prominent bluetooth button on the speaker and it will light up. The Woof will show up on your smartphone's bluetooth discovery list. Simply tap on its name to connect. The speaker reads out the status notifications such as "device is ready for connecting" and "connected". Probably due to its affordable price tag, the speech is coarse.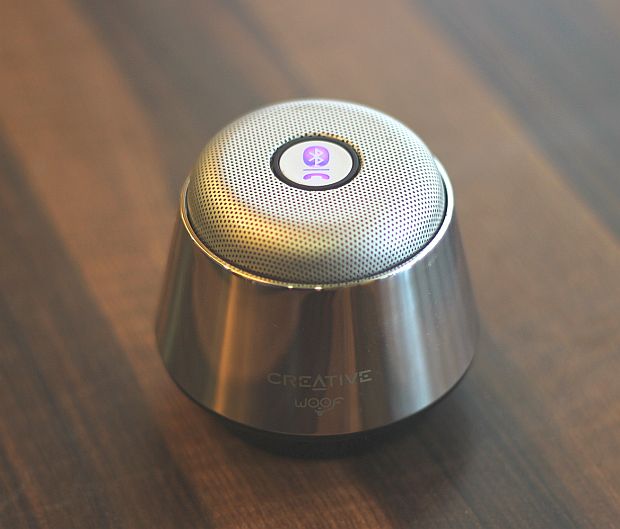 As you would have already figured out, you can also hook-up your music player to this speaker via 3.5 mm audio jack. Using wired connection, you can save juice on both the handset and speaker.
Performance
Considering its size, the Woof is very loud. Although Creative talks about punchy bass in the promotional material, I found it to be quite ordinary. In fact, JBL's Micro Wireless produces better bass and frequency response than Creative's gadget.
On the bright side, the speaker is good for watching movies.
The device's bluetooth range is very good. Creative claims to be around 10 metres, but it can go beyond that if your smartphone has a strong bluetooth radio.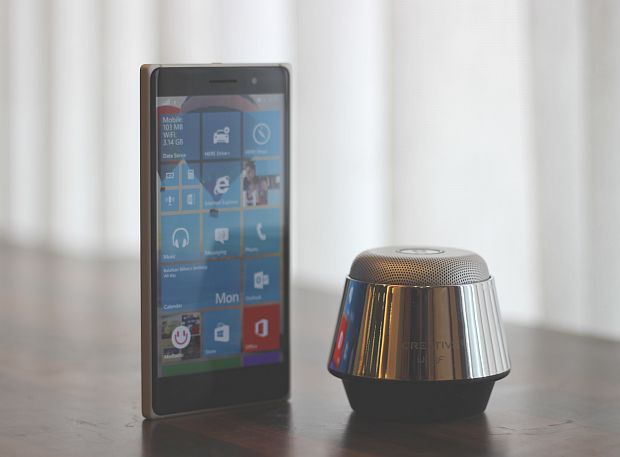 The Woof works as a speakerphone. However, the built-in microphone does not pick-up the sound well. On a con call, you will have to yell to be heard on the other side. Instead of playing your phone's ringtone, the speaker plays its own notification that sounds like if a firetruck is coming your way.
On a full charge, the speaker's battery easily lasts upto six hours. You can recharge it using the bundled micro-USB cable. If you're in hurry, use your smartphone's wall-charger.
Verdict
The Creative Woof is a well-built wireless speaker. Available for Rs 2500, this speaker's output is enough to fill a room. However, if you care about the quality of the music, look somewhere else. Currently, I would recommend the JBL Micro Wireless that now costs less than two grands.
Rating: 3
Features: 4
Design And Build: 4
Performance: 2.5
Value: 3
Mojo: 3
TAGS: Speakers, Bluetooth, Creative