HTC One M9 Plus Leaks Out In Press Renders
Looks a lot better this time.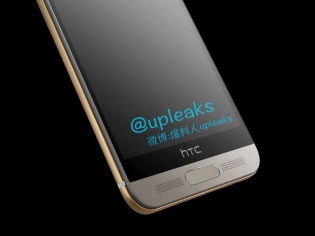 HTC's unannounced One M9 Plus has leaked out once again. The smartphone seems to have garnered enough attention in its last leak, where some information about its specs got out as well. This time around we get clean press renders, that do look impressive.
While we must admit that the HTC One M9 Plus looks horrid in the two-tone Gold finish, the newly leaked out matte-black with gold certainly looks a lot classier.
This could be for reasons that the giant camera set up on the back kind of merges with black finish of the metal panel, looking less obtrusive. As for the front all of your attention goes on the gold finished rim.
Still then, we cannot help but notice the fingerprint scanner at the bottom that still looks like a last minute design decision.
No matter what, this handset will be a beast, minus the MediaTek processor, which could be a hit or a miss affair.
TAGS: Mobile Phones, Android, HTC