Samsung's Tab S Will Go Official On The 12th Of June; Sends Out Invites For The Same
Should we expect a lot more products to be launched?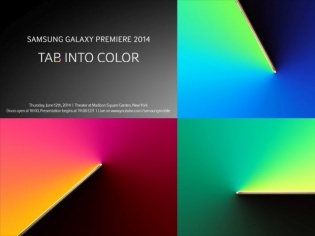 As predicted, Samsung has finally sent out invites to the media for the GALAXY Premiere 2014 event for the 12th of June. The invite clearly mentions "Tab into colour", indicating that it will mostly cover the much-awaited GALAXY Tab S. But should we expect something more?
The Tab S just hit the FCC a day ago and showed us its face along with news reports hinting at a June 12th launch which finally got confirmed. What is also confirmed is that the Tab S will sport Samsung's first 2560 x 1660 pixel AMOLED panel which will make itself available in two sizes. The last time Samsung hosted a GALAXY Premiere event, we all saw the launch of the GALAXY S4 Mini, the S4 Active, the Zoom and a wide range of ATIV devices that never made it to Indian shores.
So it makes sense to believe that even though Samsung is hinting at just a TAB launch, we could see something more. As the rumours go, Samsung is indeed prepping the premium version of the GALAXY S5 which is said to come with a premium construction and a QHD (2560 x 1440 pixel) display. This is a device which almost made it into production but Samsung could not pull it off thanks to the shortage of resources. Then there is also the rumoured GALAXY S5 Active which has been making rounds in the rumour mill as well but has no confirmed news just yet. But looking back at the fact that Samsung has begun to launch its handsets individually(GALAXY K Zoom), again makes sense to believe that the GALAXY S5 Prime and S5 Active would have its own share of the limelight at their respective events.
The GALAXY Premiere event will take place in New York and begins at 19:00 New York time (04:30 AM IST on 13th of June in India) and you can catch it live on Samsung's YouTube page as well.