Airtel Outage Continues
Will need one more day for voice and data services to "start normalizing".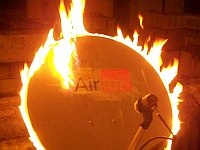 In a rerun of the 2008 incident, airtel's Mumbai data centre in Malad caught fire early on Tuesday morning, nuking its voice and data services in the western region (Mumbai, Maharashtra, Goa, and Madhya Pradesh). Unlike the 2008 outage though, which lasted for 12 hours, this fire safety fiasco has been going on for three days now. The very literal network meltdown has affected data services such as 3G, GPRS, CDMA, and broadband internet access, in addition to voice calls. While some users can now intermittently access GPRS services and send SMSes, making and receiving calls continues to be a hit-and-miss affair for many subscribers.

airtel, however, has attempted to portray a rosier picture. "Our teams have been working round the clock to restore these services, and we are happy to state that all mobile, DSL and mobile data services have largely been normalized. However, some customers may be facing intermittent network congestion during the network stabilization process. We are working on our Enterprise Services delivery which will start normalizing tomorrow", said a company spokesman.

When you take off the sugar coating, this still means there's at least one more day of suffering left before the situation can get any better. Three whole days of flaky voice and data connections in a circle accounting for 17% of Airtel's 175-million-strong userbase is unacceptable. Then again, so is the propensity of airtel's data centres to burst into flames time and again.

This just might be true, since it took six hours to control the relatively minor fire.