Stop Complaining! 99.7% Windows Phone 8 Apps Are Compatible With 512 MB Handsets
Avid smartphone gamers may go for 1 GB and more.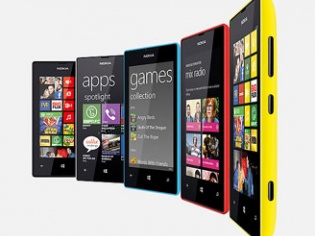 Well before the launch of Nokia Lumia 625, Windows Phone users have been complaining about handsets having just 512 MB RAM. These WP devices are available at a price point similar to smartphones from other platforms with 1 GB of RAM. Most of the highest selling WP devices like the Nokia Lumia 520, 620, 720, and HTC 8S carry 512 MB of RAM. But from the users point of view, everyone wants a device with at least 1 GB RAM, even knowing that the platform works flawlessly with lower RAM than, say, Android devices.
Well, here is an answer for everyone who is a Windows Phone user or is planning to get a WP device but having a double mind while considering the hardware options available for the platform. AllAboutWindowsPhone has published a report where it suggests that 99.7% of Windows Phone 8 apps are compatible with 512 MB devices. This means that out of the 150,000 odd apps the website has tracked for Windows Phone 8, only 331 (0.24%) apps are incompatible on devices with 512 MB RAM. Talking of games, only 0.361% are not compatible, which is just 65 games out of 17,029 in the category.
That does mean some high profile games are not going to work on devices with 512 MB of RAM. These include the latest Halo: Spartan Assault, The Amazing Spiderman, Tiger Woods 12, Sims 3, N.O.V.A.3, and FIFA 13. So if you are a serious smartphone gamer, then you are somehow out of luck. However, to answer this issue, updates have been pushed for quite some apps making them compatible with 512 MB devices. Most notable of such games are Temple Run and Drift Mania Championship 2. There is some hope that in future we will have such compatibility updates for other apps too.
On the non-gaming front, 199 of 331 incompatible apps come from two developers, Manna who is a developer of city guide based apps and AppDesigner.com developing video based tutorial apps. Excluding them out of the equation we have just 0.088% of incompatible apps from the rest of the developers.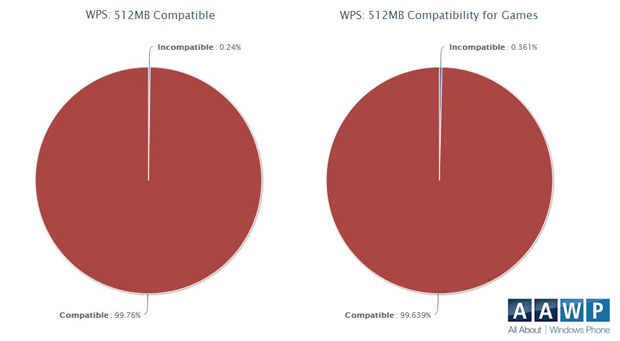 The story with Windows Phone 7.5 is not much different. The report suggests that devices with 256 MB RAM have 98.44% compatible apps with just 3.09% incompatible games from the category. After reading all this, if you still complain about your phone having 512 MB RAM and not being compatible with most of the apps, then you must actually try going through the entire list of available apps on the store to get a reality check.
TAGS: Windows Phone, Apps