DOT Rules 3G Roaming Illegal
In response, three operators threaten to withdraw from the 3G scene.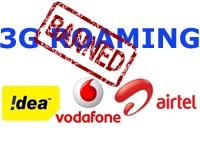 The Department of Telecommunications (DOT) has asked mobile operators to stop providing 3G roaming services or risk a termination of their agreements. The regulatory body has stated that roaming arrangements are in violation of licence norms. Mobile operators are definitely going to feel the pinch of this new ruling, because they stand to lose a lot of revenue, while subscribers will face a crippling restriction on 3G access. DOT plans to penalise operators not abiding by this new ruling.

The Telecom Regulatory Authority of India (TRAI) had earlier made a similar inference, following which Communications and IT Minister Kapil Sibal had asked Telecom Secretary R Chandrasekhar to notify all 3G providers operating in this "illegal" manner about the diktat. Earlier this year, no one operator was able to bag a pan-India 3G licence during the spectrum auction. Therefore, they had no choice but to enter into roaming agreements with each other in order to provide the service across the country to their customers. Bharti airtel, Vodafone Essar, and Idea Cellular entered into such an understanding, while Tata Teleservices and Aircel, which had initially followed an arrangement, later terminated it.

Over the last few months DOT claimed to have received complaints regarding the illegal nature of such agreements. After seeking a legal opinion, it has decided to issue notices to these firms to terminate these contracts immediately, failing which they will be liable to face legal action. In return, the three operators to whom notices have been served have written to the PM demanding a refund of the spectrum auction payment if roaming is disallowed.