Samsung Launches 85" 4K UHD LED TV In India For Rs 27,00,000
The UN85S9 may still find it hard to sell due to the lack of 4K content.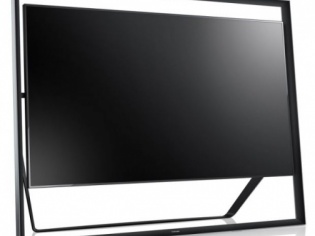 Samsung has just launched the UN85S9 LED TV, which has a huge 85" screen with 4K UHD pixel dimensions. We all know how Samsung keeps pushing for bigger screens, but while this strategy may be laughable in smartphones; it is certainly the way to go when it comes to televisions. The Korean electronics giant showed off this TV at CES 2013 in January, claiming it to be the world's largest 4K LED-backlit TV, only to outshine it a couple of days later, with its own UN110S9 featuring a colossal 110" screen.
The TV sports a panel with pixel dimensions of 3840x2160, which is also known as 4K UHD or 2160p. It sports a unique design, with the display suspended within a metal frame that allows easy tilt adjustment. The S9 series features edge LED with dimming, although it is known that it becomes increasingly difficult to maintain uniform brightness across the screen with this technology as the screen size increases. It also contains Precision Black Pro technology that is said to allow for an extremely high contrast ratio while delivering better black levels. The integrated 2.2-channel surround sound speakers claim to deliver 120 W via left, right, centre, and two woofers. Being Smart TV, it comes with Smart Hub with support for social media apps. Some of the other notable features include a powerful quad-core 1.35 GHz A15 CPU to process the ultra-high definition imagery, especially when it comes to active 3D that the TV supports.
While 4K content is hardly available, manufacturers have started pushing 4K TVs with extra zeal since last year. This is similar to the trend of first pushing HD TVs, LED TVs, and of late, 3D TVs to the consumers. The strategy may work if the prices are kept in check, but it will fail if 4K content does not become generally available soon. However, we have a feeling that such content should become available soon, because this industry is largely driven by television manufacturers and surely, they are not bringing out products with cutting edge technology just for demonstration purposes.
Samsung has launched the 85" UN85S9 in India for a price of Rs 27,00,000, which was expected as it is only meant for the opulent. It is currently available at major retail outlets across India. There is no word on whether the company will launch the 110" UN110S9 in India, but that will depend on how well this smaller model is received by the Indian consumers.