Google Sells Android To Apple For 9 Billion Dollars
The Cupertino-based company has promised to keep the OS alive.
In a shocking move today, Google has sold its mobile platform to its biggest rival Apple. Newly-elected Android head, Atisundar Pachai said, "This move was planned a long time back. We picked up the Android platform for a paltry amount of $50 million, so we're ecstatic with a profit of $8.95 billion .Yay!" However, many industry experts believe this is the result of a rift within the company's development division. On the condition of anonymity, one of the Google employees working on Android suggests that Pachai proposed a Chrome browser style update model for Android, under which developers would require to push out a new version of Android every week, which the dev team opposed to vehemently. With a strike scare looming large, Google possibly thought this to be the best opportunity to dispose off the demon it created, that too at a neat profit.

After completing the deal, the Apple CEO assured that he won't kill the thriving platform. "We want to keep the core features of Android intact. Therefore, Apple engineers will ensure that the OS lags even on multiple processor cores". However, the Cupertino based company will replace the Android Play Store with its own app repository. While upcoming Android phones will be iTunes-dependent, a software update disabling mass-storage mode in existing phones is also in the works.

When asked about this latest development in the mobile space, Nokia's CEO, in his official statement, just giggled. The reaction from Microsoft's head-honcho though, as seen below, was a bit more lively. Will this latest change in scenario make you rethink your next smartphone purchase? Shoot off in the comments below.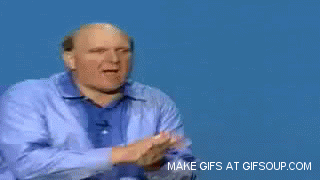 TAGS: Mobile Phones, Android, iOS, Apple, Google