New Android Malware Disguised As Security App Update Infiltrates Google Play
Trojan named FakeLookout.A. can access messages and infect PCs through connected devices.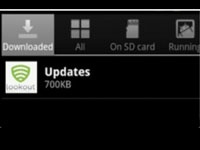 Extra-cautious Android users who protect their data with apps such as LookOut are in for a shock: A malware called FakeLookout.A has infiltrated some Android devices through an app via the Google Play store. The malware can be located in the full Application List after the app is successfully installed. It comes up as an update for LookOut under the Downloaded app list.
TrustGo Security Labs reports that remote server commands enables the malware to steal SMSes and MMSes using a secure FTP connection that connects to a malicious website. The update also offers access to the file list from the user's SD card. The website it accesses targets computing platforms including Windows, Mac and Unix/Linux. This effectively means that if you connect an infected phone, it will drop different Trojans onto the connected system depending on the OS.