ADATA Announces DashDrive HV610 USB 3.0 External HDD In 500 GB, 750 GB, And 1 TB Sizes
Comes with a brightly-coloured removable cover; pricing details yet to be released.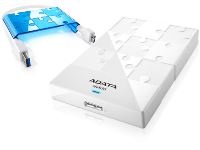 ADATA, a Taiwanese manufacturer of memory and storage products, has announced the launch of the DashDrive HV610 (in case the page doesn't load, try Google's cached version) external hard drive series in capacities of 500 GB, 750 GB, and 1 TB. This new model boasts of a SuperSpeed USB 3.0 interface that claims to be three times faster than USB 2.0. The design sports a colourful exterior thanks to a removable sliding "smart cover" in a jigsaw puzzle design that matches the drive housing. This semi-transparent cover also conveniently houses the cable when not in use. Finally, an LED indicator lets you know the drive's readiness and data transfer status.
While the dimensions of the product have not been not provided, the accompanying photograph can be used to guess that it is rather compact, along the lines of casings for 2.5" internal laptop HDDs. The drive comes with a tool called OStoGO that lets you create and store bootable images of Windows Vista or 7, as well as a 60-day trial of the latest Norton Internet Security 2012. However, since both programmes can be downloaded for free off the web in any case, this works out to little more than a token gesture for buyers.

Available in black and white colours, the drives come with a three-year warranty, but the pricing for India has not been provided as of this writing. This article will be updated as soon as the price becomes available.