"Angry Birds in Ultrabook Adventure" Launched On Facebook In Collaboration With Intel
Browser-based cross-platform game is a marketing campaign to boost the popularity of ultrabooks.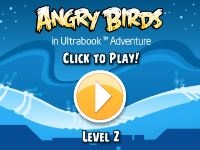 Rovio, known for making Angry Birds, and Jumptab, a mobile advertising company, have joined forces along with Intel to launch Angry Birds in Ultrabook Adventure. This free game can be played in a browser on Facebook and therefore works across different platforms. The game's home page states "The bad piggies have fled into an Intel-inspired Ultrabook and the Angry Birds must give chase".
While the gameplay essentially remains the same, there are a few cosmetic differences and new levels. The background is now an Intel-themed blue circuit board, and the slingshot is now blue and yellow. Obviously, the Intel logo has been prominently displayed at the bottom of the screen. While the game can be played on large screens from its home page, it can also work on netbooks and tablets by clicking this link. The game works without logging into FB in this way, but you will not be able to save your high scores.
Intel is obviously trying to cash in on the popularity of the Angry Birds franchise to popularise the fledgling ultrabook market. Add the FB social angle to the equation and the value of this marketing strategy instantly multiplies. That being said, it remains to be seen if more people will become ultrabook customers or if they will do the sensible thing and wait for these currently expensive devices to become cheaper.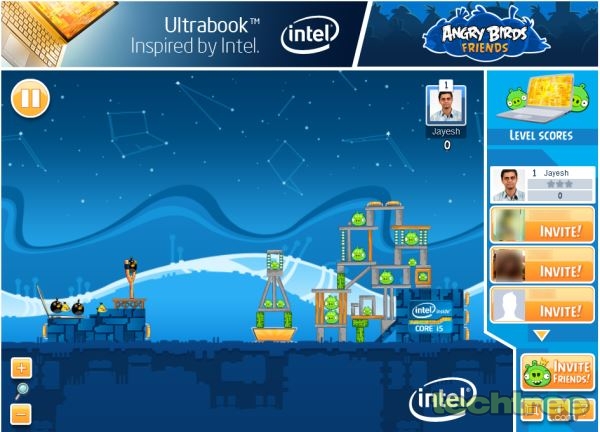 TAGS: Gaming, Laptops, Apps, Internet, Angry Birds, Facebook, Intel, Jayesh