Microsoft Steps Into The Tablet Arena With Surface, A 10.6" Slate Running Windows 8
Announces two variants: a low-power Windows RT device, and a full-fledged tablet PC on Windows 8 Pro with up to 128 GB storage.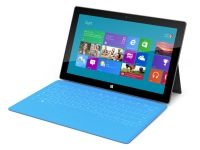 Microsoft has finally entered the world of tablets with a 10.6" series called Surface. While prices have not been specified as of now, the company has announced two versions of the slate, both running on Windows 8. One of the devices will be powered by an ARM processor running Windows RT, while the other will feature an Intel CPU and run Windows 8 Professional. The gadgets will both be encased within a magnesium case called VaporMg, and will sport a built-in kickstand to let the tablets stand vertically.
The ARM variant is said to be 9.3 mm thick, tipping the scales at 676 grammes. It will offer support for Metro apps and will have MS's new productivity suite, codenamed MS Office 15, pre-installed to help you work on the go. The tablet will also come with 32 or 64 GB of internal storage.

The Intel version can be expected to support all kinds of apps, including those meant for earlier versions of Windows. The slate will sport a screen with more pixels, a better battery, 64 or 128 GB of internal storage, and support for USB 3.0. This feature-packed device will be 13.5 mm thick and heavier as well at 903 grammes. The gadgets will also have specially-designed covers as accessories. One of these provides an attachable touch keyboard, while the other will come with a separate 5 mm physical keyboard to use the tablet as a laptop computer.