Top 10 Consumer Tech Stories Of The Week
Here are the top 10 stories on TechTree that you may have missed during the week... 9th July to 15th July.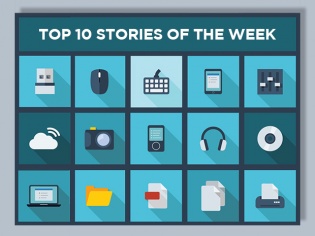 The week has been very much exciting, especially with Pokemon Go roaring up the smartphone gaming market. Though the game hasn't been officially released in India yet, we did come up with a number of stories based on the popular game of catching Pokemons based on Augmented Reality.
We also reviewed Evidson X55 earphones and posted the video on our YouTube channel and website while we also wrote a lot of smartphone launches across the globe.
Meanwhile, Xiaomi Redmi 3 was also declared as India's favorite smartphone by AnTuTu, WhatsApp announced that they would be ceasing support for Symbian devices from December 31 this year, and we also unboxed and gave our first thoughts on the LeEco Le 2 smartphone. Also, Apple iPhone 7 priced were leaked on Weibo. Read on!
1. Apple iPhone 7 Prices Leak
It seems the cat's out of the bag; 'cat' in this case being the hitherto hush-hush prices of the upcoming iPhone 7 and its variants. The Chinese social networking site Weibo is responsible for the dramatic reveal. It seems that the 32GB variant of the iPhone 7 is expected to be priced at CNY 5288 (INR 52,983), while the 64GB variant of the same may cost CNY 6088 (INR 60,999), and the 256GB version at CNY 7088 (INR 71,018).
2. Pokémon Go: Extreme Enthusiasm or Mental Illness?
Search for #PokémonGo on Google News and the results can only be described as surprising and shocking. The whole world (read United States of America) seems to be going nuts over the new game. A few are learning, much to their chagrin, that going nuts could be injurious to health!
3. Pokémon GO: Walk Five Kilometers, Hatch An Egg
Pokémon GO - no introduction is needed about the game that stormed the Android and iOS smartphone market across the globe. While most of us take it as a game (which it is), can we also consider it as a perfect motivation to stay fit? Maybe Yes! The game itself is somehow merged perfectly with real life, in the sense that, you have to roam around in real life to actually find and catch Pokémons. Also, Pokémon Gyms and Pokéstops can be found at only publicly known places. So, actually, you will have to go there and play the game.
4. Xiaomi Redmi 3 Is India's Favourite Smartphone
According to Antutu's list, the Redmi Note 3 is the most popular smartphone in India, China, Vietnam, Malaysia and Russia. A report by Antutu places the Xiaomi Redmi 3 at the top spot in a list of India's favourite smartphones for the first half of 2016. However, the phone ranks 5th internationally, behind four Samsung phones- the Galaxy Note 5, Galaxy S6, Galaxy S6 Edge and Galaxy S7.
5. WhatsApp To Cease Support For Symbian From December 31
It seems WhatsApp Messenger agrees. Earlier this year, the social media giant announced that by the end of 2016, they would be cutting support for a list of mobile operating systems. Notifications regarding stoppage of WhatsApp support for the platform has started popping up on Symbian phones all over the world.
6. Pokémon GO: The Dictionary Definition Of 'Phenomenon'
When Pokémon GO released this month, we were a little surprised by the fact that the makers didn't quite calculate the scale of enthusiasm that the game would generate. It's more important to people from the 90s, for whom 5-5.30 pm Pokémon on Cartoon Network, Pokédexes, Game Boys, movies, Ash Ketchum and Brock- to say nothing of the eternally beloved Pikachu- are little less than a legacy.
7. Evidson X55 - Unboxing, Review And First Impressions (Video)
We are most of the time sceptical about things that come at cheaper price tags. But, Evidson X55 is definitely something that cannot be neglected... if you are a vivid music listener. Clear bass, treble, and mids; what more can you expect at INR 549?
8. iOS 10 Beta 2 Locks Users Out Of Their Apple IDs
After iOS 10 beta 2 was made available to the public, complaints have been pouring on Reddit stating that users have been locked out of their Apple ID accounts. The bug has been largely reported by Apple users with two-step authentication security.
9. LeEco Le 2 Unboxing and First Impression
LeEco Le 2 smartphone is the new mid-range smartphone in the market. In this video we are unboxing Le 2. The phone comes with a SIM ejector pin, a quick start-up guide, normal 2-pin charger, USB Type C- Cable, and USB Type-C 3.5mm audio adaptor. The phone is light weight, sleek with a metallic finish and feels good in the hand. The phone is priced at Rs.11,999 with power-packed specification for a mid-range smartphone. The Phone is available on Flipkart flash sale and LeMall.
10. Top Five VR Headset Worth Every Penny
Virtual Reality has captured our fancy and has taken the market by storm. This year witnessed the impressive growth of Virtual Reality and its applications. VR is no longer limited to gaming and entertainment, but is also poised to take over lifestyle industry as well.
TAGS: Pokemon GO, Evidson X55, Evidson, Xiaomi, Xiaomi Redmi, Apple, Apple iPhone 7, iOS10, LeEco