Microsoft Lumia 535 Review: Black Sheep Of The Family | TechTree.com
Microsoft Lumia 535 Review: Black Sheep Of The Family
Microsoft's first Lumia handset is let-down by boring design and multimedia performance.
Rating

3
/5
21st May 2017
Pros:
Pleasant user experience; Latest Windows Phone 8.1; Excellent core apps; Good cameras.
Cons:
Lacklustre screen; Boring design; Video recording restricted to 480p.
Microsoft Lumia 535
Street Price: Rs 8200
Software-giant Microsoft isn't new in the devices business. Its Xbox console has received a lot of love from gamers. However, when it comes to the phones, disastrous Kin aside, the Lumia 535 is the first Microsoft branded handset. Technically, it's the Nokia Lumia 520's successor. And it does improve upon its predecessor in many areas including camera and RAM. Sounds good on paper, now let us find out how it perform in real world scenario.
Design
After offloading its phone division, Nokia bought out Siemens' stake in NSN (Nokia Siemens Network). So Nokia still exists as a separate company. However, the phone-manufacturer Indians trusted most is now part of Microsoft. And the Lumia 535 is a living proof of that. The phone comes in a bold colour palette that Nokia has been known for last few years.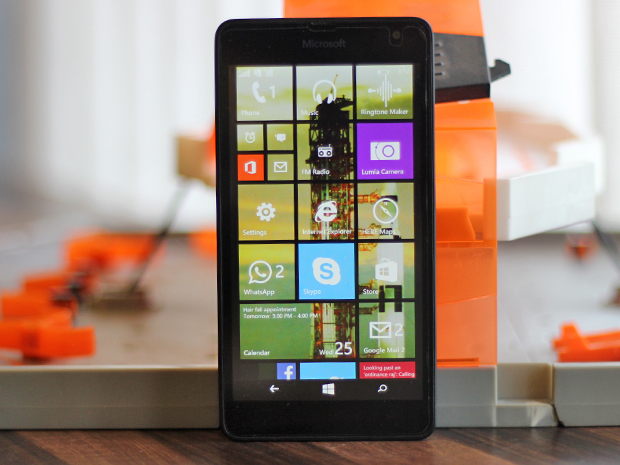 Microsoft has used quality materials. However, the fit and finish leave a lot to be desired. For starters, the green and orange versions have gloss finish that feels quite cheap. While Microsoft flaunts cyan in promotional content, it's nowhere to be found in India. Upon close inspection, you will also find that the replaceable back-cover does not fit snugly.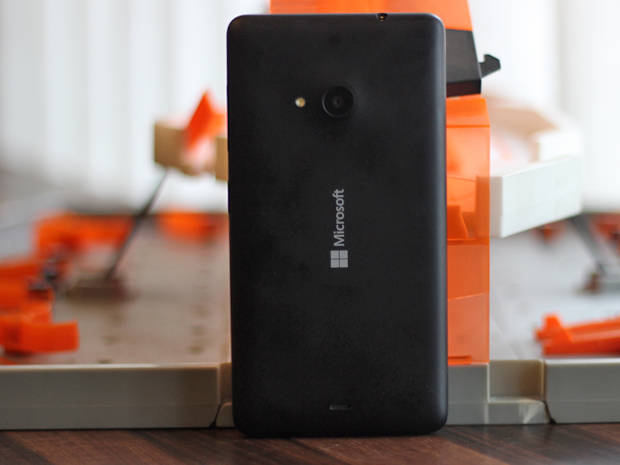 In terms of aesthetics, the 535 has to be the most boring Lumia till date. Instead of the modern fabula design language, this phone features Samsung-esque curves. Rather than choosing such uninspiring design, Microsoft should have recycled any of the Nokia X designs.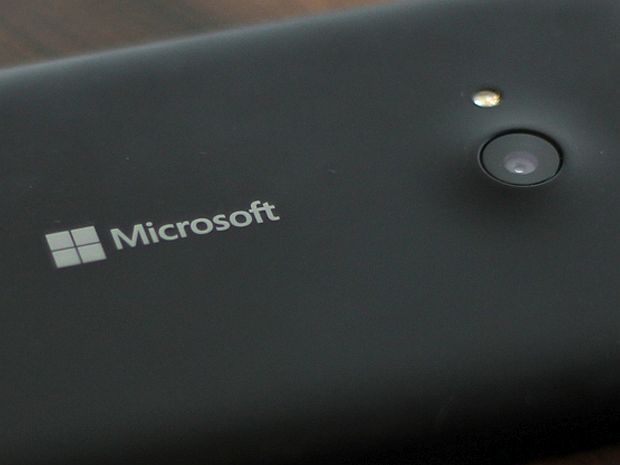 Screen
Most Lumia 535 handsets had the screen sensitivity issue right from the day one. Microsoft fixed the problem with a software update. Still, it is definitely not an ideal start for a company rolling out its first branded smartphone.
The 5-inch screen has pixel dimensions of 540x960. That translates to poor pixel density of 220 ppi. However, more than sharpness, colour reproduction is a downer. The colours look washed out compared to similarly priced phones from Asus, Micromax, and Xiaomi.
It is an IPS panel, but strangely, the viewing angles are not good. Tilt it off centre, and there's noticeable colour shift on the panel. The screen is protected by the Gorilla Glass 3, which is a good thing.
Specifications
The Microsoft Lumia 535 is backed by Qualcomm Snapdragon 200 SoC. The quad-core processor is clocked at 1.2 GHz. It has 1 GB RAM, so most apps and games are compatible with it. Keep it in mind though that the Snapdragon 200 chip lacks the sensor core found in the Snapdragon 400 powered Lumia 630. This means that you won't be able some features in health and fitness apps.
The phone comes with 8 GB internal storage. Then, there's a microSD card slot that supports up to 128 GB. Other features include Wi-Fi, Bluetooth 4, GPS, 3G, and 1905 mAh battery. In the photography department, you get a 5 megapixel front and rear cameras.
Software
Despite its affordable price tag, the Lumia 535 runs the latest Windows Phone 8.1 (with Denim) out-of-the-box. Thanks to 1 GB RAM, the Lumia 535 is eligible for Windows 10 update. This is big plus for Lumia, because sub-10k Android phones usually feature at least a generation old version of the platform.
As covered in the Lumia 730 review, WP now allows you to set a background picture on the start screen. Another welcome addition is the Live Folders feature. You can now group similar apps in a single folder Tile. Microsoft has also released a neat File explorer that lets you manage or share files directly from the device.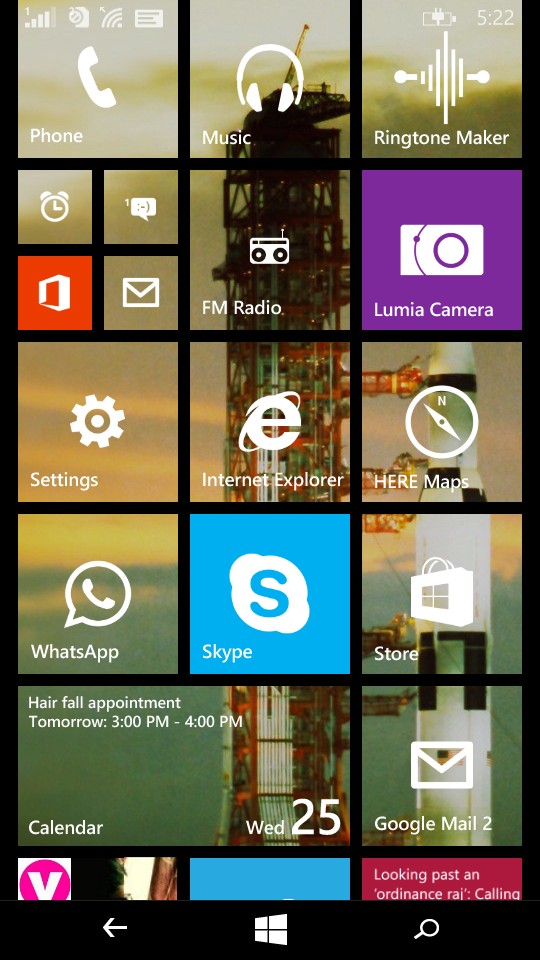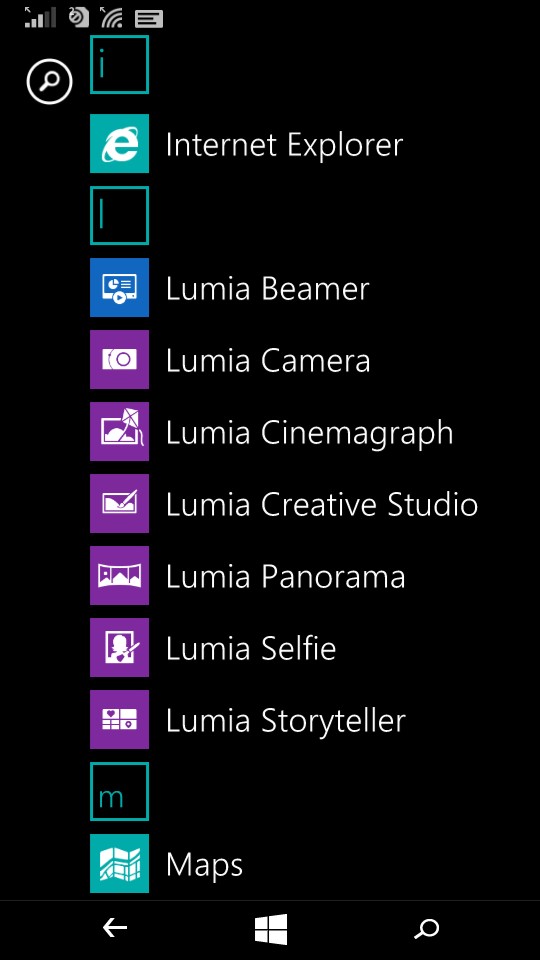 The modern tile-based interface has got better with the customisation options. A vertically scrolling start screen is a good UX decision, as it makes the one-handed usage easier. Similar to the Lumia 730 and 630, the 535 comes with on-screen navigation buttons. Lumia users will notice that the phone lacks double-tap to wake and glance screen features.
Let's face it, the Windows Store is no match for Android in terms of number. However, most popular apps are covered. It is worth mentioning that the core apps such as Microsoft Office, HERE maps (offline navigation), Translator, News, Money, and Lumia Beamer are useful.
If you are making a switch from Android, what you will miss most are games. As despite owning multiple game studios, Microsoft does not develop many games for its own platform. The last big title for WP published by Microsoft was Halo: Spartan Assault in 2013. No doubt, the game is brilliant, but the company should roll out more of those.

Multimedia
In addition to the Xbox Music and Video, the phone comes with MixRadio. The latter lets you stream music and also offers equaliser and surround sound settings. However, you don't get the complimentary music download subscription any more. Considering the phone's price tag, the device's sound output is good.
The Xbox Video app has limited codec support. CCPlayer takes care of popular formats. However, Full HD video playback turns out to be quite jerky. That's disappointing considering that the competing Android devices handle 1080p videos without any problem.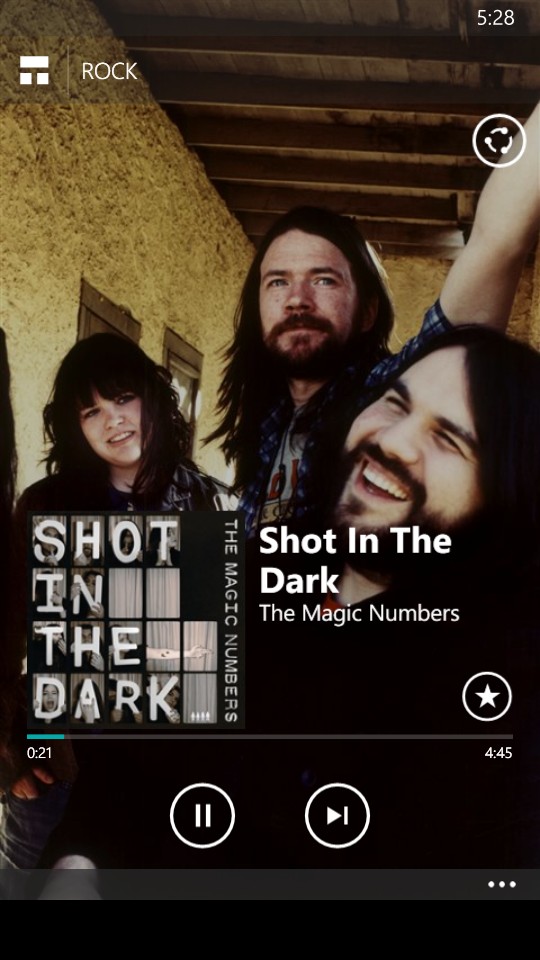 Camera
The phone packs in a 5 megapixel camera with LED flash. The default snapper app is now Lumia camera. This means that you can control advanced settings such as shutter speed, exposure, and manual focus. The image quality is quite good. The colours look natural. However, the amount of detail could have been better.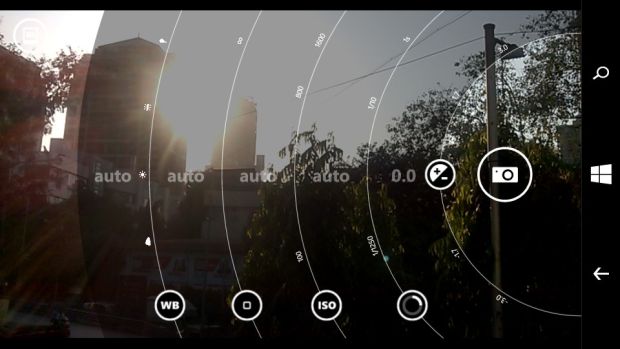 On highest setting, the max quality the Lumia 535 can offer is 480p. It's strange for a device with a 5 MP camera and quad-core processor. The resulting clips as you would have guessed is not good.
Telephone And Messaging
This dual-SIM phone supports 3G. The device I tested had spotless network reception. The call quality was great too.
The WP keyboard is swift compared to what we get on Android. With the new Word Flow feature, you can now type quickly with swipe action (it's like SWYPE).
Battery
The Lumia 535's 1905 battery lasts over a day and half under normal usage. That's good enough for a dual-SIM handset.
Verdict
The Lumia 535 is a well-priced phone that runs latest Windows Phone software. The user experience is mostly very good. However, the design is a bit of a let-down. Things get worse due to the disappointing video playback and 480p recording. Instead of spending Rs 8200 on the Lumia 535, it makes sense to go for the Lumia 630 and save some money. I know, you will have to compromise on RAM and front-facing camera, but the 630 feels much better than the 535. And if you're looking for a sub-10k phone for content consumption, you should consider the Yu Yureka or Asus Zenfone 5.
Rating: 3
Construction: 3/5
Aesthetics: 3/5
Portability: 3/5
Display: 2.5/5
Camera: 3/5
User Experience: 4/5
Multimedia: 3/5
Battery life: 3.5/5
Ecosystem: 3/5
Affordability: 3.5/5
TAGS: Mobile Phones, Windows Phone, Microsoft, Windows Phone 8.1, Lumia 535 Dual-SIM