Review: LG G Flex | TechTree.com
Review: LG G Flex
An engineering achievement, but pointless in its current form.
Rating

2.5
/5
02nd Apr 2014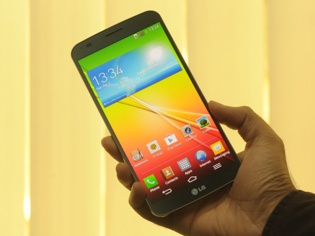 Pros:
Unique design; Good performance; Excellent battery life.
Cons:
Looks odd; Average camera; Unreasonable pricing; Flexible body doesn't improve the handling; Self-healing is questionable.
Large HD screen - checked. Thin Bezels - checked. Quad-core processor - checked. Absurd amount of RAM - checked. After covering these basics, manufacturers wonder how to make their handsets unique. In such conditions, most companies try to stand out in the crowd by adding exceptional camera, waterproofing, or security features. However, in their pursuit of uniqueness, the guys at LG designed a curved phone, and added a certain amount of flexibility to it for good measure. The phone is now available in India, and we know for sure that it's unique. But, is this distinctive handset any better than our conventional smartphones? Let's find out.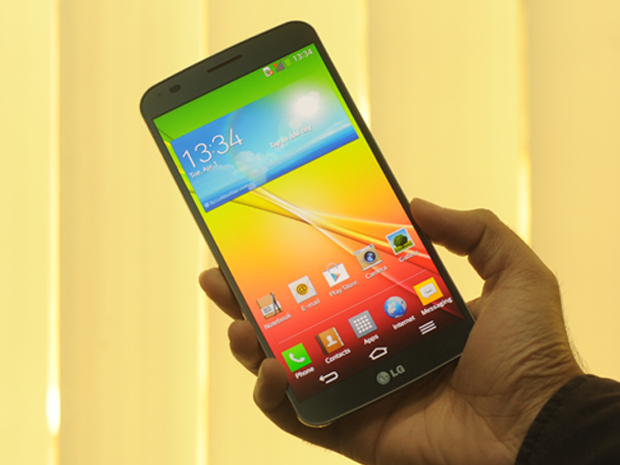 Design And Build
The LG G Flex is one enormous and weird looking device. Curved phone sounds cool on paper, but using it is a different story. I don't see how a convex screen helps in terms of ergonomics. This 6-inch curved monster is not only unwieldy, but also feels awkward in your jeans pocket. Due to its huge size, one-handed operation is out of question. The high-gloss finish on its back doesn't help with the grip either. From an aesthetics point of view, the handset just cannot justify its 67k price tag. If I'm going to spend this much money on a smartphone, it better be as premium as the iPhone or HTC One.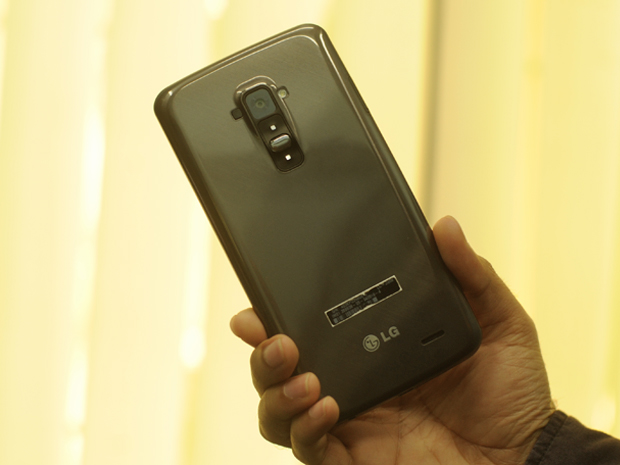 As its name suggests, the handset is actually flexible to a certain extent. It is curved by default. So to impress your friends, you can keep the G Flex on its face, apply pressure on its back and watch it become flat. Fancy? Yes. Useful? Hell no.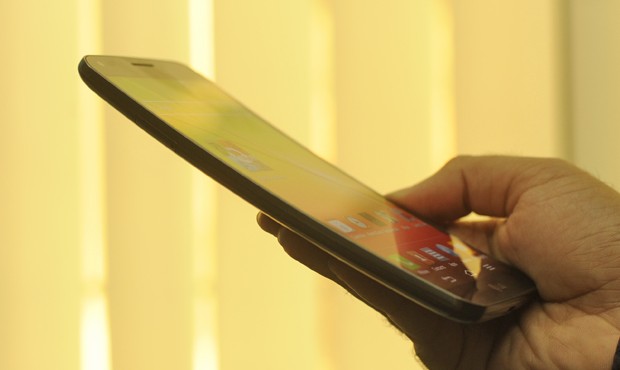 Thanks to its self-healing back-panel, the G Flex is often labelled as the Wolverine of the mobile world. LG claims that the self-healing surface can get rid of the scratches on its own. After using this handset for over a week, I can tell that it's partially true. I've noticed hairline scratches vanish in half an hour. LG hasn't revealed what coating they use. All I can say right now is that this coating looks very similar to the Polytetrafluoroethylene (Teflon) layer found on the frying pans. Unfortunately, the coating can easily wear off. For instance, a few scratches on our review unit, although not very deep, have damaged the polymer coating. Even after a couple of days, these scratches are still there. So at this stage, this self-healing tech is a hit-and-miss affair.


Screen
The LG G Flex features an OLED screen with pixel dimensions of 720x1280. That translates to pixel density of around 245 ppi. Being an OLED panel, the display delivers great blacks. There's a catch though. Unlike those AMOLED (Active Matrix Organic Light Emitting Diode) screens found on Nokia and Samsung phones, the G Flex packs in a POLED (Polymer Organic Light Emitting Diode) display. In conventional panels, the diodes are placed on a glass surface. In the G Flex's case LG has replaced the glass substrate with plastic to achieve flexibility.
Surprisingly, the G Flex's screen lacks the sharpness we expect from an expensive handset. You can also spot colour degradation where two hues meet. What's worse is that the backlight intensity is uneven throughout the screen.
Key Specifications
The G Flex is powered by a quad-core Snapdragon 800 chipset clocked at 2.26 GHz. It comes with 2 GB RAM and 32 GB of internal storage. Other features include a 13 megapixel rear camera with an LED flash. For video calling, you get a 2.1 megapixel front-facing camera. Other features include Wi-Fi, Bluetooth 4.0, GPS, NFC, and 3500 mAh battery.
Software
The G Flex runs Android 4.2 Jelly Bean with LG's customised UI on top of it. LG has started rolling out Kitkat update, but it's not yet available in India. Similar to what we've seen on the G2, the G Flex offers a tacky user interface. To put things in perspective, LG's UI can make Samsung's TouchWiz look sober. Every interface element is in-your-face and excessively colourful. We wish LG will take a lesson from HTC and come up with an easy-on-eyes interface.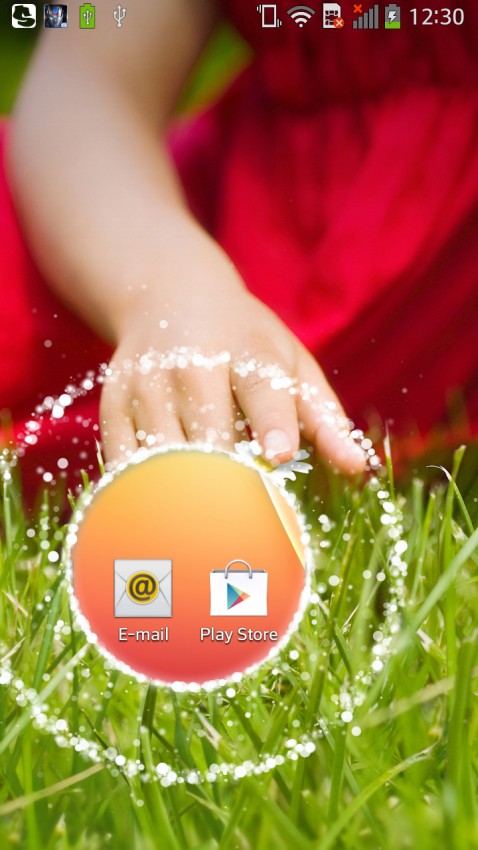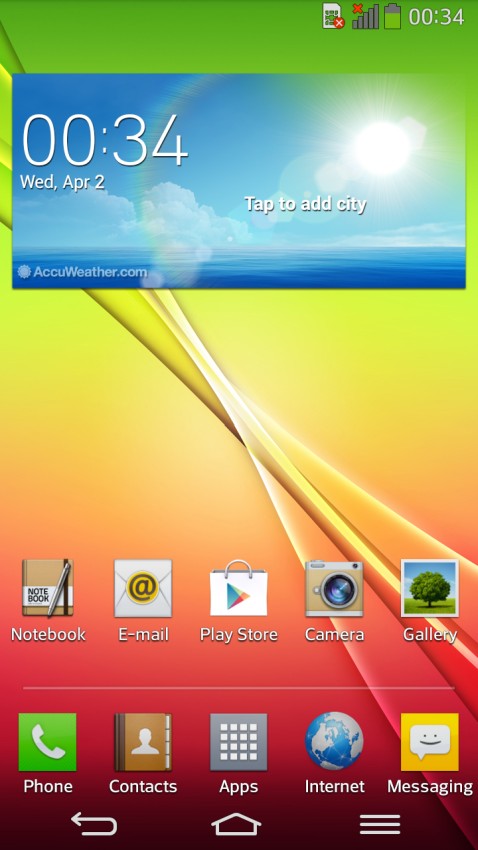 Like every other high-end Android handset these days, the G Flex is packed with features. Some of the important ones are as follows:
Knock-On
It lets you unlock the G2 by simply tapping twice on its screen. It's quite useful, especially considering LG's unconventionally placed lock button.
Dual Window
With QSlide, you can run two or more apps in a windowed mode. It's very similar to Samsung's Pop-up window, but offers more controls such as the ability to control window sizes and transparency.
Slide Aside
With a three fingers swipe gesture from right to left (which is quite awkward), you can minimise three apps one at a time, then switch between them by swiping in reverse (left to right, and again the use of three fingers is a must). Not very useful if you ask me.

Performance
In AnTuTu benchmark, the G Flex scored 37,136. To put things in perspective, the Samsung GALAXY S4 clocks in at 27650. In Quadrant too, the G Flex shines with a score of 19,457. More importantly, the phone doesn't lag and handles any game you throw at it.
The devices sound quality is very good. The phone offers equaliser settings and sound enhancements including Dolby Digital. Moving onto video playback, the G Flex supports most video formats including MP4, DivX, XviD, and MKV out of the box. It even handles subtitles without the help of any third-party software.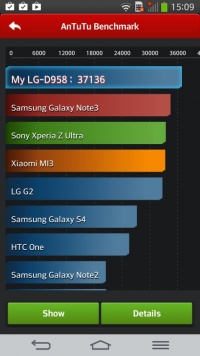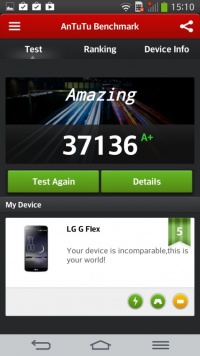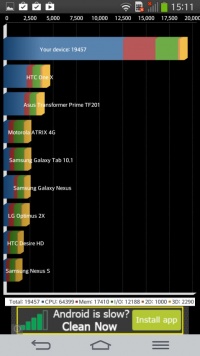 Camera
As mentioned earlier, the G Flex boasts of a 13 megapixel camera with an LED flash. However, the results aren't very good. In fact, it's a step down company's own G2. That doesn't come as a surprise since the G flex lacks the OIS (Optical Image Stabilisation), which graced the G2. The images contain good amount of detail. However, it's the visual noise that spoils the photographs. Click here to view the sample.
The phone records Full HD (1080) videos at 60 fps. The playback is very smooth, and the amount of detail is good too. All in all, the camera is decent. But, you expect a much better snapper after paying Rs 67,000.
Telephony And Messaging
The phone offers strong network reception and impressive voice quality. However, using this big a phone in public can be quite embarrassing at times. Check out the image below to find out how it looks when slapped across your face.
Battery
The G Flex packs in a 3500 mAh Li-Po battery. With normal usage, it easily keeps the phone powered for two days. In our 720p video loop test with brightness set to 60%, it lasted for over 18 hours. That's outstanding for an Android phone with a large HD screen and a powerful quad-core CPU.
Verdict
The LG G Flex's closest rival Samsung's GALAXY Round comes with a horizontally curved screen. It lacks the self-healing tech and flexibility that's there on the G Flex. ore importantly, it's only available in Korea. However, just because there's no direct competition to G Flex doesn't mean that it's a good phone. We don't deny the fact that creating a flexible phone is an engineering achievement. But then, for consumers there's not even a single logical reason to buy this expensive handset. Those who prefer large screen phones should consider the GALAXY Note 2 and Nokia Lumia 1520.

Features: 4/5
Design and Build Quality: 2.5/5
Performance: 3.5/5
Value For Money: 2/5
Mojo: 2/5
Overall Rating: 2.5/5
TAGS: Mobile Phones, Android, LG