Review: Nokia Lumia 1520 | TechTree.com
Review: Nokia Lumia 1520
Incredibly powerful, but embarassingly big.
Rating

3.5
/5
30th Jan 2014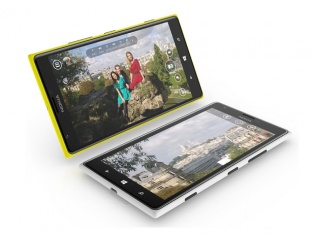 Pros:
Excellent screen; Great camera; Sturdy and premium build; Impressive multimedia performance; Free voice-guided sat nav; Comes with Microsoft's productivity apps.
Cons:
Too large to be a phone; A few games are still missing on WP8.
Nokia Lumia 1520
Street Price: Rs 46,000

Samsung started the "phablet" trend, and now Finns have finally decided to follow. Let's hope that the rumours regarding Apple's oversized phone doesn't turn out to be true. The Lumia 1520 is special for being the biggest handset on Microsoft's mobile platform. Thanks to a quad-core Snapdragon 800 chipset, it's also one of the fastest phones available in market. But is it really good enough to justify its 46k price tag?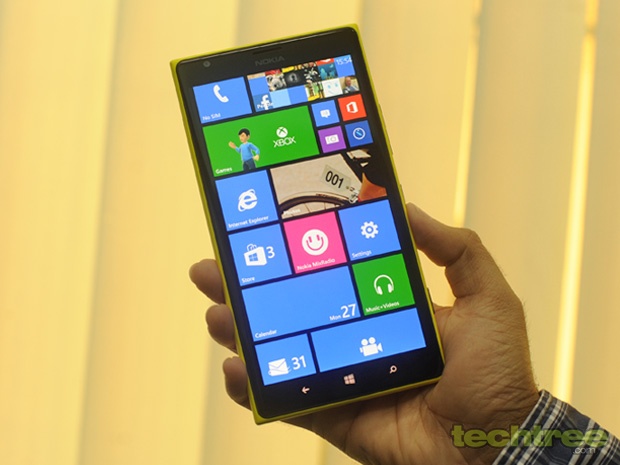 Design And Build
If you like pockatable phones, the 1520 is not for you. With a 6" screen, it's huge and unwieldy. Heck, it's even bigger than the Samsung GALAXY Note 3. Only monstrosities such as Sony's Xperia Z Ultra and Samsung's Mega 6.3 beat the 1520 when it comes to the odd size. Personally, I wouldn't want to be seen with such huge phone in public.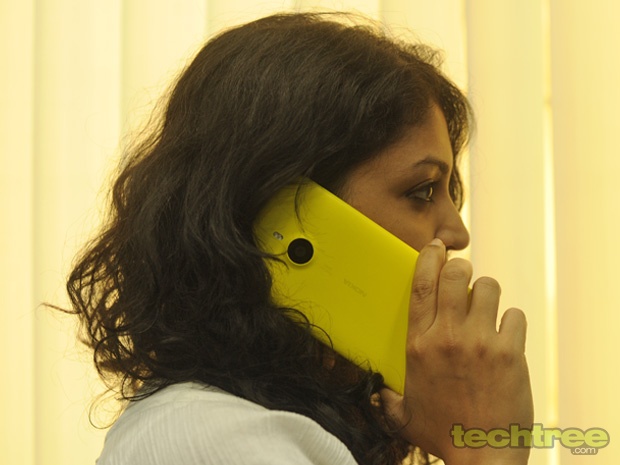 Yes, it's this big!
Design-wise, the phone is based on Nokia's fabula design language that debuted on the N9. With its unibody design the 1520 looks like an overgrown 720. One thing worth mentioning here is that the phone supports wireless charging. It packs in the induction charging coil in its 8.7 mm thin body, which is quite feat.
The 1520's construction is top-notch. There's not a single rough spot on the phone. Even the loudspeaker grille pores are machined with precision. The buttons placement is a standard Lumia affair. The screen along with the capacitive keys are covered by a layer of scratch-resistant Gorilla Glass 2. It's worth noting that the Lumia 1520 is Nokia's first phone to adhere to nano-SIM standards. That's going to be helpful for those making a switch from the iPhone. The rest will have to get their SIM card changed.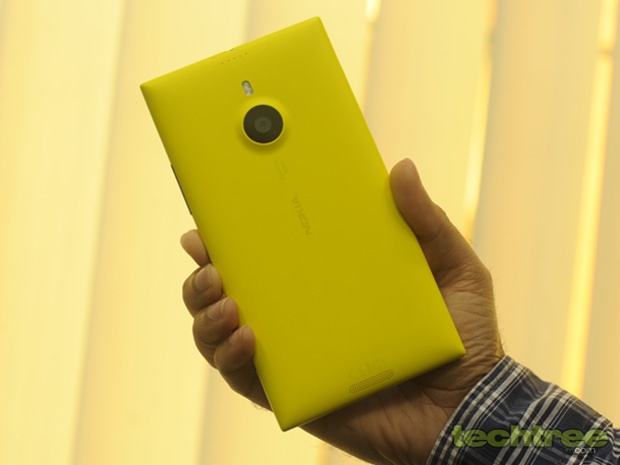 Display
The 1520's 6" IPS LCD screen has pixel dimensions of 1920x1080. That takes its pixel density to around 365 ppi. No doubt, the display is very sharp, but what's even more impressive are the viewing angles. Even at extreme angles, the screen manages to retain legibility with minimal colour shift. Thanks to polarisation filters, the phone delivers relatively deeper blacks while eliminating the screen glare. Backed by the Assertive display tech, the screen offers excellent picture quality in various lighting conditions. The system comprises of a dedicated chip and software algorithm that controls individual pixels in real time. Similar to the current crop of Lumias, the 1520 comes with a super-sensitivity display. For those who like to experiment, there's an option to play around with the colour profile. So you can change the colour tone from natural to vivid.
Specifications
Apart from a 2.2 GHz quad-core processor, the phone features an Adreno 330 GPU. For multitasking, there's 2 GB of RAM. Internal storage is 32 GB, and you can throw in additional 64 Gigs via the microSD card slot. The phone flaunts a 20 megapixel camera with PureView branding. The 3400 mAh battery promises up to 5 days of music playback. The handset's network and Wi-Fi reception was spotless.
Software
The Lumia 1520 runs Windows Phone 8 Update 3 out of the box. After adding its own enhancements, Nokia packages it as Lumia Black. WP now allows you to close background apps. The much needed rotation lock is finally here. The Glance screen offers more options. As mentioned in 525's review, the Finns have also provided 'Folder' option to club similar apps on a single tile.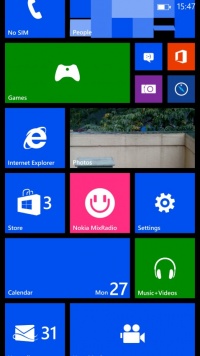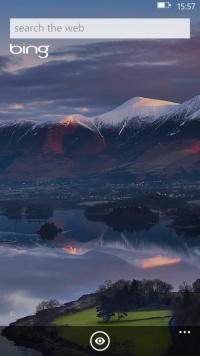 To make most of the big screen, the guys at Microsoft have added another column of tiles. So if you could fit in two standard size tiles on most Lumia phones, now you can squeeze in three live tiles in a row. That's a better approach than simply scaling the existing UI to fit the big screen. The Glance screen has also been improved. it now supports notifications from email, Facebook, Twitter etc.
The phone comes with Microsoft Office Suite and SkyDrive integration out of the box. You can edit the documents and spreadsheets on this 6-incher with ease. Additionally, you get Nokia exclusive apps including Here Maps+, City lens, PhotoBeamer, and MixRadio (earlier known as Nokia Music). Out of the lot, HERE Drive+ (Nokia Drive) is my favourite. The software offers offline voice-guided GPS navigation, which is as good as any dedicated car GPS system. Most of the top third-party apps are now available on WP platform. However, gamers will miss quite a many titles.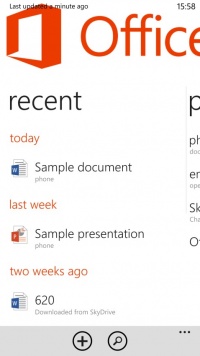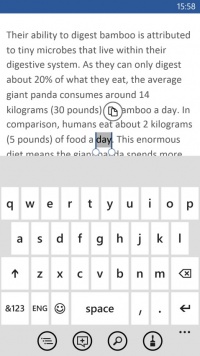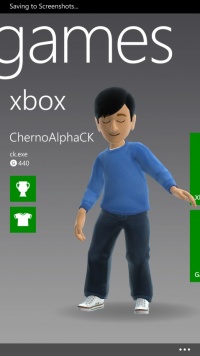 Work, play. Microsoft's Office suite and Xbox games.
Performance
We've seen that Windows Phone 8 devices run smoothly on a dual-core processors. On the 2.2 GHz quad-core processor, it's probably a split-second faster. It's the gaming where you feel the difference. Especially, Modern Combat 4 loads much faster on the 1520 compared to Lumia 925.
The Lumia 1520 comes with Nokia Music subscription offers unlimited free track downloads for six months. The phone's music output is excellent. Moreover, you can also play around with Dolby and equaliser settings.
The 6" Full HD screen is great for watching videos on the go. The handset supports 1080p MP4 and DivX videos without any problem. For subtitles and MKV, you'll have to grab MoliPlayer from the Store.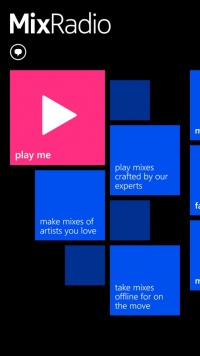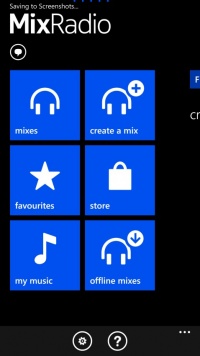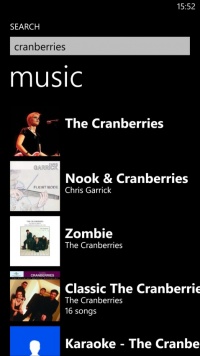 Camera
The 20 megapixel PureView camera comes with Optical Image Stabilisation. Similar to the current camera flagship 1020, this phone features dual-capture — saves pictures in 19 MP and 5 MP. The camera also offers an advance option to shoot in RAW DNG (Digital Negative) format. Good shutterbugs, who prefer high-quality unprocessed images. be warned though, these images go as big as 16 MB, so it's better to stick with compressed JPEGs unless you're good with professional post processing software. As far as the image quality is concerned, the 1520 isn't as great as the 1020. Especially, the difference between the two is pronounced in low-light. Having said that, the 1520 easily beats the competing Android camera phones. Click here, to view the untouched camera sample.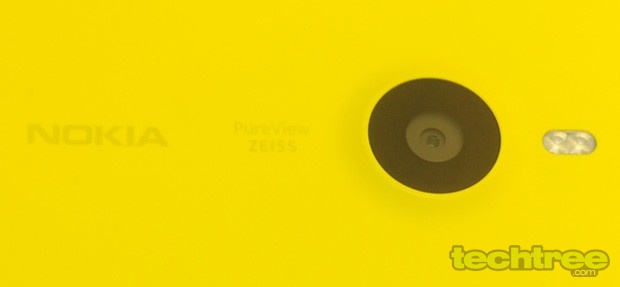 The phone comes with two apps to take snaps — 1. default WP camera 2. Nokia Camera. The first thing you should do after buying this phone is setting up Nokia camera as your default photography app. It gives total control over parameters such as shutter speed, exposure, white balance, and ISO. You can try out all the crazy stuff that was only possible with DSLRs a few months back. Then there's another interesting Lytro style camera app, Refocus. It allows you to take a snap, and set the point of focus later, or even better keep everything in focus. For more information, go through our Lumia 1020 review.
The phone can record 1080p video in MP4 format. Thanks to its quad-mic setup, the phone delivers directional stereo sound in your videos.
Battery
The Lumia 1520 packs in a 3400 mAh non-removable Li-ion battery. That's a huge battery in every sense. To put things in perspective, the GALAXY Note 3 comes with 3200 mAh battery. With normal usage, the battery easily lasts for two days. In our 720p video loop test, the phone lasted for almost 13 hours. In all, the battery life is great.
Verdict
The Lumia 1520 is a powerful phone with an excellent screen. Its 20 megapixel camera is ahead of the competition. Things like offline sat-nav, Nokia Music subscription, and Office Suite add value to the package. Moreover, the phone's performance is spotless.
As mentioned earlier, the only and biggest problem with this phone is its size. Had Nokia fused this hardware with a 4.5" screen, it would have been a killer phone. But, the current screen size is not everyone's cup of tea. So if you're looking for a Windows Phone, the Lumia 1020 and 925 are better options, unless you give too much importance to specs. For "phablet" lovers, it's going to be a tough call between the 1520 and Note 3. We believe that if the built quality and camera are you priorities, go for the 1520. On the other hand, if you like the idea of using stylus, the Note 3 is the way to go.

Features: 4.5/5
Design And Build Quality: 4/5
Performance: 4.5/5
Value For Money: 3.5/5
Mojo: 3.5/5
Overall Rating: 3.5/5
Specifications:
Operating System: Windows Phone 8 Update 3.
Processor: 2.2 GHz Quad-core Qualcomm Snapdragon 800.
Memory: 2 GB RAM, 32 GB internal user memory; 7 GB SkyDrive cloud storage, micro SD card support up to 64 GB.
Display: 6-inch full HD 1080p LCD, ClearBlack, High Brightness Mode, Sunlight readability, Super sensitive touch for glove and nail usage, Gorilla Glass 2
Primary camera: PureView 20-megapixel Auto Focus ZEISS optics with Optical Image Stabilisation (OIS), 2x lossless zoom, dual LED flash, 1080p @ 30 fps full HD video with optical image stabilisation.
Secondary Camera: HD 1.2-megapixel wide angle.
162.8 x 85.4 x 8.7 mm. Weighs: 209 grams.
Connectivity: NFC, GPS, Wi-Fi, Bluetooth 4.0.
Accelerometer, Proximity sensor, Magnetometer, Gyroscope, Ambient Light Sensor.
Battery: 3400 mAh (integrated) with built-in wireless charging (Qi compatible)
Audio: Rich Recording with four microphones; Wideband Voice and multi-microphone noise reduction with four microphones; Dolby(R) Headphone, Graphic equaliser, Audio levelling; FM radio.
Networks: GSM/EDGE: 850, 900, 1800, 1900 MHz; Speed: LTE 150/50 mbps, DC-HSPA 42mbps.
TAGS: Mobile Phones, Windows Phone, Nokia, Lumia