Review: ASUS TAICHI 31 - Are Two Heads Better Than One? | TechTree.com
Review: ASUS TAICHI 31 - Are Two Heads Better Than One?
Cool-looking laptop with two screens, but is it worth the price?
Rating

3
/5
25th Jul 2013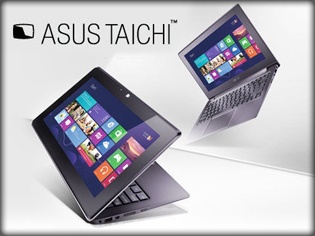 Pros:
Stylish; Good performance; 2 Full HD IPS screens; Long battery backup.
Cons:
Erratic touchpad; Heavy for a tablet; Not meant for serious gaming; Few practical uses of dual screen; Very expensive.
ASUS TAICHI 31
MRP: Rs 130,000
The advent of Windows 8 has spawned a huge number of touchscreen notebooks and many of them come with a convertible form factor that enables them to switch instantly between the tablet and laptop form. While some have used screens that rotate around a hinged frame, others have screens that rotate around their base. ASUS has taken a radically different approach with its TAICHI 31 - they have stuck two Full HD IPS screens back to back so that it can be a laptop when open, and a tablet when closed. This cool looking Ultrabook has been with us for the past few days and this is what we have to say about it.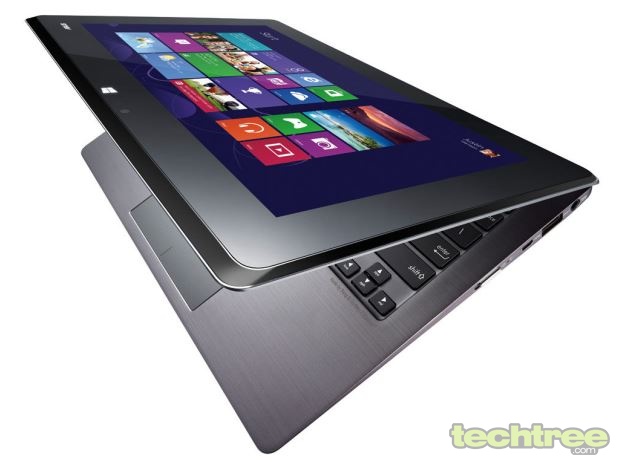 Design And Features
The ASUS TAICHI 31 is an Ultrabook that wows you with its beautiful design that features two 13.3" LED-backlit displays stuck back to back. Yet, the laptop lid is quite thin. Both the screens come with Full HD pixel dimensions of 1920 x 1080 and are of IPS type. The TAICHI switches to laptop mode when the lid is open with the main screen and goes to the tablet mode when the lid is closed, automatically taking the visuals to the outward facing screen. The hinge connecting the screens to the device is smooth, but should have been a little more rigid.
While the inner screen with a matte finish does not have touch input, the outer glossy one with scratch-resistant Gorilla glass supports 10-point capacitive multi-touch. The inner as well as outer screens have HD webcams on their top bezels. The inner screen also has stereo microphones on top, while the outer screen has a backlit capacitive Windows button at the centre of the bottom bezel. The backlit ASUS logo is prominently displayed on the top bezel of the outer screen when in laptop mode.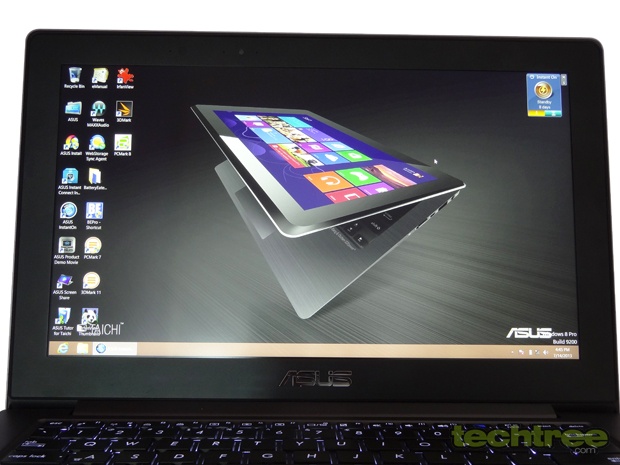 Laptop screen
The body is primarily made of aluminium with a dark, almost graphite-like colour and brushed finish. The edges of the palm rest are tapering, and while they do look good, they are quite sharp and not too gentle on your wrists. The laptop weighs a little over 1.5 kg, which is normal for a laptop its size, but heavy for a tablet. The build quality is top-notch.
The keyboard is of island type and has good spacing. The keys are backlit with indicator for Caps lock. There is no separate numeric pad. The touchpad supports multi-touch and is large and spacious. The mouse buttons are not separate, but are underneath the lower part of the touchpad with a short vertical line demarcating the left and right.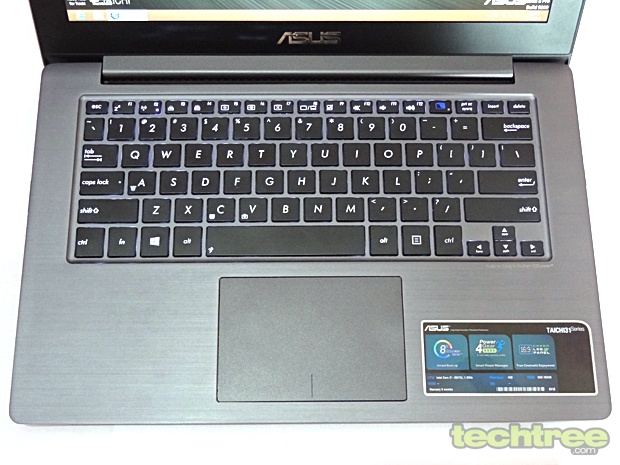 The screen has no control buttons or ports around it, so everything is placed around the keyboard, just like in a laptop. There are two USB 3.0 ports, one on each side. There is a microphone/headphone 3.5 mm jack, SD memory card slot, and volume rocker on the right. The left side has a spring-loaded sliding power button, screen selection button (to enable or disable automatic switching of screens), micro-HDMI, and mini-VGA ports. Ethernet port and optical drive have been done away with so you will have to depend on Wi-Fi for internet and one of the two USB ports for peripherals connectivity. While ASUS provides dongles for mini-VGA to normal VGA and USB-to-Ethernet in international market, it was not seen in the package we received. Such an arrangement would have given an Ethernet port option, but left the TAICHI 31 with just one free USB port to use.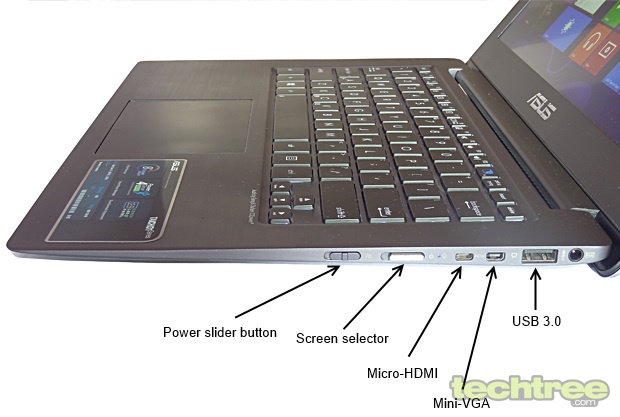 Left view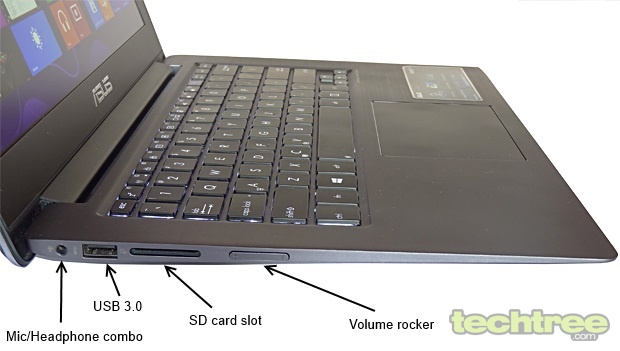 Right view
The bottom surface is somewhat convex with four rubber legs at the four corners. Ventilation grills are present near the rear. Speakers are present on either side to achieve sufficient stereo separation.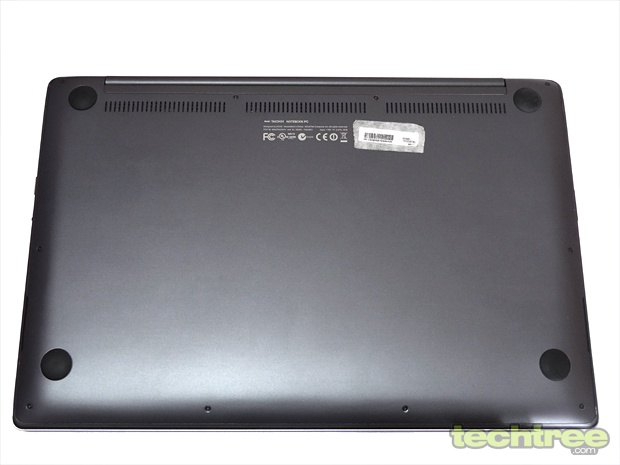 The ASUS TAICHI 31 runs Windows 8 Pro 64-bit and is powered by a dual-core Hyper-threaded Intel Core i7-3517U running at 1.9 GHz with 4 GB of RAM (not upgradeable). A 256 GB SATA SSD takes care of internal storage. Intel HD Graphics 4000 is present, so this is mainly good for office work and multimedia.
In addition to the OS, there are a host of bundled software from ASUS. A trial version of MS Office 2013 is also provided, although you will eventually have to pay for the full version or opt for a free office suite. There is also the Taichi Home application that shows information about things such as battery capacity and shortcuts to Windows 8 gestures. McAfee Internet Security is provided to take care of security.
The TAICHI 31 comes with a stylish faux leather carry pouch. ASUS also bundles along a stylus to use with the touchscreen, although there is no holster anywhere to secure it while carrying it around.
Performance
The ASUS TAICHI 31 boots up fast in just about 10 seconds, which can be attributed in a major way to its high speed SSD. The Core i7 with 4 GB of RAM ensures that there is no slowdown when multiple programs are running even with antivirus running in the background.
Both the 13.3" screens with 1920x1080 pixels produce sharp images with good colours. The screens have good viewing angles without any colour or brightness deterioration. The inner screen (laptop mode) has good viewability with hardly any glare even in brightly lit rooms because of its matte finish. However, we cannot say the same for the outer screen (tablet mode), which is highly reflective (due to glossy finish) and is therefore difficult to view with light shining on it. Also, it tends to gather a lot of smudges.
Windows 8 detects them as two displays attached to the device and you can therefore do all the multi-monitor adjustments such as extending, cloning, or using single display modes with either of the displays. Of course, it still doesn't make sense to have both the displays, because we were not able to think of scenarios in which you would use them simultaneously. We thought that it would have been better to save the cost by using a rotating, swivel, or detachable screen form factor with just one screen. While we agree that the touch performance of the tablet screen is excellent, it is difficult to use a tablet so large and as heavy as a laptop.
The nicely spaced keys on the keyboard make it comfortable to type for long hours. The cursor keys are rather small, making it difficult to use them, especially if you have large fingers. Its backlit nature makes it easy to type even in dark environments such as on a plane or conference. The touchpad is spacious, but is erratic and therefore makes it difficult to achieve precise cursor control.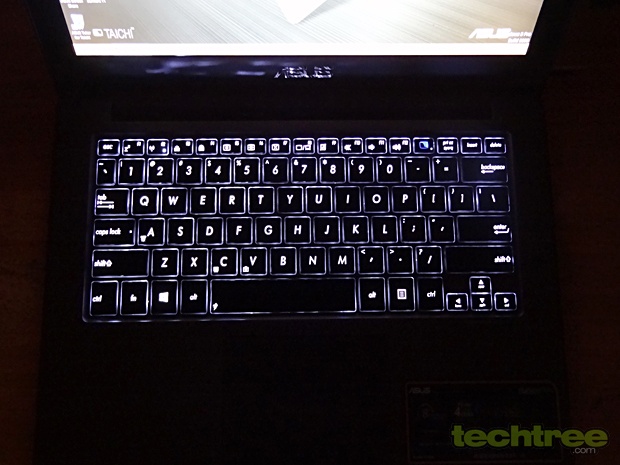 The Bang and Olufsen speakers with SonicMaster technology are quite loud. While it can certainly not match a 2.1-channel speaker set for bass, the clarity is good enough to be used to watch movies.
We ran a few benchmarks on the laptop to find out how well it fares.
Windows Experience Index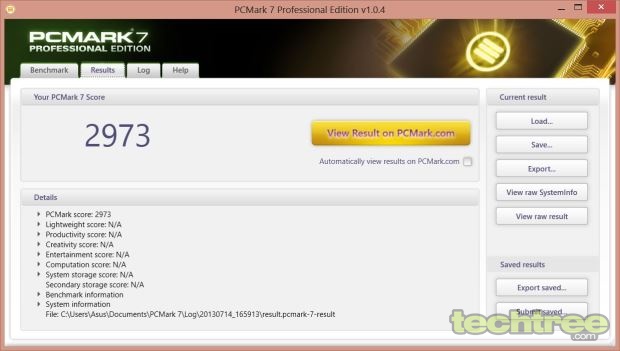 PCMark 7 score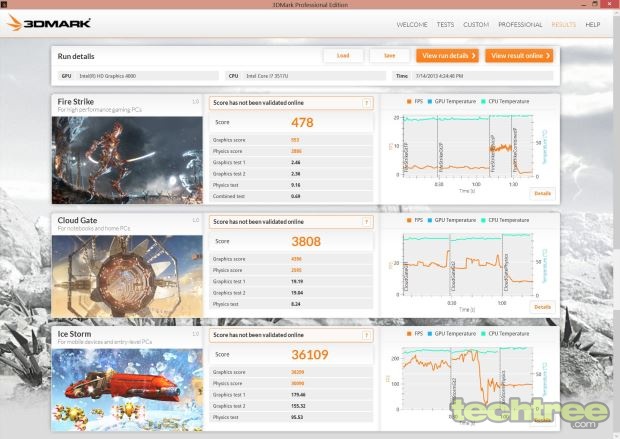 3DMark score
The results speak that the TAICHI 31 is an excellent computing device for regular tasks, but is definitely not for graphics intensive tasks because of the lack of a dedicated graphics adapter. The Intel HD 4000 graphics is good enough only for basic office and entry-level gaming at best. So this one's not for the gamers.
The device only got warm at best during our entire benchmarking and testing process, thus it is safe to assume that it will not overheat.
Battery Life
We measured the battery life using Battery Eater Pro and by actually using the laptop with the Balanced power scheme of Windows 8. The two tests run in Battery Eater Pro utility are the Reader's test which simulates real-world reading scenario, while the Classic test uses OpenGL rendering to simulate heavy usage such as gaming. Please note that the battery backup times logged in this way are the least that are possible in the two tests due to the maximised power consumption. You can always expect better backup times in real world usage.
A battery backup time of 2 hour was registered in the Classic test, while the Reader's test result yielded 5 hours 45 minutes. In a real time usage that involved using office applications, surfing the internet, occasional music and video, and watching some YouTube clips, the battery lasted for over 8 hours 30 minutes. This is good battery backup for the Windows 8 Ultrabook with Full HD screen and an Intel Core i7 CPU.
Our Verdict
The ASUS TAICHI 31 is one of the coolest looking computing device we have laid our hands on. It looks great with its dual back-to-back screens and has good build quality. However, thinking from a practical point of view, its two Full HD IPS screens do not serve any real purpose past the initial wowing. The performance is good with no slowing down even with the antivirus running in the background, because of the Core i7 CPU and the SSD. However, a discrete graphics hardware is not present to facilitate decent gaming even at such a high price. The battery backup of 8.5 hours of normal usage promotes portability. Its 1-year global warranty ensures that the TAICHI 31 is in safe hands even when you take it abroad. The price tag of Rs 130,000 is still very hard to justify.
Features: 3.5/5
Performance: 3.5/5
Ergonomics: 3.5/5
Value For Money: 2.5/5
Mojo: 3/5
Overall Rating: 3