Review: ASUS VivoBook S400CA | TechTree.com
Review: ASUS VivoBook S400CA
A good, but expensive desktop replacement with a touchscreen interface.
Rating

3.5
/5
18th Jul 2013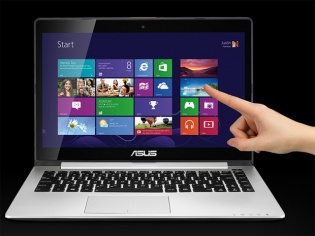 Pros:
Good performance; Large responsive touchscreen; Ergonomic keyboard.
Cons:
Poor display quality; Battery backup could have been better; Pricey.
ASUS VivoBook S400CA
MRP: Rs 60,000
Windows 8 has given rise to an unexpected breed of computing devices that had probably never been envisaged when the new OS was being designed. While it should have been meant for tablets, we are seeing an increasing number of laptops with touchscreens cropping up and some of them are Ultrabooks. The ASUS VivoBook S400CA is one such laptop with a large 14" display, powered by an Intel Core i7 CPU, with internal storage comprised of a combination of HDD and SSD for performance and capacity. Let's see if this laptop is better than the rest.
Build And Design
The ASUS S400CA appears completely black in colour when closed, with the lid sporting a brushed metal finish. A shiny ASUS logo at the centre, nicely contrasts with the dark surroundings. While it does look good when new, the piece we received seemed to have experienced some rough usage that brought to our notice that the black coating can go away and show the lustrous aluminium underneath, which doesn't look good. To its credit, the casing is resistant to fingerprints and smudges. Most of the body is made of aluminium with only the base (underside) made of strong polymer. The lid opens smoothly, but firmly up to around 150 degrees, exhibiting durability of the single long central hinge that should last long. The lid wobbles a bit while using the touchscreen input, but it manages to hold its own and doesn't fall back too much, exhibiting durability that should last well. The overall build quality appears to be very good.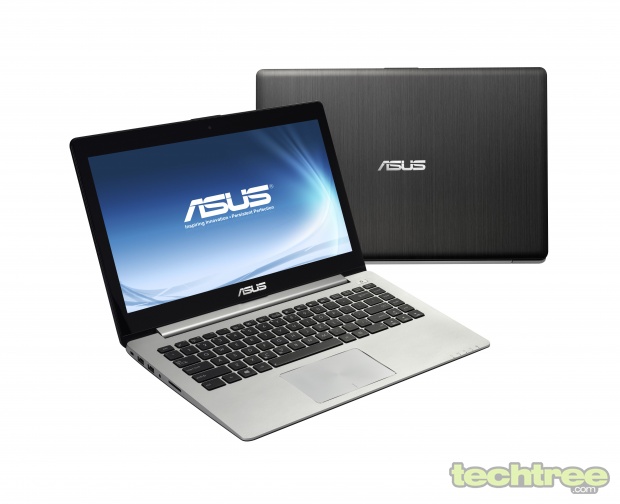 In case you are picturing this to be a thin, portable, and light device, considering that it is an UltraBook, let me tell you that it is not really the case. When closed, it measures 13.3" in width, 9.3" in depth, and 0.8" (2 cm) in thickness, making it more like a desktop replacement in dimensions. Its weight of 1.83 kg doesn't really make it easy to be carried around either. However, it is not too heavy either and should be good to be carried in a backpack. The lid is quite slim at around 0.3" (0.7 cm).
The LED-backlit display is 14" (diagonal) with HD pixel dimensions of 1366x768. It features 10-point capacitive touch input capability. The left and right bezels are considerably thinner than those at the top and bottom. Since this is not a Windows 8 tablet, there is no Windows button at the central location of the bottom bezel, where there is the ASUS logo instead. The size of the bezel is just right to make it easy to use the edge controls of Windows 8 UI. A webcam is present at the centre of the top bezel. While it is not Gorilla glass, it is very resistant to scratches as we were not able to get a single scratch on the glass using metallic objects such as door keys.
The island type keyboard is spacious with a nice amount of space given to the shiny aluminium palm rest with a brushed metal finish. While a dedicated numeric pad is not present, it can still be accessed by means of the function key that modifies the alphabet keys into a demarcated numeric pad. The keyboard is not backlit. There are LED indicators on the front left to show the status of the various locks and other activities. The touchpad with a semi-matte finish is generously sized, measuring 4.1" across and 2.9" in height, giving enough space to comfortably manoeuvre the cursor. It is located intelligently towards the left, directly underneath the spacebar, to avoid accidental touch inputs. Mouse buttons are present underneath the bottom of the touchpad and a demarcation between them is engraved on the touchpad. A power button with LED indicator is situated on the top left.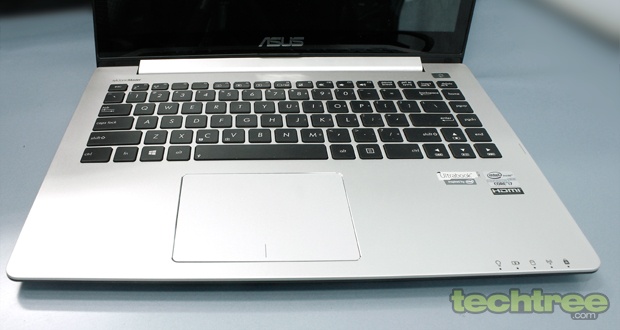 All the ports are situated on the left and right side of the S400CA, thus making them more accessible. Two USB 2.0 ports supporting PowerShare (the ability to charge USB devices even when the laptop is switched off) are present on the left of the device along with a memory card reader, a Kensington lock to physically secure it against theft, and a headphone/microphone combo port.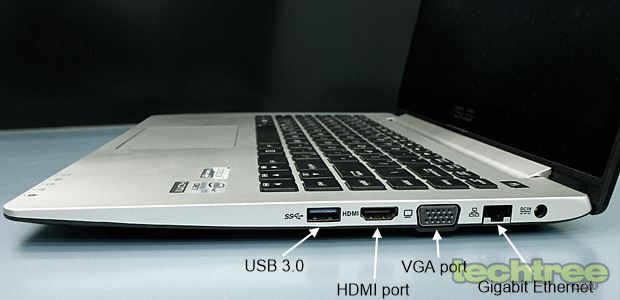 A SuperSpeed USB 3.0 port is present on the right to connect faster peripherals supporting this interface. A Gigabit Ethernet port is also present for wired network connectivity. HDMI port is there to let you connect the device to a HD display, while there is also a VGA port to connect to older display device or projectors supporting only this interface. ASUS has not incorporated an optical drive in this laptop to save space and to reduce dimensions.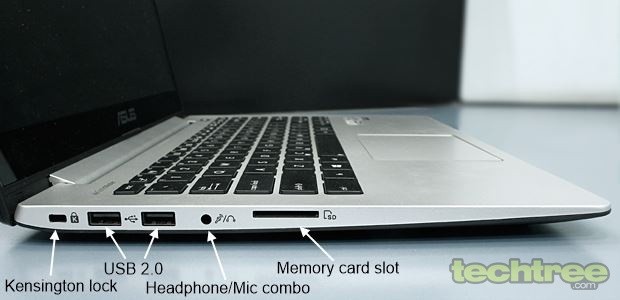 The underside has several ventilation grills to let out hot air that builds up inside the casing, allowing the laptop to run cool. Stereo speaker grills are present near the front on either side. The laptop is powered by a 3-cell 400 mAh 44 Whrs polymer battery that is not user replaceable. In fact, to replace anything, you will have to unscrew the entire lower cover to expose the internals. Four rubber feet near the four corners slightly elevate the device when placed on a flat surface to facilitate air intake for ventilation and help to keep this device grounded. We must also mention that the entire surface of the underside is rubberised, thus allowing for a secure grip when you take it around.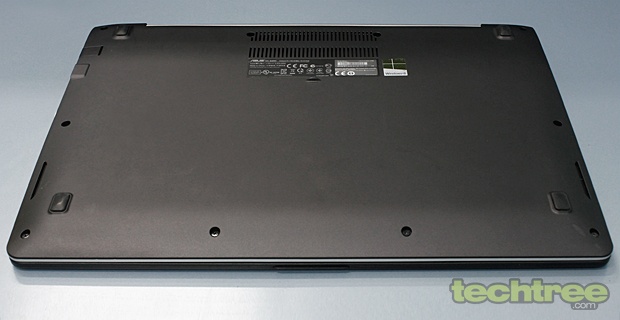 The ASUS S400CA runs Windows 8 Pro 64-bit and is powered by a dual-core Hyperthreaded Intel Core i7-3517U running at 1.9 GHz with 4 GB of RAM (not upgradeable). A 500 GB 5400 RPM SATA hard drive takes care of internal storage. There is also a 24 GB SSD-cache that works in tandem with the HDD to form a hybrid drive system that is supposed to perform faster than an HDD, but not be constrained by less storage space of an SSD. Intel HD Graphics 4000 is present, so this is mainly good for office work and multimedia.
In addition to the OS, there are a host of bundled software from ASUS. A trial version of MS Office 2013 is also provided, although you will eventually have to pay for the full version or opt for a free office suite. McAfee Internet Security is provided to take care of security.
Performance
The ASUS S400CA boots in just around 13 seconds, which is, not surprisingly, somewhere between booting off an SSD and an HDD. The performance is good and the laptop continues to perform well even when multiple applications are opened simultaneously with the antivirus running in the background.
The keyboard has good ergonomics due to the comfortable spacing between keys and the long keystrokes and it is not tiresome to type for long durations. The touchpad is likewise fun to use due to its large size, making precise cursor control very easy to achieve.
The screen's touch response is quite good and there is no noticeable lag at any point. There is some trailing, however, which somewhat spoils the experience. The high glossy finish of the screen makes it very reflective and difficult to use with the light source present behind the user. The display dimensions of 1366x768 seem to be low as individual pixels can be easily seen and it would have been better to incorporate a Full HD (or at least a 1600x900) panel instead. Being a TN panel, the viewing angles suffer badly, both vertically as well as horizontally, thus you can see deterioration in colouration even at angles as narrow as 30 degrees in any direction. This becomes more evident when watching dark visuals as black colour quickly changes to grey when viewed from a wider angle. The colours appear washed out.
The speakers with SonicMaster technology are quite loud, and the clarity is good enough to be used to watch videos. In spite of the fact that they are placed under the laptop, they sound much better than those on the Acer M3 Touch, which were Dolby certified.
Gamers who possibly are attracted by the Intel Core i7 tag please pay attention. The Intel HD Graphics 4000 is good enough for only simple office games. The 3DMark result speak for themselves.
In spite of the lack of ventilation grills, the laptop remained cool during the entire test process including the benchmarking.
We conducted a few synthetic benchmarks to find out how the S400CA performs.
Windows Experience Index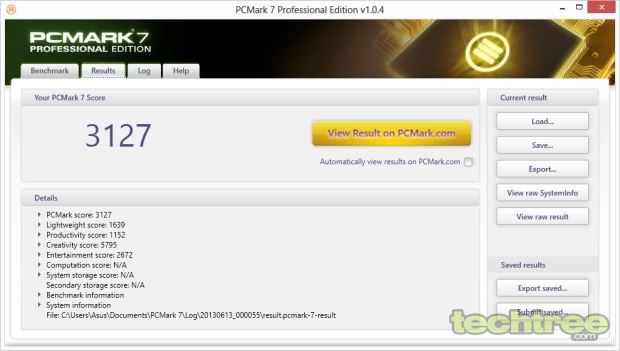 PCMark 7 score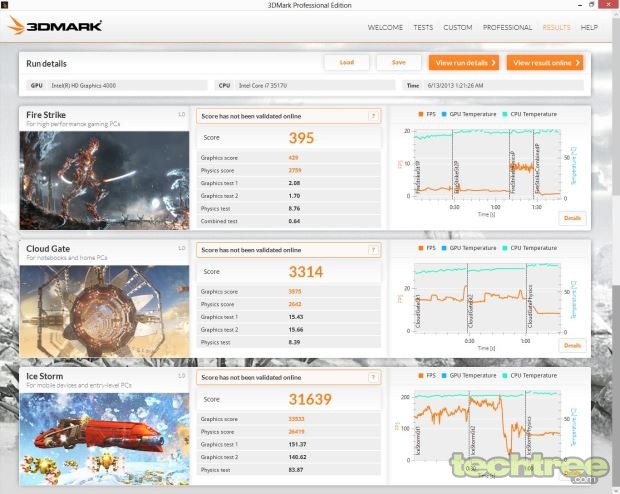 3DMark score
The benchmark results indicate a good performance from the S400CA. It is easy to deduce that the device is perfectly capable of handling office tasks as well as multimedia, and casual gaming. It doesn't get bogged down even with excessive multitasking such as opening multiple programs and several tabs in browsers. We found that it actually scores less than the Acer M3 Touch, which has a Core i3 CPU. A look at the Windows Performance Index shows that while the CPU is performing as well as it should, the graphics is holding back the performance for some reason. We suspect that the Optimus Technology is probably not kicking in when it should and the integrated graphics is being used more often.
Battery Life
We measured the battery life by Battery Eater Pro and by actually using the laptop with the Balanced power scheme of Windows 8. The two tests run in Battery Eater Pro utility are the Reader's test which simulates real-world reading scenario, while the Classic test uses OpenGL rendering to simulate heavy usage such as gaming. Please note that the battery backup times logged in this way are the least that are possible in the two tests due to the maximised power consumption. You can always expect better backup times in real world usage.
A battery backup time of 1 hour 23 minutes was registered in the Classic test, while the Reader's test result yielded 3 hours 57 minutes. In normal usage that involves using office applications, surfing the internet, occasional music and video, and watching some YouTube clips, the battery lasted for over 5 hours. This is a average battery backup for the Windows 8 Ultrabook and we expected better because it contains a power efficient CPU and there is no dedicated graphics card to sap the battery power.
Our Verdict
The ASUS S400CA is a very good performer in all regular computing tasks, thanks to its Core i7 CPU with sufficient RAM and hybrid drive system. However, its display quality is nothing to write home about with poor viewing angles. Nevertheless, it is as responsive as you would expect of a Windows 8 capacitive multi-touch screen. The large 14"screen size is comfortable to view and move from a desktop in case you are planning to do that, and it is not too heavy either. Unlike its other laptops, ASUS doesn't provide a carry bag along that would have made it easier to carry around. Ergonomically, it is good to work for long hours and aesthetically it is not bad either sporting a good build quality. The battery backup time at best, average, considering that this laptop doesn't even have discrete graphics. It is priced at Rs 60,000, which is a little too pricey.
Build And Design: 4/5
Features: 3.5/5
Performance: 4/5
Value For Money: 3/5
Mojo: 3.5/5
Overall Rating: 3.5/5