Review: ASUS Transformer AiO P1801 | TechTree.com
Review: ASUS Transformer AiO P1801
A unique and stylish computing gadget that will impress one and all.
Rating

4
/5
10th Jun 2013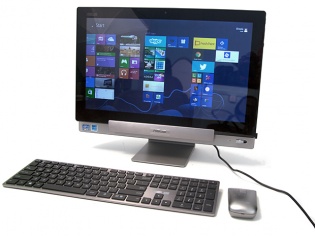 Pros:
Excellent performance in Windows and Android; Stunning looks and versatility; Detachable Android tablet that can receive streaming Windows 8; Great screen.
Cons:
Large and heavy tablet is not very portable; Sometimes sluggish remote Windows 8 performance; No Blu-ray drive.
ASUS AiO P1801
MRP: Rs 95,000
We have seen quite a few gadgets that transform between tablet and laptop form factors. However, have you seen a desktop PC that is also a tablet? Well, the ASUS Transformer AiO P1801 is one of such new breed of devices with a detachable screen that is also a tablet. This device differs from other convertibles because it is actually two computing devices with a powerful Intel Core i5-based Windows 8 PC in the docking station and a Full HD 18.4" Android tablet powered by NVIDIA Tegra 3. Of course, the tablet serves as a display for Windows 8 when docked. Let's see if it makes a practical and productive computing machine.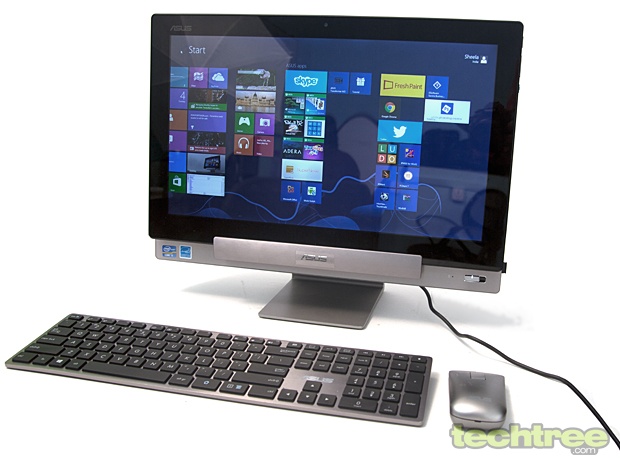 Design And Features
The ASUS Transformer AiO P1801 comprises four parts: PC docking station, tablet, keyboard, and mouse. The PC docking station is actually a computer cabinet with all the essentials within. These include an Intel Core i5-3350P quad-core CPU running at 3.1 GHz with 4 GB of RAM and a 1 TB hard drive. The casing has a piano black glossy finish that reflects everything in front of it and has an affinity for fingerprints and dust. Luckily, this part stays hidden behind the tablet when mounted. The dock consists of an lustrous aluminium sleeve with upward facing ports onto which, the tablet slides into place and connects with the PC hardware. There is no locking mechanism here so you have to be careful not to lift the PC holding the screen as it will just come off. The holding part can swivel up and down to angle the screen at a convenient angle. When the tablet is in position in the dock, the AiO looks somewhat similar to an Apple iMac, only not so slim. The overall build quality is excellent, including the moving joint.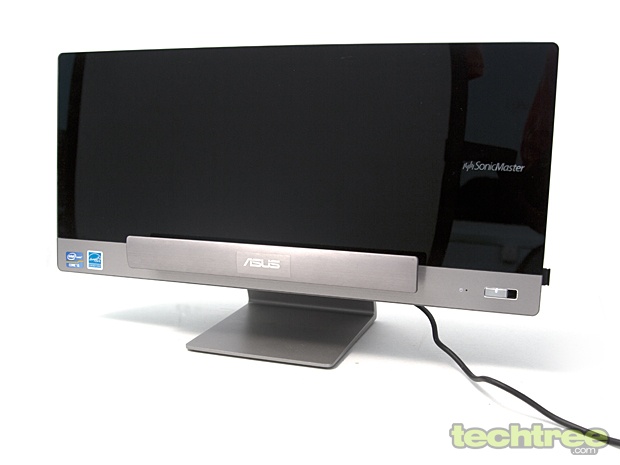 The dock stands on a base made of an angled sheet of aluminium that gives it a stylish look. A power button is present on the right to switch on the PC and tablet simultaneously. A USB 2.0 port is present on the left in addition to a slot-loading DVD writer. I really wish this would have been a Blu-ray drive instead because a DVD writer seems out of place in this otherwise state-of-the-art infotainment device. Moving to the left, there is a plethora of ports including four USB 3.0, SD/MMC card slot, and 3.5 mm audio ports for microphone and speakers or headphones. There is also an HDMI-out port at the back that lets you connect this PC to an external display and use it independently of the tablet screen. In addition to a Gigabit Ethernet port, there is built-in Wi-Fi too for wireless networking. An analog TV Tuner is also present that essentially turns this device into a television set.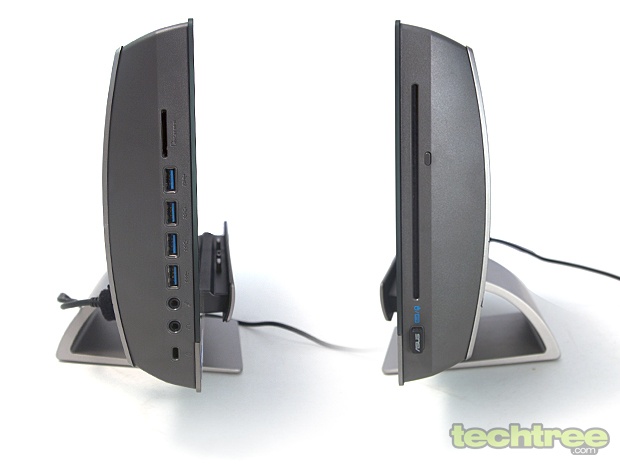 The tablet has a huge 18.4" screen with 10-point capacitive touch and pixel dimensions of 1920x1080 and a 1 MP webcam on the top bezel. Unlike a Windows 8 tablet, there is no capacitive Windows button on the bottom bezel. The tablet also has an aluminium body and a sturdy build. However, at 2.4 kg, it is a bit too heavy to carry around and hence is provided with a folding stand at the back that pops out to keep it reclined standing on a flat surface.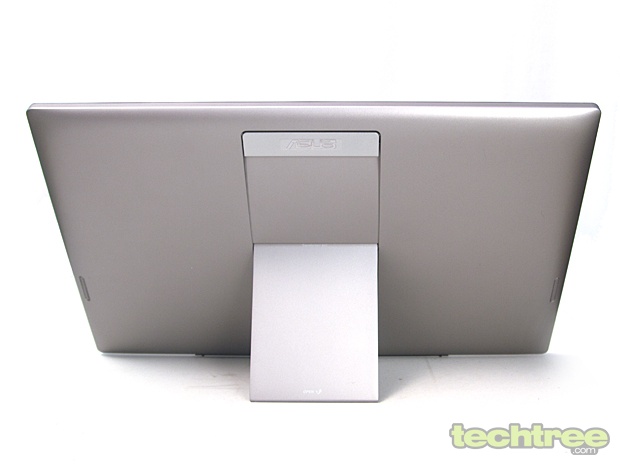 The tablet is powered by the NVIDIA Tegra 3 quad-core SoC with 2 GB of RAM and a 32 GB SSD. It runs Android 4.1 (Jelly Bean) and runs a Splashtop 2 app that manages the streaming of Windows 8 and translating touch input calls from Android to Windows 8 in a transparent way. Essentially, it turns the tablet into a PC monitor. This streaming also works wirelessly as long as both the tablet and the PC station are connected to the same Wi-Fi router. This lets you get the Windows 8 experience throughout your home in the comfort of various rooms without the confinement of wires. However, the webcam is not accessible in this mode, so you cannot have video chat.
The tablet has its own set of speakers. It also has a button on one side that lets the user switch between Android and Windows 8 mode. There is also a power button, volume rocker, microphone, and earphone jacks, mini-USB, and a microSD card slot.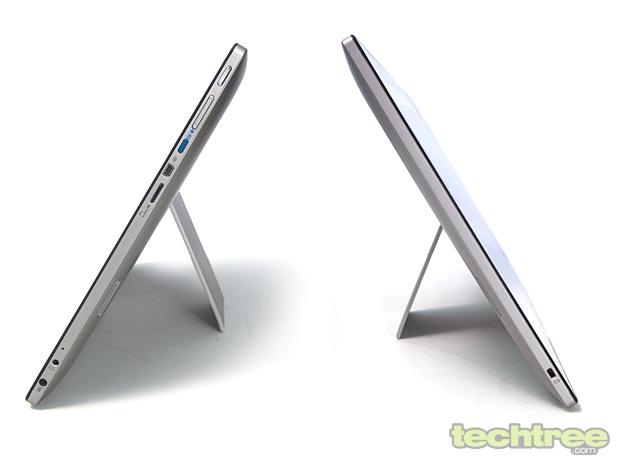 The keyboard is elegantly designed and crafted from a single sheet of solid aluminium with a brushed finish. The keys are nicely spaced out and are fashioned in the island-type layout that is commonly found in laptops. It is as large as a normal desktop keyboard and therefore has the same keys layout. The Caps Lock and Num Lock keys have LEDs to indicate their status and there is also an LED to indicate low battery status.
The laser mouse is also fashioned with a lustrous metallic finish. In place of a moving wheel, it has a touchpad with haptic feedback. Both, the mouse and the keyboard, operate over 2.4 GHz radio frequency and need a tiny dongle to be attached to the PC to be used. Interestingly, the combo works with Windows 8 and just as well with Android 4.1.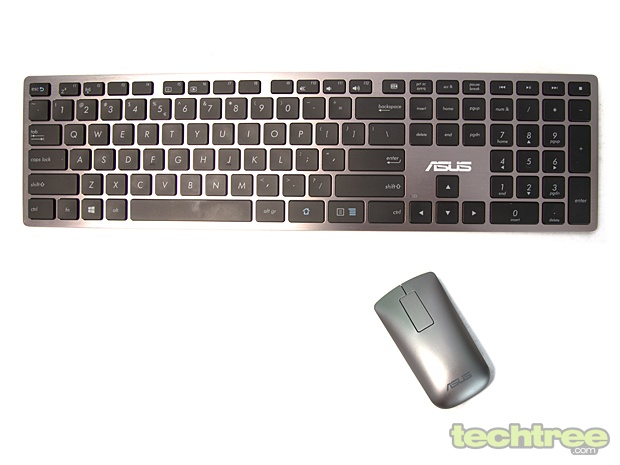 While ASUS has taken good care of the aesthetics of this product, it has simply ignored the power brick for the PC station, which is a rather large black block that appears out of place besides this svelte AIO.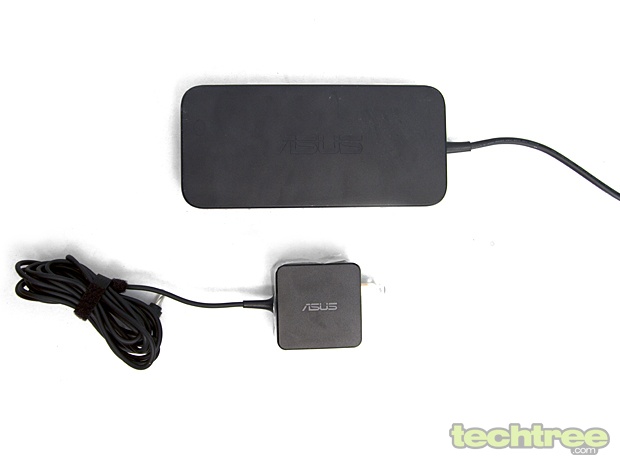 Performance
Once it is powered on, the AiO boots into Windows 8 in under half a minute. It must be noted here that the Android tablet also boots simultaneously and displays the happenings from the PC station. The Windows 8 performance was flawless and at no point did we find it sluggish even though it is actually streaming the content to the Android tablet app.
The keyboard is very comfortable to type on because of its full size and spaced out keys. There is ample palm rest to rest your hands during long typing sessions. The mouse has just the right size and its keys have a nice feedback. However, I think it would have been better to tone down the haptic feedback of the wheel button, but that is only a personal opinion.
The IPS screen has great viewing angles. The images appear sharp and the colours look great too. It is bright enough to view comfortably even in brightly lit rooms. Being glossy, it does tend to gather fingerprints rather easily, so you have to keep cleaning it regularly. The touch response of the screen is really good with no noticeable lag when in Windows 8 or Android mode.
When the tablet was detached and taken to another room (5 meters away with one wall obstruction) with wireless remote desktop enabled, it worked well in general, but there were times when I could feel the occasional sluggishness. The Android performance was also smooth in normal apps as well as in gaming.
The speakers on the PC as well as the tablet sound really loud and you won't need to attach external speakers to this AiO.
We ran a few synthetic benchmarks to find out how well the AiO P1801 performs.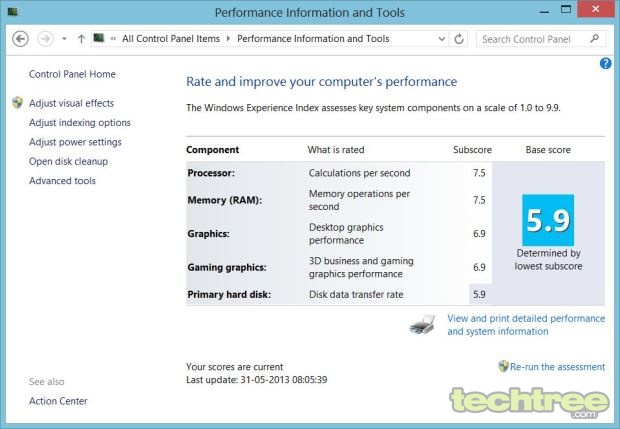 Windows Performance Index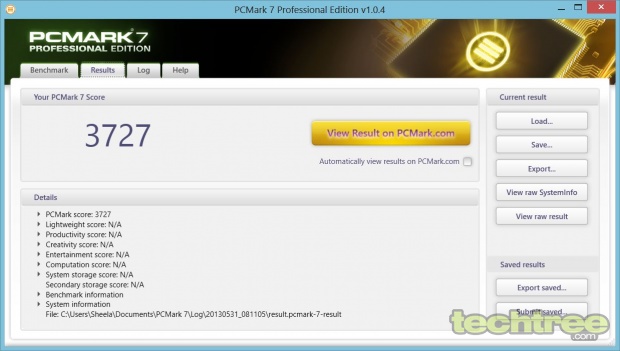 PCMark 7 score
And here are some Android benchmark results for the tablet.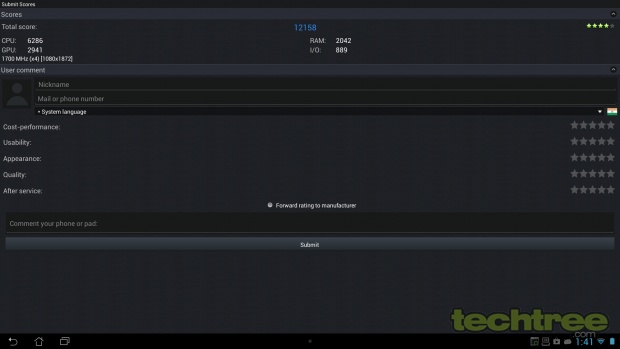 Antutu benchmark score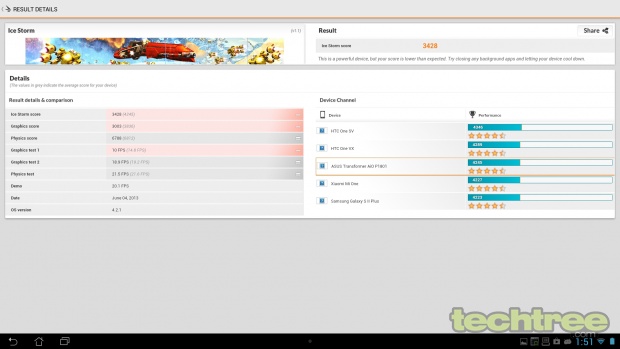 3DMark Ice Storm Android score
In case it is not legible to you, the tablet scored 12,158 in Antutu and 4245 in 3DMark, both good scores. Overall, the performance is great in the Windows 8 PC mode, and equally good in the Android tablet mode. The device ran cool during the duration of the test. The tablet could be used for up to 4.5 hours of normal usage on a single charge, and it can be pushed further if judiciously used with power saving features enabled.
Our Verdict
The ASUS AiO P1801 is a unique and stylish computing gadget with excellent performance in Windows 8 as well as Android. It is unique because there is none other of its kind to pose a challenge. It works as an excellent desktop PC, thanks to its powerful 3rd generation Intel Core i5 quad-core CPU and NVIDIA GeForce GT 730M discrete graphics card, while the Android tablet is also speedy with the NVIDIA Tegra 3 quad-core processor. The beauty of this device is that you can use it as a Windows 8 PC with the touchscreen tablet, and you can simply unplug the tablet while it is still switched on and opt to either use it with Android or with Windows 8 streaming over Wi-Fi, thus giving you excellent mobility inside you house or office. The TV tuner adds to its entertainment value, but ASUS should have incorporated a Blu-ray drive instead of the stale DVD writer to really drive the point home. The price of Rs 95,000 seems to be too steep for a desktop PC. However, after realising that this device incorporates a full-fledged powerful PC, running Windows 8, that can be used with any monitor, and also an 18.4" large Full HD tablet running Android, capable of showing the Windows 8 stream from the PC station and working as a display when docked, the price suddenly seems to be reasonable. You can also opt for a Core i3 based version for Rs 87,000 with the rest of the configuration remaining the same, or a Core i7 version than will set you back by little over a Lac Rupees. But all said and done, this is a device with some serious flaunt value and one that lives up to the Transformer in its name.
Build: 4/5
Features: 4.5/5
Performance: 4/5
Ease Of Use: 4.5/5
Value For Money: 3.5/5
Overall Rating: 4/5
TAGS: Desktops, Tablets, Windows, Android, ASUS