Review: NXG Xtab A10 | TechTree.com
Review: NXG Xtab A10
An inexpensive, yet impressive Android 4.0 tablet.
Rating

4.5
/5
14th Jan 2013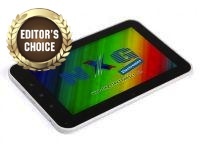 Pros:
Well priced; Great build quality; Android 4.0; Impressive audio quality; 1080 video support; HDMI port.
Cons:
Limited viewing angles.
NXG Xtab A10
MRP: Rs 5700 (4 GB); Rs 6700 (8 GB) (click the Buy Now link).


Useful or not, almost everyone wants to buy a tablet these days. However, not all folks can afford an iPad, therefore, entry-level 7" tablets are doing quite well in India. The Xtab A10 is one such 7" tablet that offers the Android 4.0 experience at an affordable price. Additionally, the company claims effortless full HD video playback. Let's see how much these statements hold true.


Design And Build Quality
The retail package includes the tablet, charger, USB cable, earphones, and a USB OTG (On-The-Go) cable. The gadget measures 7.5" (l) x 4.8" (w) x 0.5" (13 mm) (d), and weighs around 360 grammes. Despite being affordable, this tablet has decent looks. The manufacturer has kept things simple and avoided gaudiness. Unlike similarly priced slates, the Xtab A10 doesn't creak when pressed at the corners. Overall, the tablet's build quality is great considering its price tag.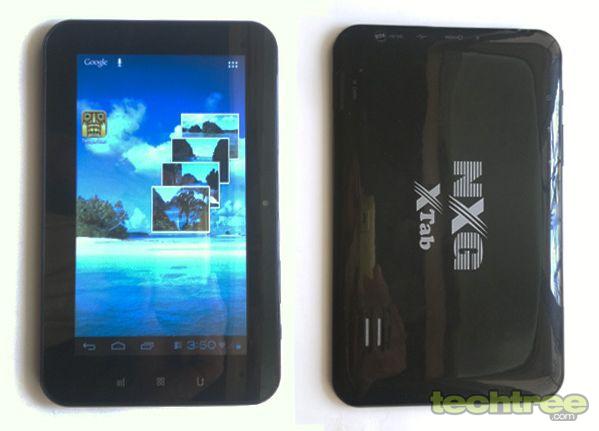 The device's 7" touchscreen has pixel dimensions of 800x480. The screen isn't extraordinary, but is definitely better than its competition. Its brightness and colour reproduction is ok. On the flip side, it's quite reflective and has limited viewing angles.


Although the official website claims to feature a 1.5 GHz processor, the device is actually powered by a 1 GHz CPU. Other specs include 512 MB of RAM, Wi-Fi, 4 GB \ 8 GB of internal storage, a microSD card slot, front VGA camera, 3.5 mm jack, USB OTG-enabled mini-USB port, HDMI port, and a 3600 2450 mAh battery (NXG has clarified that the original claim of 3600 mAh was a printing mistake). To keep costs down, the company has done away with the main camera and Bluetooth. Getting rid of the former is actually a good move, since I really don't enjoy the idea of holding a 7" slate to take a photograph.


UI And Performance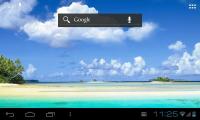 The A10 runs Android 4.0 (Ice Cream Sandwich) out of the box. Surprisingly, the hardware handles the latest software reasonably well. This has been achieved by stripping off a few features, such as the Face Unlock from the ICS. The tablet still has a slight amount of lag, but then it's a part of the standard Android experience. The touchscreen is good at registering inputs, but don't expect to be as precise as the high-end tablets. The device's front facing VGA camera and mic lets you make video calls using third-party apps such as Fring and Skype.

The onboard browser supports Flash 11.1 and it handles web videos pretty well. Additionally, the browser's page rendering is reasonably fast. The tablet provides access to the Google Play store, and power users will be pleased to know that the device comes pre-rooted, so you don't have to waste time finding ways to take complete control of your tablet.


Multimedia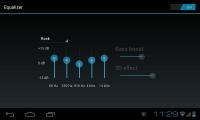 The gadget's speaker is weak, but the sound quality through earphones is very good. Additionally, it offers plenty of equalizer settings and sound effects. The only annoyance with the review unit was that its 3.5 mm jack was a little problematic. It required us to push the earphones pin hard to make it work properly.

The tablet can handle 1080p video in almost all the popular formats. The manufacturer claims that the device can also play 2160p videos, and to my surprise it actually did. However, the playback wasn't very smooth.


Battery And Verdict
The tablet's 2450 mAh battery can keep the device powered on for a day under average use. With heavy use though, it can last up to 5 hours and 30 minutes. This is decent performance, considering that it's an Android tablet.

For an asking price of under Rs 6000, the gadget pulls off impressive performance. It offers an HDMI port, 1080p video playback, and great sound quality. More importantly, it delivers a good ICS experience at an affordable price. If you're a tablet lover on a tight budget, the Xtab A10 is the way to go.


Features: 4/5
Design And Build Quality: 4.5/5
Performance: 4.5/5
Value For Money: 5/5
Mojo: 4/5

Overall Rating: 4.5/5