Galaxy Note 5 Dual-SIM | TechTree.com
Galaxy Note 5 Dual-SIM
This variant adds another plus to this powerful smartphone lineup: with its superlative screen, camera and stylus
Rating

4.5
/5
20th Jan 2016
Pros:
Great stylus, Futuristic design, Powerful and fast, Top-of-line camera, Great screen, Fast charge
Cons:
No removable battery, Battery only 3,000mAh, No expandable storage, Likely damage on wrong stylus insert
Fans of the Samsung Galaxy Note 5 may have been miffed at not getting a removable battery and expandable storage on this iconic smartphone, but now at least those who miss a second SIM can relax. Samsung has just launched a dual SIM variant of the Note 5.
The dual-SIM Note 5 will cost Rs 51,400 for the 32GB version and Rs 57,400 for the 64GB. Get your online storage ready. Dropbox, maybe? Or Google Drive and OneDrive? There's really enough options around for you to store your media.
Samsung has also dropped the price of the single-SIM Note 5 (to Rs 47,900 for 32 GB and Rs 53,900 for 64 GB). I'd recommend the dual-SIM, though. I need two SIMs, because one or the other cellular provider won't have a guaranteed signal where I go, even within Bangalore (or Mumbai or Delhi). Airtel is offering some 12-month 4G deal for Samsung Note 5 dual-SIM phone users, but I don't know how special that is: Airtel is pushing 4G on to all its users anyway and will come to your doorstep with a new SIM.
The other thing that infuriated Note users was what could happen if you inserted the S-Pen (the famous stylus on the Note; see photo) the wrong way in. This could cause it to get stuck and damage the pen and phone. There are reports that this problem has been fixed, but which fixed models one can expect to see isn't clear yet. On the other hand, I haven't had a 'wrong stylus insert' incident with the three generations of Note models I've owned.
The Note 5 is looks great, as Samsung's flagships have all started to do. The black is boring, but look at those silver and gold versions. Those are undeniably beautiful, even though you will have to pop them into a case because of all that glass on both sides. Yes, if you drop it on a hard floor, you'll likely have a shattered screen—or back. The home button houses a fingerprint sensor which opens up the device pretty fast and without a fuss.
The Note 5 screen is superlative: 1440 X 2560 Super AMOLED with 518 pixel densely squeezed in so that it's sharp sharp sharp. You can't but be dazzled by the clarity when watch a 4k video on this display, or at some high res photos. This is a super fast phone with its Exynos 7420 octa core processor and 4GB of RAM. Samsung has worked on its TouchWhiz, which handles much better now and is fluid on this phone. You don't easily get Android upgrades on Samsung smartphones, so past a few versions of Marshmallow, one can't really say.
The Note 5's camera is one of the very best among the handful of phones that really have good cameras today, the others being the iPhone 6s Plus, the Sony Xperia Z5, LG G4 and Nexus 6P.
The camera gives you sharp images that invariably leave people asking what you used to take that shot. The 16MP (and the 5MP front-shooter) use an f1.9 aperture. Got that, camera buffs? f/1.9 is fast, lets in lots of light, so both cameras are great for low-light or indoor use. If you're into shooting video, you can upload straight to YouTube from this device.
The S-Pen stylus is central to this phone and if you're very sure you aren't going to use it, you should look at the other Samsung flagship devices: the Galaxy S6, S6 Edge and S6 Edge +. The stylus is great for jotting down quick stuff, which you can do straight on the sleeping screen, for drawing very precisely, for handwriting and annotations and even for calligraphy for which there's a special virtual-pen accessory.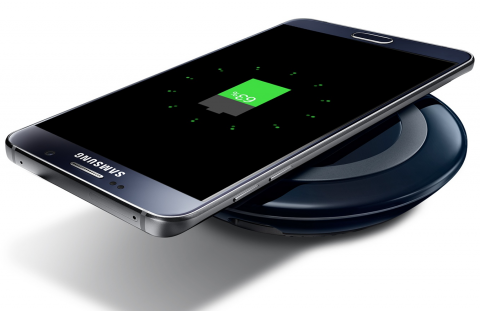 Samsung's wireless charger (a Rs 2,999 option) charges the Note 5 in 2 hours.
The battery is a mere 3,000mAh, so the phone struggles to last a day if you use the camera and apps. But it supports fast-charge: From a dead battery, 15 minutes (using its own charger and cable) gets back to a usable 25%. The optional wireless charger (Rs 3k) also works fast, charging the Note 5 in two hours.
The author is a corporate consultant who likes her gadgets almost more than her shoes. Write to her at [email protected]
TAGS: Samsung GALAXY Note 5