Lenovo Yoga Book To Be Launched In India Soon
The unique hybrid device comes with artificial learning software that adapts to users' typing habits.
Have you seen the recently unveiled Yoga Book that was showcased during the IFA 2016 event? Well, if so, you would know how slim and unique the device is.
The latest news - Lenovo seems to be planning an Indian launch of the same Yoga Book on Dec 13. While the company announced it in US for USD 499, we may expect the Yoga Book to come with a price tag of INR 34,000. However, there seems to be no official word yet, on the final price for the Indian market.
Lenovo Yoga Book is a 2-in-1 tablet that comes with a new design, while a 'watchband' hinge is used, and a three-axis hinge, to actually attach both the parts of the laptop-cum-tablet.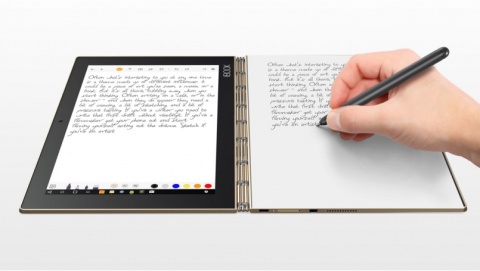 The device comes with a touchscreen display while another part equips a touch sensitive surface, which the company calls as Create Pad. It comes with a touch-based keyboard that is said to be powered by Wacom, states a new BGR report.
The Yoga Book comes with an artificial learning software that is capable of learning and adapting to users' typing habits. The new hybrid device comes with 10.1 inch IPS Full HD display, 4 GB RAM< 64 GB ROM, Intel Atom x5 processor, and 8,500 mAh battery.
The Yoga Book comes in two variants - one that runs on Android Marshmallow and another that comes with Windows out of the box.
TAGS: Lenovo