Review: Motorola RAZR XT910
Wears Kevlar, but still falls prey to the bullet of poor performance.
Rating

3.5
/5
14th Jan 2013
Pros:
Slim body; Excellent signal reception and voice clarity; Dual-core CPU; 4.3" Super AMOLED screen; 1080p video recording with image stabilisation.
Cons:
Laggy interface; Too large for one-handed use; No physical shutter button; Battery not user-replaceable; Expensive.
Motorola RAZR XT910
MRP: Rs 36,000
Street Price (As On 05-March-2012): Rs 28,500 (Saholic.com); Rs 30,000 (Flipkart.com)


Motorola has come a long way with its RAZR handsets since it launched the first one in 2004. While that was an iconic flip-phone, the new Motorola RAZR XT910 Android resembles a tablet. This is the arguably the thinnest phone around, with the body being just 7.1 mm thick, although it is wider at the top end. The 1.2 GHz dual-core device with a large 4.3" Super AMOLED Gorilla Glass screen is Kevlar clad at the back to reaffirm its flagship status. Let's find out if it is really just as good in the performance department.

Here is the video review for the Motorola RAZR XT910: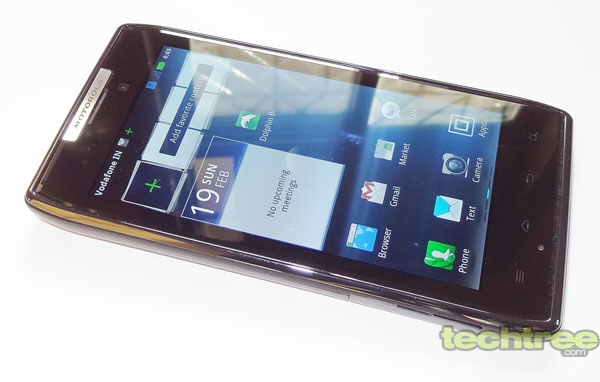 Design And Build Quality
The RAZR comes bundled with a detachable USB charger, a pair of in-ear earphones, and a couple of information booklets in addition to the warranty card. Surprisingly, no memory card is provided, and you have to rely on the 16 GB internal memory, which comes out of the box. Of this, only 8 GB is available for the user, while the remaining 8 GB is reserved by the OS and applications. As stated earlier, the front is dominated by a 4.3" large Super AMOLED screen with pixel dimensions of 540x960, protected against scratches by Corning Gorilla Glass. Readability is good in general even when using outdoors, although colours are a bit over-saturated. Images are not very crisp, as the pixel density is not very high. The microphone is placed on the lower part of the glass, while another outlet is present at the back for noise-cancellation. A stainless steel frame with gun-metal finish runs along the sides, which is slightly curved near the top and bottom corners.


The thin part of the body at the rear is mostly coated by bulletproof Kevlar fabric, although we must remind you that it cannot protect this phone from bullets for obvious reasons. Since it is sealed off, the battery is not user-replaceable. The wedge-like shape lets you easily carry it in your front pocket, although it is too large to carry in the back pocket. The large size of the phone is a result of the wide bezel around the screen, and it is therefore is not comfortably safe for one-handed use. Rather, we ended up holding it with one hand and using the other for navigating the UI. Things could be different with you if you have a really large pair of hands, but most people don't. The overall build quality seems to be strong except for the faceplate covering the camera, which seems to be flimsy.

The three physical buttons on the phone are a tacky Lock button on the top right, and the volume up and down buttons just below it. Like many other Android devices these days, the Options, Home, Return, and Search buttons situated at the bottom of the display are capacitive and backlit, although the backlight doesn't work when you need it the most.

An 8 mp camera with LED flash, boasting of 1080p 30 fps video recording supported by image stabilisation is present, along with a front 1.2 mp camera with 720p recording for video calling. A physical shutter button would have really made things a lot easier, although Motorola seems to think otherwise. Like most other phones these days, this one also supports micro SIM. It supports up to 32 GB microSD card. There is some really powerful hardware under the bonnet with a 1.2 GHz dual-core processor, although that doesn't necessarily translate into a superlative real-world performance as we will explain later. A micro-USB port is present at the top, along with a 3.5 mm audio socket, and there is also a micro HDMI port to play movies directly to a big-screen external display device.


UI And Applications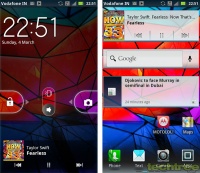 The UI based on Android 2.3.5 (Gingerbread) has been completely revamped, which brings some good things and some bad. One of the welcome changes can be seen right at the Lock screen, where you are provided with two slider buttons, one on the left to unlock the phone, while the other on the right launches the camera. A ringer toggle has been added at the middle so that you can mute \ unmute the phone even when it is in the locked state. There are five home screens you can scroll through and the animation has a certain 3D depth to it. The last of the home screens has quick-toggle widgets for Wi-Fi, Bluetooth, Data, and GPS.

The notification, on the other hand, is completely unmodified. The dock at the bottom of the screen has four shortcuts. The last of these launches the apps drawer and cannot be modified, while you can customise the remaining three. Google Maps work well with navigation support, thanks to the highly responsive GPS module assisted by A-GPS and digital compass. The Places app shows places or interest near your current location.

On the gloomier side, it seems to find it difficult to run at times with noticeable lag and framing as we delve deeper into the UI. This is shockingly evident even when you open a web page in the native browser and begin scrolling. It is really surprising, considering the fact that the hardware is sufficiently powerful to handle this version of Android. It therefore points to the lack of optimisation. Lastly, the default theme is quite gaudy and loud, but you can always replace it with a sober one.

Multimedia
The Gallery app shows the photo contents of your memory card as a stack, although you cannot choose any of them by tapping. For that, you have to open the Camera roll, My library, Online, Friends, or MotoCast app. Swiping across photos seems to run smoothly, but zooming in and out is terribly laggy, once again pointing to a lack of optimisation.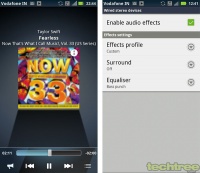 The video player is capable of playing up to 1080p movies as long as they are DivX, XviD, MP4, or X264 files. Yes, it plays MKV files with the above codecs. Thankfully, movie playback is smooth as it should be. Since it is a plain vanilla media player, you don't get options such as viewing subtitles, changing display settings, or choosing audio track. For more format support and better control, you can always opt for one of the free third-party players from the Android Market.

The Music app has a lot of customisable options. These include several effects profiles to change the way the audio sounds, surround effects, and five equaliser presets. However, custom equaliser setting is not available. Podcasts and internet radio are also supported through this app and it can even connect to DLNA servers on your home network. While the audio is generally decent, it is plagued by plenty of crosstalk, which will turn off any serious listener. For those who are concerned, the RAZR does not feature an FM Radio receiver.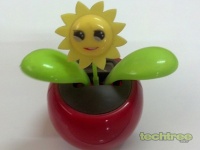 The 8 mp camera has a simple UI with a on-screen shutter or record button on the right, and a retractable row of shortcuts for options at the bottom. It supports touch-to-focus, which mostly works well, but can sometimes be unresponsive. There is a remarkable lag between shutter press and actual shot taken, thus you are most likely to miss out on capturing the action as you intend to. Various shooting modes are supported, just like any standard camera. Shooting in 16:9 aspect ratio is restricted to 6 mp, while the full 8 mp is available only for 4:3 shots.

The camera does a decent job with good colour capture, though the image quality is not anything out of the ordinary. The single LED flash is only good enough to light up subjects as close as a metre from the camera. Shooting in low-light environments produces grainy results in still as well as video shoots.

Full HD video shooting mode comes with image stabilisation that actually works and compensates for jerky hands. The camera focuses before the recording begins, but there is no automatic focus thereafter. Files are recorded in the MP4 format. However, you can manually focus while recording by tapping on the screen. The quality of the recorded video is good, with no noticeable frame drops, as long as it is shot in sufficient lighting conditions. Of course, it is still nowhere near a standard camera that can record 1080p.
Telephony And Messaging
Signal quality is good, and you will rarely lose reception using a Motorola handset. In our call voice quality experience, it is the hands-free that seems to work the best, followed by the speaker-phone, while the in-built earpiece in the handset tends to distort sound. The keyboard is a standard Gingerbread affair, so there's nothing new to mention.


Battery And Verdict
The 1780 mAh Li-Ion battery of the RAZR does a good job at keeping the device alive for 6 hours 40 minutes, which is pretty good for a dual-core phone with such a large bright screen under heavy usage. Conservative usage allowed it to be used for over a day without recharging.

The Motorola RAZR is definitely made to look different and it does make heads turn. It is a good device as far as telephony is concerned and the ramped up multimedia features give it a few more brownie points. However, the laggy performance issues need immediate attention. Being a flagship product, it is priced at Rs 33,500, which combined with the lacklustre performance, takes away most of the fun. You are rather better off with a Samsung GALAXY S II, if you are paying a premium price. On second thoughts, the Nokia Lumia 800 suddenly seems to be a lot more attractive ever since its price has dropped sharply.


Features: 4.5/5
Design And Build Quality: 4/5
Performance: 2.5/5
Value For Money: 2.5/5
Mojo: 3/5

Overall Rating: 3.5/5
TAGS: Mobile Phones, Android, Motorola, RAZR, Jayesh