Review: Apple MacBook Pro 15 (Late 2011)
Now even more powerful than ever.
Rating

4
/5
14th Jan 2013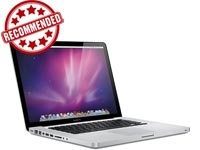 Pros:
Excellent build and design; Great performance; Ergonomic keyboard and trackpad; Includes service manual; Good battery life.
Cons:
Only two USB ports; Heats up under stress; No USB 3.0; No Blu-ray drive; No HDMI port; Expensive.
Apple MacBook Pro 15 (Late 2011)
MRP: Rs 1,25,000

UPDATE: The video review of the MacBook Pro 15 (Late 2011) is now available here.

---
Apple launches a new iteration of most of its products every year and it almost religiously follows a timetable for that. Late last year, it launched the latest iterations of its MacBook Pro high-performance laptops with upgraded hardware and software. We received the higher-end 15" model of the series. It is a powerhouse, packing in a quad-core 2.4 GHz Intel Core i7 processor with 4 GB RAM, an AMD Radeon HD 6770 1 GB graphics card, and ample storage space of 750 GB with a fast 7200 rpm hard drive. Not to forget, it runs on the latest Mac OS X Lion.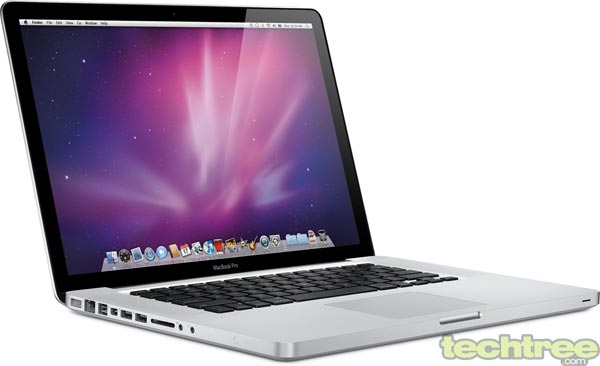 Bundle
MacBook Pro 15.
Display cleaning cloth.
85 Watt MagSafe power adapter with AC wall plug and power cord.
Software DVDs.
Printed and electronic documentation.
The user manual contains details about servicing the device, which includes replacing components such as the hard drive.

Design And Features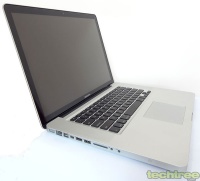 The laptop launched in late 2011 comes in the same beautiful aluminium unibody casing that has become a hallmark of this series. The overall build quality is solid, though we must mention here that the laptop is considerably heavy at 2.5 kg, making it difficult to carry. It is 36.5 cm across, 25 cm from top to bottom when folded, while its thickness measures at 2.3 cm at the thickest part. The screen, measuring 15.5" diagonally, is glossy, which makes it difficult to view outdoors due to reflections. Its LED-backlit 1440x900 pixel dimensions ensure crisp images with good brightness and colour reproduction when viewed upfront. However, viewing angles are poor, causing discolouration when viewing sideways. A HD webcam is situated at the centre of the top bezel for FaceTime video chatting.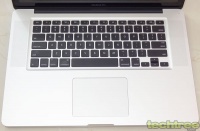 This model continues to have the comfortable full-size Chiclet-style keyboard (sans the numeric keypad). It has the same size as that on the smaller models, which makes it appear smaller due to a wider body. However, I am still not comfortable with the tiny and narrow arrow keys and would rather prefer them to be square shaped. The keyboard is backlit this time around, making it easy to view and type even in the dark.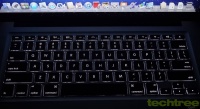 Stereo speakers are present on either side of the keyboard, concealed behind fine grille. A microphone is hidden under the left grille for voice chat and recording. A generously large multi-touch trackpad gives you all the cursor navigational freedom you desire. While one would opine that it would have made better sense to place it slightly to the left with the majority right-handed people in mind, Apple continues to place it ambidextrously at the centre. However, it is not a problem, thanks to the larger area it covers. It continues to be amongst the best trackpads we have come across so far.



All the ports have been clubbed together on the left. Apple probably thinks that two USB 2.0 ports are enough. You can also connect up to seven devices, including an external display port, at a time by daisy-chaining. Possibly, the company believes too much in the Thunderbolt port's capablility of a theoretical data transfer rate of 10 Gbps, twice that of USB 3.0. However, you might still be in need of more USB ports as Thunderbolt is still not popular, even after a year since its arrival. Network connectivity is available by means of integrated Wi-Fi and a Gigabit Ethernet port. There is a SDXC memory card slot as well and Apple continues to push the FireWire interface.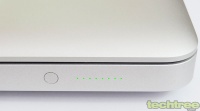 A battery indicator is present just before the ports. This is a series of backlit dots that indicate the battery charge level at the press of a button situated next to them. The good thing is that you can instantly get an idea of the battery charge, even without having to power on the MacBook Pro.
A slot-type DVD writer is situated on the right. With 4 GB RAM, the MacBook Pro is powered by an Intel Core i7 quad-core processor running at 2.4 GHz, packing enough power to handle the most demanding of applications. Gaming is handled by the discrete AMD Radeon HD 6770 with 1 GB of dedicated DDR5 memory. A rather large 750 GB, 7200 rpm hard drive takes care of local storage needs. Apple claims up to 7 hours battery life, which is good enough for the powerful hardware.



The MacBook Pro comes with the latest Mac OS X Lion with all the bells and whistles as we had reviewed earlier. The faster processor appears to make the whole experience snappier than before. The good thing is that almost everything you would need comes pre-loaded, so you don't need to install anything extra and yet it doesn't feel like bloatware. iLife multimedia organiser is also bundled along. Launchpad gives you access to all your apps in one place. Mission Control allows you to swipe up or down with three fingers to get a birds-eye view of all that is going on in the MacBook Pro. Multi-touch gestures allow you to do a lot more things than before.


Performance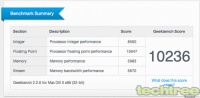 The faster hardware makes things appear snappier. Getting around the OS was a breeze. Of course, a machine as powerful as this is meant to be used for processor and graphics-intensive tasks such as video editing and 3D modelling. We ran a couple of benchmarks: GeekBench 2.2.6 and CineBench R11.5 to find out how well the performance really is and here are the results.
The overall performance in the above two benchmarks is obviously better than its predecessors due to the faster hardware. The eight simultaneous processor threads do speed up things a lot as was seen with the CineBench rendering. The laptop gets quite hot, especially on the left side, when stressed for more than 15 minutes.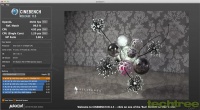 Judging by the powerful processor and graphics card, gaming should not pose a serious challenge to this laptop. Speakers are sufficiently loud and clear for the size. With 1280x720 video capture, the quality of FaceTime camera has improved with better low-light performance.


Battery Life
The MacBook Pro lasted for three and a half hours at maximum brightness (auto brightness switched off) and keyboard backlight maxed, while watching a standard definition YouTube movie over Wi-Fi. This was inexplicably lower than what we had expected. Watching a DVD movie with the standard 70% screen brightness and keyboard backlight off resulted in around five hours of play. For more mundane tasks including web surfing, word processing, and some video and music playback, it was just shy of Apple's claimed seven hours. It is clear that the automatic switchable graphics played its part here by switching from the discrete AMD to the integrated Intel graphics, thus reducing the power consumption and battery drain.

For those who need power consumption numbers, we used a Kill-A-Watt meter to find out. The measurements were done while the MacBook Pro 15 was charging. It consumes an average of 54 W when idle or simple tasks are performed, while the power consumption peaks to 89 W when there is heavy load on the processor and graphics.


The Verdict
With an updated set of hardware and the spanking new Mac OS X Lion, the new MacBook Pro 15 brings a lot more to the plate than its predecessor, especially if you have some heavy processing requirements. It maintains the same stylish aluminium unibody styling among other things such as the keyboard and trackpad, the Thunderbolt port, and the switchable graphics. It is therefore not surprising that the performance is top notch. The battery life is also good as expected.

Apple still does not provide a Blu-ray drive in its product. Could it be because it wants to push HD digital downloads via iTunes? In that case, you should stop expecting Blu-ray drives in future products as well. However, we are not able to fathom why it cannot provide an HDMI port to connect larger display devices to play back HD movies. The hardware is powerful enough to even play Full HD 3D movies. There is no lack of space, though in this case, and the company might be looking to push displays supporting its Thunderbolt port, although that will not be a good marketing move. The insufficient number of USB ports and lack of USB 3.0 are some of the other woes. The MacBook Pro is also noisier than its earlier iteration when stressed and gets quite hot.

The new MacBook Pro carries an expensive price tag of Rs 1,24,900, while there is one more 15" model with an Intel Core i7 2.2 GHz quad-core and 500 GB hard drive for Rs 20,000 less. You can get a laptop with similar or better configuration such as the Acer Aspire TimelineX 5830TG for less than half the cost.


Features: 3.5/5
Design And Build Quality: 4.5/5
Performance: 4.5/5
Value For Money: 2.5/5
Mojo: 4/5

Overall Rating: 4/5
TAGS: Laptops, Mac, Apple, Jayesh