Review: Sony Tablet S
Falls short just at the finish line.
Rating

3
/5
15th Jan 2013
Pros:
Great Design; Impressive music player.
Cons:
Proprietary Charging port; Only one PlayStation game available in India; Poor battery life.
Sony Tablet S
MRP: Rs 27,000
Street Price (As On 11-Feb-2011): Rs 27,000 (Homeshop18.com); Rs 28,000 (Tradus.in); Rs 30,000 (Letsbuy.com, Flipkart.com)

UPDATE: The video review of the Sony Tablet S is now available here.

---

With the Tablet S, Sony plans to make its PlayStation Network stronger. Running on the Android 3.1 (Honeycomb) OS, the tablet comes with an impressive dual-core NVIDIA Tegra 2 processor clocked at 1 GHz, 1 GB RAM, and a ULP GeForce GPU under the hood.Let us find out how this PlayStation Certified tablet stands up against the competition.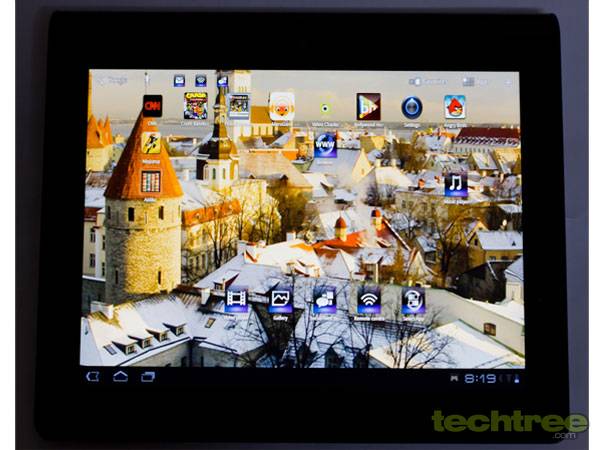 Design And Build Quality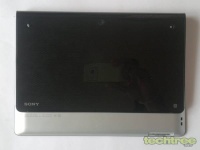 The retail box packs in a tablet, charger, a wrist strap, and a warranty card. The device measures 9.5" (l) x 6.7" (w) x 0.8" (d) and weighs around 600 grammes. The tab features a unique magazine fold-out design that props the screen at an angle when placed on a table. At the front is a 9.4" screen surrounded by a black bezel and a front facing VGA camera. The design is refreshingly new and the tablet is quite light to carry.

Sony has put in a proprietary charging port with a rather bulky charger so you might find it a bit difficult to charge the tab when on the move. Moreover, it has opted for a SD card slot expandable to 32 GB, over the microSD card slot. If you own a digital camera, you just need to pop in the card and you can transfer images and videos with ease.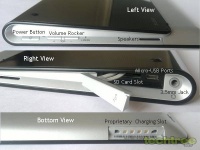 Other features include a micro-USB port, Wi-Fi, Bluetooth, GPS, 5 MP rear and a VGA front camera, 3.5 mm jack, and an SD card slot, 16 GB internal memory, 5000 mAh battery, and a set of sensors.


Display And Sound
The 9.4" LED-backlit touchscreen has pixel dimensions of 1280x800. The screen offers good viewing angles and brightness. The inbuilt speakers offer decent sound quality, but they could have been better. You can customise the five homescreens with widgets and shortcuts. If you have multimedia content stored on your SD Card, you will have to import into the internal storage before playing, which is a bit of a dampner. Overall, the crisp screen works like a charm.


UI And Applications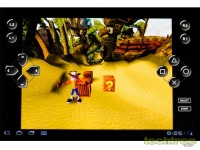 The Tablet S runs Honeycomb, and is PlayStation Certified, which means that you have access to Crash Bandicoot, which is currently the only PlayStation game on offer in India. Considering that the Sony Ericsson Xperia PLAY smartphone has been around for a while, you would expect more titles. The PlayStation style controls are touch sensitive and take some time getting a hang of, especially for new users. Other preloaded games include NinJump, Angry Birds, RacingMoto, and the PSP game Pinball Heroes. There is also the GameLoft app that lets you download HD Games.


The interface is quite laggy, but that seems to be an Android optimisation issue. Apart from the standard on-screen navigation keys such as Home, Back, and Menu, the tab also features a task manager. You can see minimized games and tasks next to the digital clock, which is a neat touch. The Tablet S is Flash compatible and streams online videos quite smoothly. The tablet also gives you access to the Sony's ebook store through the Reader app, and lets you convert your tab into a universal Wi-Fi remote for your other gadgets. Google Maps and Latitude provide navigation capability, but the GPS is dependent on internet connectivity. The tab also comes with the Select App, which is a virtual magazine highlighting apps from the Android market every month.

Multimedia
The built in music player is impressive, and features a built-in equalizer that could do with a few more presets.
The 5 MP rear camera is fairly decent. Considering that this is more of a gaming tablet, the quality is not so disappointing and images offer good amount of details. The videos recorded are saved in the MP4 format, and are not too bad either.

The tab can handle 1080p videos, but the default player surprisingly cannot play 1080p MP4 videos. Moreover, full-HD video playback is extremely choppy. It does not support DivX and XviD formats either, so you will need third-party video players. At 720p though, the playback is smooth.

Battery And Verdict
The 5000 mAh battery's performance is disappointing. A couple of hours of gaming and the battery drains down to almost 50%. For moderate use, the battery would last up to 7 hours. The tablet is feature-rich, but it doesn't justify its expensive price tag. If you are willing to spend that much, Lenovo's IdeaPad K1 is a better option.


Features: 3/5
Design And Build Quality: 3.5/5
Performance: 3/5
Value For Money: 3/5
Mojo: 3/5
Overall Rating: 3/5
TAGS: Tablets, Android, Sony, PlayStation, Kamakshi