Review: Sony Ericsson Xperia ray
A droid on a diet.
Rating

3.5
/5
14th Jan 2013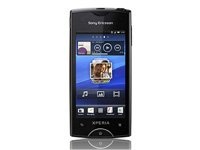 Pros:
Sleek design; Smooth interface; Great sound quality.
Cons:
Lacklustre camera; Cumbersome portrait keyboard; No DivX \ XviD support; Lacks AMOLED display.
Sony Ericsson Xperia ray
MRP: Rs 19,000
Street Price (As On 23-Jan-2012): Rs 17,600 (Letsbuy.com; Adexmart.com)


UPDATE: The video review of the Sony Ericsson Xperia ray is now available here.
---
Another day, another droid. However, thanks to its sleek design, the ray stands out in a crowd. The gadget has duly ticked the essential boxes, such as a 1 GHz CPU and 8 mp camera. Additionally, its Mobile BRAVIA Engine display promises better colour and contrast while playing media. Let's find out whether the device is attractive enough to entice mid-range buyers.


Design And Build Quality
The retail box comes with the phone, charger with detachable USB cable, 4 GB memory card, and earphones. The review unit was black, with the other available colours being white, pink, and gold. The phone measures 4.4" (l) x 2.1" (w) x 0.4" (9.4 mm) (d) and weighs around 100 grammes.

The gadget's front is covered by glass, which adds to its neat looks. The matte finish on its back provides a superior grip. What's more, thanks to its matte plastic and glass construction, the device won't lose its colour easily. All in all, the phone is well-built and comfortable to hold.

The gadget's Home button is tactile, while the Back and Menu keys are capacitive. A nice touch here is an illuminated arc around the Home button that glows in various colours, with each colour representing a specific notification. For example, red warns about low battery levels.
The phone is powered by a 1 GHz CPU, coupled with an Adreno 205 GPU. Other specs include an 8 megapixel primary and a VGA front camera, 512 MB of RAM, 32 GB microSD card support, Wi-Fi, Bluetooth, GPS, a 1500 mAh battery, and a bunch of sensors.

The 3.3" LED-lit LCD has pixel dimensions of 480x854. I doubt the screen is scratch-resistant, since the phone came with a scratch guard. The screen is bright and has decent viewing angles. Furthermore, its sunlight legibility is also good. However, the colours aren't lively and blacks mostly end up looking dark grey. It's certainly no match for AMOLEDs.


UI And Applications
The ray features Sony Ericsson's (SE) custom UI on top of Android 2.3 (Gingerbread). Needless to say, it offers plenty of customization for the home screens as well as the main menu. Moreover, SE has thrown in plenty of eye candy throughout the interface. The phone's 1 GHz CPU does a decent job of keeping the experience virtually lag-free. Overall, the interface is very good.


The default browser's page rendering speed is reasonably fast and has all the basic features covered. It supports Flash, but due to its relatively modest CPU, can't handle 480p web videos. What's worse, it feels constrained due to the small screen size.

During the course of testing, the GPS couldn't connect without the help of a wireless connection. It's the same story with every other droid, which makes me wonder whether these devices actually ship with a dedicated GPS chip at all.


Multimedia
SE's smartphones usually don't disappoint when it comes to the sound quality, and this one is no exception. Additionally, the manufacturer has thrown in a lot of equaliser settings to play with. Having said that, the company should have provided better earphones.

The device supports MP4 and 3GP video up to 720p. For XviD and DivX files, the third-party app RockPlayer is your friend. The Mobile BRAVIA Engine actually enhances the picture quality to some extent. It delivers higher contrast and also reduces the amount of noise. However, the screen size is not ideal for watching movies.


The 8 megapixel snapper comes with a single LED light for company. It's not your normal flash though, since it can only be toggled on and off like a lamp. The resulting images offer a reasonable amount of detail, while keeping noise levels acceptable. However, the colours look dull and the camera has a tendency to randomly overexpose shots.



Image sample.

Thanks to the 1 GHz CPU, the ray can record videos at 720p quality. The clips are saved in the MP4 format, with framerates remaining close to 30 fps. Similar to its performance in still photography, details are present but colours look uninspiring. Overall, there's a lot of room for improvement in the camera department.

Video sample.

Telephony And Messaging
The phonebook has social features, yet manages to remain neat. It can pull up contacts from multiple accounts and automatically merge duplicates. The device's signal reception was good throughout our tests and the voice quality was loud and clear.

The portrait keyboard is well designed, but turns out to be useless due to the small screen size. However, the landscape mode keyboard is good enough to take care of your messaging needs.


Battery Life And Verdict
The 1500 mAh battery performs pretty well. It managed to keep the device on for almost 8 hours with moderate use. Looking at its slim profile, the performance is good by Android standards.

The Xperia ray has a sleek design, great sound quality, and decent battery performance. On the other hand, its onboard camera and video codec support could have been better. In spite of that, at Rs 17,600, it's a nice compact Android for those who don't care about running benchmarks on their handsets.


Features: 3/5
Design And Build Quality: 4/5
Performance: 3.5/5
Value For Money: 3/5
Mojo: 3.5/5

Overall Rating: 3.5/5
TAGS: Mobile Phones, Android, Sony, Xperia, ck