Review: Nokia Lumia 800
The game changer.
Rating

4
/5
14th Apr 2012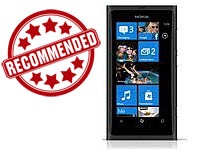 Pros:
Brilliant display; Minimalistic design; Sleek and fluid UI; Unmatched social networking integration; Free voice-guided sat nav; Great camera.
Cons:
Lack of mass storage mode; Can't share files over Bluetooth; No front camera.
Nokia Lumia 800
MRP: Rs 31,600
Street Price (As On 18-Jan-2012): Rs 28,000 (Adexmart.com); Rs 28,300 (Saholic.com)


UPDATE: The video review of the Nokia Lumia 800 is now available here.

---

Nokia has taken a lot of flak for its aging Symbian OS. It was pretty clear that the Finnish giant needed a much better platform to fight against its rivals. Meego was impressive, but it never really took off. It was expected that Nokia would embrace Google's Android to beat Apple's iOS. However, Stephen Elope had a different plan. He wanted to challenge them both. When Nokia adopted Windows Phone 7, no one saw it coming. Now, after a long wait, we finally have the first phone that reflects the company's new strategy.


Design And Build Quality
The retail package contains the phone, a charger with a detachable USB cable, and a pair of earphones. The Lumia 800 measures 4.6" (l) x 2.4" (w) x 0.5" (d) and weighs 142 grammes. The device's CNC-machined body has been much discussed. The precision of the build, along with the beautifully curved display, is enough to impress anyone. Additionally, the seamless unibody and elegant use of metal near the camera lens are perfect examples of minimalism at its best. Since each phone is carved out of a single block of coloured polycarbonate (plastic), the colour will never peel off.

Although the phone's body can take a lot of knocks and yet remain scratchless, its convex-curved Gorilla Glass screen can break if dropped right on its face. This happened to an earlier review unit, causing us to wait for a replacement - hence the delay in our review.


The gadget's 3.7" AMOLED screen has been graced by Nokia's ClearBlack wizardry, which produces the deepest blacks I've ever seen on any mobile. Its sunlight legibility is also unmatched by any other screen. With pixel dimensions of 480x800, it does not display a single rough edge. All in all, the display is downright brilliant.

The phone is powered by a 1.4 GHz CPU and the Adreno 205 GPU. Other bells and whistles include 512 MB of RAM, 16 GB of inbuilt storage, Wi-Fi, Bluetooth, GPS, an 8 MP camera, 3.5 mm headphone jack, and a 1450 mAh battery. On the flipside, a front camera is absent.



UI And Applications
WP 7.5 Mango's Metro UI is beautiful, and the attention to detail is unbelievable. The designers at Microsoft have done a great job of creating something different rather than following the same boring grid of icons. Needless to say, the latest version of WP can even make iOS look dated. Additionally, its fluidity is something that Android is yet to achieve.

Thanks to the Live Tiles feature, a quick glance at the homescreen gives you an idea of all that's happening in your phone. Swiping to the left makes way for the list of apps and settings. From here, you can pin any app to the main screen. Furthermore, multitasking has been duly covered, and a long press of the Back button lets you switch between apps.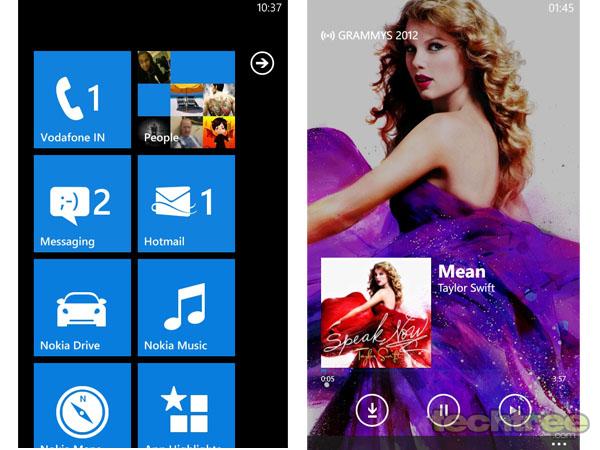 The mobile version of IE9 is capable of blazing-fast page rendering, thanks to the hardware acceleration. The browser is stable and offers extremely smooth scrolling. However, it lacks Flash support, and has a weird limit of six tabs.

The phone also features Xbox LIVE integration, which brings quality games to the table and also allows you to chat with your gamer buddies. Unfortunately, the number of games is low as compared to rival platforms. Despite this, titles such as Kinectimals and MiniSquadron are very addictive. Recently, the number of apps in the Marketplace has hit the 50k figure, and this will only get better with time.



Kinectimals in action. The quality of graphics, including the rendering of fur, is truly impressive.

Coming to the subject of apps, Microsoft's Office Suite is top notch, as you'd expect. It has managed to be feature-rich, without sacrificing ease of use. Also, unlike other WP devices, the Lumia 800 comes with the goodness of Nokia Drive and Nokia Maps. The latter offers free voice-guided satellite navigation, giving you the option to download map data for the entire country as well as individual states. For example, you can install the India (All) map that takes 372 MB or opt for the Maharashtra/Goa map that fits in 106 MB. The kaju on the halva is that you can download maps for every major country across five continents. Finally, the GPS performance is excellent, taking less than a minute to lock on to satellites. This makes it a serious competitor to standalone GPS navigation systems.


Multimedia
The Zune media player covers everything from music, videos, and podcasts to radio. The Lumia 800's sound quality is excellent, but Nokia should have provided better earphones. Also, the lack of equaliser settings is a downer. On the bright side though, Nokia has added TuneIn internet radio, which has a catalogue of thousands of radio channels from all over the world.

The phone plays 720p quality MP4 and WMV videos without any problems, but similar to the iPhone, does not support DivX and XviD files. Another major annoyance is the lack of mass storage mode that lets you treat your phone as a USB drive. You are therefore forced to install the Zune software on your PC to transfer songs or files. It also fails to incorporate Bluetooth file sharing.

The camera offers many settings such as white balance, exposure value, ISO, saturation, contrast, and various effects. The Carl Zeiss optics make sure that images offer a good amount of detail and accurate colours. It's undoubtedly better than any other 8 MP snapper on mobiles, except for the iPhone 4S, which beats the Lumia 800's camera in terms of speed.

The device is capable of recording 720p video at 30 fps in the MP4 format. However, most low-light clips get shot at 25 fps. Apart from that, the video recording performance is as good as its still photography.

Image sample.



Video sample.


Telephony And Messaging
The People Hub takes care of all your contacts. It integrates popular networks such as Facebook, Windows Live, Twitter, and LinkedIn, all at one place. The result is a seamless social networking experience that runs throughout the UI. For example, photos uploaded by your FB friends are automatically made available to the Pictures Hub, while chat messages show up in your Messaging Hub. The Lumia 800 is clearly a perfect phone for FB addicts. Finally, as expected from Nokia, the call quality and signal reception were excellent during the tests.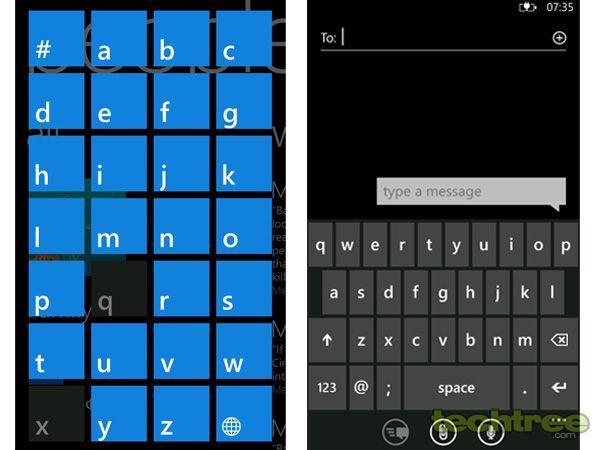 Darkened tiles indicate that no names begin with that letter.


Battery And Verdict
The 1450 mAh battery managed to keep the device up for about nine hours with all connectivity options turned on. The performance is good, but not as great as you'd expect from Nokia.

Overall, the Lumia 800 is one beautiful phone, graced with a brilliant screen. Its interface is fluid and the attention to detail is unbelievable. The gadget offers a great camera, excellent sound quality, and an unmatched social networking experience. Furthermore, Nokia Drive adds more value to the phone.

On the other hand, the product lacks a secondary camera, mass storage mode, and cannot share files over Bluetooth. However, most of the cons are typical WP restrictions. All in all, if you're bored of the current crop of smartphones, go ahead and grab this one.


Features: 3.5/5
Design And Build Quality: 4/5
Performance: 4.5/5
Value For Money: 4/5
Mojo: 4/5

Overall Rating: 4/5

TAGS: Mobile Phones, Windows Phone, Nokia, Lumia, ck